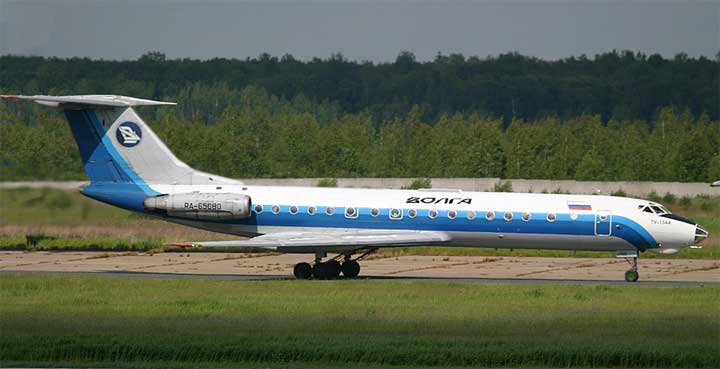 The actual Tupolev 134 that was brought down near tula yesterday
Tragedy in Russia touches us all
FTLComm - Tisdale - Wednesday, August 25, 2004

Everyone knows what happens when you take a balloon filled with air and pop it with a pin. The two aircraft brought down over Russia yesterday were each at cruise altitude of more than 30,000 when they were popped. The actual cause may never be known but a suicide bomber or a hand grenade would produce the same catastrophic results.

The smaller Tupolev 134 flown by Yury Baichkin, a director of the small airline Volga-Aviaexpress exploded and fell to the ground near Tula. The aircraft was owned by another airline when the picture at the top of the page was taken in 1997 but they did not give it a new paint job as you can see on its tail section near the bottom of this page. ( I added the company name and logo to the image)

The second aircraft similar to the one shown below disappeared from radar about three minutes after the first close to the resort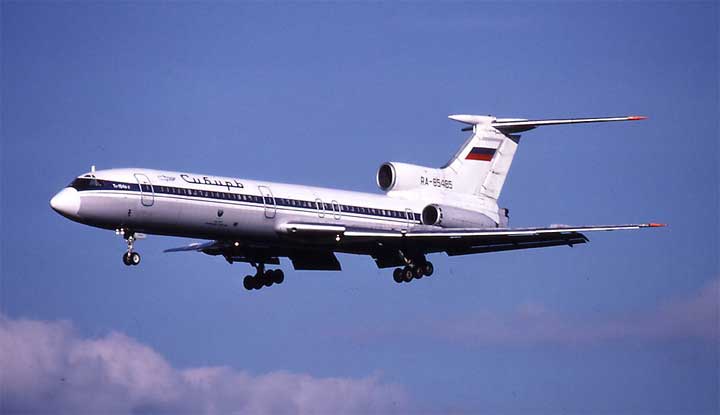 A Tupolev 154 similar to the one lost near Rostov-on-Don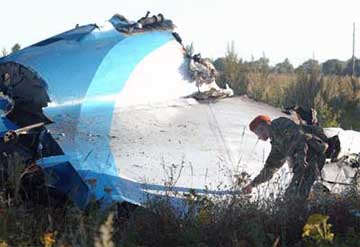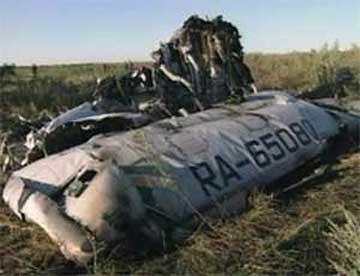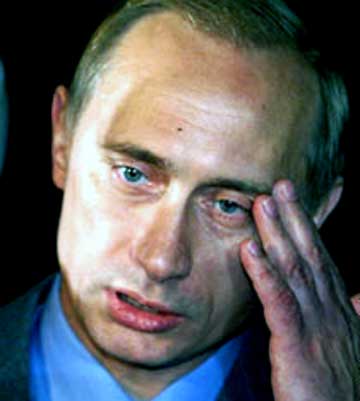 President Vladimir Putin


Rostov-on-Don. This Tupolev 154 with a full load has a range of more than 2,000 miles and can carry up to 200 passengers. The Sibir airlines aircraft was believed to have had eight crew members and 44 passengers.

Reuters carried the initial story and the two pictures (right) were from their story that appeared in China Daily.

The odds of two aircraft being lost within minutes of one another are beyond reason and one has to conclude that this tragic event was not an accident.

Air travel accidents do happen but a deliberate attack on civilian aircraft and the passengers is remarkably rare as each of us can remember the incidents like, Air India, the September 11 planes and the Iranian aircraft downed by the US warship are some of those that come to mind. I personally am overwhelmed with the thought that my fellow humans would commit such henious acts. There is a growing amount of evidence that from time to time humans will act violently toward one another and we call that "war" but mass murder of travelers just seems outside the confines of normal behaviour, or even abnormal behaviour.

When the nineteen people took their own lives and flew full aircraft into buildings in New York and Washington (interesting problem with the Pentagon crash) the government of that country ran off its rails lashing out mindlessly at an undefined enemy. The consequences of the American government's loss of self control will be felt and endured for decades, perhaps longer. It is seriously troubling to consider the actions of Russia when faced with a similar problem. Like the United States armed with enormous weapons though far more civilised in its conduct of internation affairs. It is to be hoped that the leadership of Russia shows restraint.

Clearly, the vulgar display of brutality that now define the nature of the United States of America is an example of how not to behave in time of crisis. But a nation state acts very much like a person, some people handle a crisis well, while others lose sight of what is important and become themselves even more extreme then those whom they declare have wronged them. Most people and most countries will fall back upon their belief in what they are when faced with a crisis and if that self awareness is dull or without solid roots it will leave the person on country floundering and out of control.

During the Federal Election Prime Minister Paul Martin asked Canadians to think about who they are as a people and no more important question can be asked. We Canadians do believe in international law, we condemn torture and respect our charter of rights. Russians will be put to the test now, do they know what kind of people they are and what they believe in, or will they, like Americans, fail the test?
Return to Ensign - Return to Saskatchewan News
This page is a story posted on Ensign and/or Saskatchewan News, both of which are daily web sites offering a variety of material from scenic images, political commentary, information and news. These publications are the work of Faster Than Light Communications . If you would like to comment on this story or you wish to contact the editor of these sites please send us e-mail.
Editor : Timothy W. Shire
Faster Than Light Communication
Box 1776, Tisdale, Saskatchewan, Canada, S0E 1T0
306 873 2004