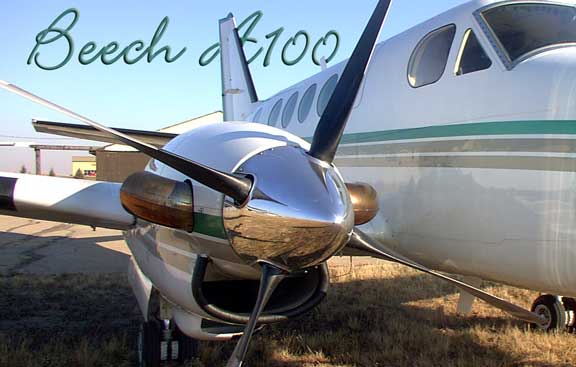 FTLComm - Tisdale - October 10, 2000
This is a business aircraft based in Eden Prairie Minnisota and owned by Beech Transportation Incorporated which may be a part of Kelleher construction. It arrived in Tisdale Sunday night when it brought a group of hunters to town.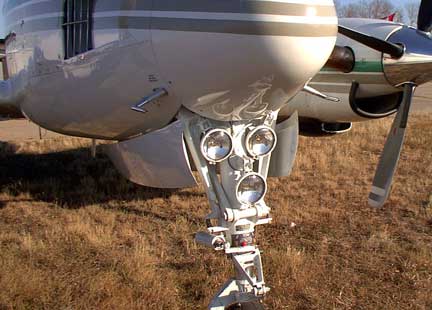 Of the business aircraft both pure jet and turbo-prop like this one, 25% are Beechcraft King Air. In terms of efficiency and reliability this is the most cost effective aircraft in service. After three years in service a King Air is still worth 93% of its purchase price. Companies, government and military buy this machine for its fuel efficiency its remarkable speed (it is competitive with pure jet aircraft like the Cessna Citation) and its solid design and ease of maintenance.

The particular aircraft was made in 1974 and has a total of 1050 horse power Canadian made Pratt and Whitney PT6A-60A engines. It has a gross weight of
11,500 pounds. This one

is fitted to handle eleven
passengers and crew. Crusing at 285 mph, stalls at 86 mph and has a range of 1,481 miles. It can maintain a sea level atmosphere to 10,000 feet and has a service ceiling of 24,850. When it comes time to top up the tanks it holds 470 US gallons of JP-4.

Walter Beech began making fine aircraft at Witchita in the
1930s and gained the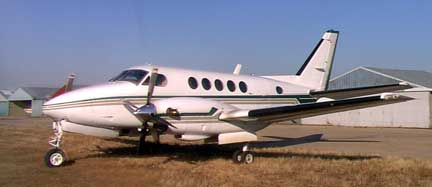 reputation as one of the
world's most comprehensive aircraft builders. His Beech 18 was one of those wonders of World War II that was used for a wide range of roles and served long after the war in Canada's airforce known as the "Expiditer". This same aircraft is still used as a float plane in both Canada's North and Alaska.

His single engine Bonanza series of aircraft practically set the standard for high
performance singles and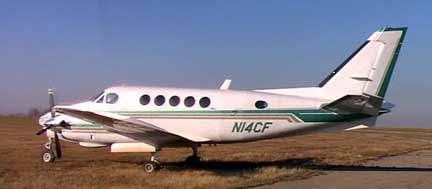 the twin engined 18 lead the
way to the building of the Queen Air and this the highly successful King Air.

Since his death the company continues to produce the same high quality aircraft and produced the pusher twin canard, the "StarShip" that was manufactured in Ireland until 1995. Only 53 of these unusal, over 500 mph aircraft were made but the business world was satisfied with the King and Beech ended its production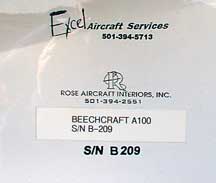 Corporate aviation makes very good sense. Commerical air travel is a nightmare and is unlikely to improve. Companies have found that with their own aircraft they can move their people around easier, and much more timely then using the airlines. For aircraft manufacturers this market has been the main market and has sustained the growth and development of civil aviation in the past two decades when personal flying has dramatically declined. Cessna, Piper, and Beechcraft have remained the primary manufacturers of these machines while British, French and Japanese manufacturers have all produced competition in this very tight market.

Only Bombarier has produced Canadian corporate aircraft and as it absorbs smaller companies it has continued to expand its line of aircraft but does not produce any competitor to the small business favourite, the Beech King Air.