Ken Styan sent Ensign the picture shown above explaining how he has had the picture for forty years. He said in his message that there was some belief that this aircraft was the first commercial aircraft to ever visit this community.

Clearly, this is an interesting story and upon checking it out, Ken's picture is certainly authentic, even appearing in a book, (Wings Beyond Road's End, which provided us with the information for this story, Saskatchewan Education, Regina, 1992) and is found in Saskatchewan aviation historian, Ray Crone's collection. The photograph was likely taken at Landis but Ken's image is the exact same picture as in the Crone collection, but is slightly larger including the bicycle behind the tail which is not in the image shown in the book.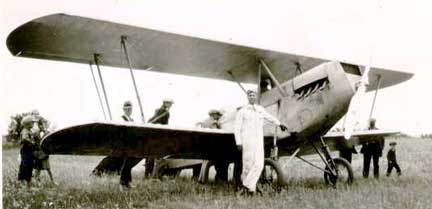 The story of that aircraft and its very brief history, is really important to aviation in Saskatchewan and tells us a lot about the speed of change during the twentieth century.

Norman Cherry grew up on his family's farm near Debden and set off on his adventure in 1921 when he went to Chicago where he ran a garage that winter. He then went into construction in Florida in 1923 and from there went out to Culver City California where he put his construction skills to work building movie sets. Clearly he was an adventurer and having sold his part of the family farm and having had modest success in business, he was in Memphis Missouri in May of 1928 where for $2,800 he bought a red and silver biplane made by a small company called

Many have wondered if there is some connection between the famous movie mogul and one time owner of TWA, Howard Hughes and the Pheasant Aircraft company. The reason for the inquiry was the Hughes grandparents are buried in a cemetery near Memphis Missouri. It turns out that there apparently was no link however, it appears to be an odd coincidence that this Saskatchewan farm boy working in the movie industry in California would go to Memphis Missouri in 1928 to buy an airplane.

the Pheasant Aircraft Company. (If you have read Mark Twain you certainly will be familiar with Memphis Missouri) The Pheasant Aircraft Company only operated there for a year then moved to Fond du Lac Wisconsin then was absorbed into Dayton Aero & Engineering Company in 1930. Few of these aircraft were built but Steve Wittman a founder of the Experimental Aviation Association was a test pilot and demonstration pilot for the company.

Cherry needed a pilot and hired Alva Malone and together they headed back to Saskatchewan taking fifteen hours to make it to Prince Albert where they landed West of St. Mary's church.

Though he had planned just to visit he and Malone began some barnstorming and it is likely that this is how Cherry Air Service paid a visit to Tisdale in the summer of 1928. But Norman Cherry was an aware individual and discovered that mining and exploration was in serious need of transport into the North. The single engine short ranged Pheasant could make La Ronge but without floats was pretty well useless.



Seeing a business opportunity Norman made a deal with Prince Albert businessman H. Holroyde who had been a pilot in World War I. They formed the Cherry Red Airline and set off immediately first to Cincinnati then to an air show in New York where they bought a six passenger Buhl, with serial number 41. Malone, Cherry and Holroyde headed home in the Buhl in early March of 1929 but were held up getting the new Buhl certified for use in Canada.

Meanwhile business out of Prince Albert was going full steam ahead as Consolidated Mining and Smelting needed to get to their sites and were paying $700 a trip. After getting from to Winnipeg Alva Malone was heading North to catch up with Cherry and Holroyde ran low on fuel and put down near Kelvington where on take off he damaged the gear and did not make it to P.A. to start work until April 11.

The Buhl Airsedan with its 300hp engine could do 150mph and was a very nicely upholstered machine. With this aircraft which was on floats as soon as break up occurred that year they went all out supporting the mining industry. During that spring and summer they were putting eighty hours a month on the plane. It should have been no surprise that fall Malone with the missionary Fisher family aboard experienced engine failure between Christopher Lake and La Ronge and did a force landing on a slough.



But before that event Norman Cherry had come up with another revenue maker and had stamps printed to ship airmail and packages at 10¢ and ounce into the North. These rare stamps are extremely valuable collectors items today.

History was overtaking the whirlwind that we have described here because on October 29 the stock market crashed wiping out most of the mining companies of North America companies that had used Cherry Red Airline and owed it money ceased to exist and though Norman Cherry and his colleagues had made a great start of Northern aviation, the stock market crash put an end to their business. The Buhl was never recovered from the slough and during the winter Norman sold the Pheasant to a flying school over in Battleford.

Below we see the Pheasant on the Saskatchewan River in Prince Albert either in the winter of 1929 or 1930. In 1931 the Cherry Red Airline was history. All other aviation up until the arrival of Norman Cherry and his Pheasant had been either government or big business, here was an entrepreneur who was successful and proved the possibilities of this form of aviation.

What is so remarkable is that the Pheasant is an obscure aircraft made in few numbers but this one survived and we can all go and see it as it is on display at the Western Development Museum in Moose Jaw.