Saskatchewan Air Ambulance On The Job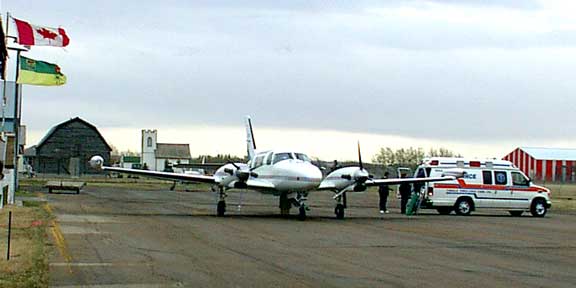 FTLComm - Tisdale - May 9, 2001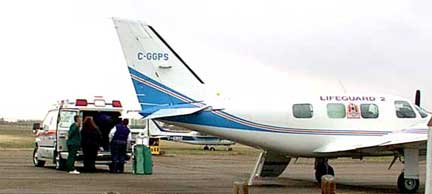 In the forties, fifties and sixties Saskatchewan made effective use of air ambulance services to augment the services of local hospitals and emergencies. In the seventies onward there was a growing reliance upon surface ambulances as the nature of emergency medicine changed. However, with the reduction in the numbers and the nature of rural hospitals the importance of an airborne ambulance service is becoming more and more important and it is likely that we will soon see helicopters being used to provide quicker and safer transport of patients in need of critical care available only in urban centres.

These pictures were taken this morning as the air ambulance was in Tisdale to pick up a patient.

Below is the card showing the facts about this aircraft. It is a Piper Cheyenne made in 1977 and purchased new by the provincial government. It is stationed in Regina at hangar #4.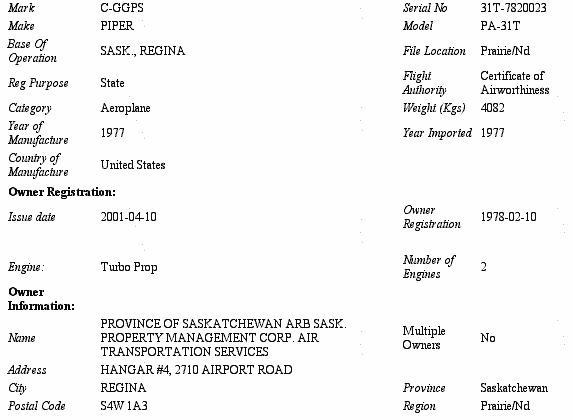 Piper only manufactured 526 of these pressurised aircraft. The Cheyenne is a turbine version of the Navajo/Chieftain with a little more strengthening to handle the added speeds involved. The two Canadian made Pratt and Whitney PY6A-28 engines produce 620hp each and typically this aircraft cruises at 244 knots with a service ceiling of 29,000 and a range of 840 nautical miles with a full load. The Cheyenne can come off a runway at 9000 lbs. This aircraft stalls at 86 mph and needs 1980ft. to take off and 2,480ft. to land. It takes 382 US gallons to fill its tanks.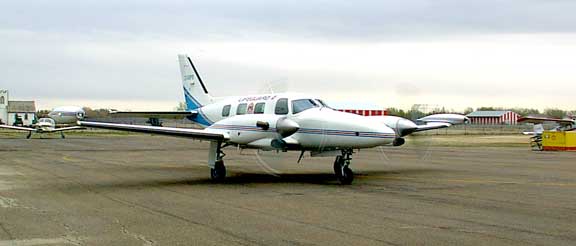 The most important part of the Cheyenne is its engines. The PT6 is an engine designed specifically for turbo propeller operations and actually sits backwards in its nacelle. You will notice that the exhaust ports are at the front of the engine with the gearing system in front of that to bring the shaft speed down to propeller range. The compressor portion of the engine is located at the back of the engine and its shaft is not connected to the hot section of the engine making partial overhauls inexpensive and drastically increases the engine's reliability. The Cheyennes 620hp PT6A28 engines are very similar to the PT6A27 engines found in the late model (300) Dehaviland twin Otters, like the one that made headlines recently in its rescue mission in the Antarctic.