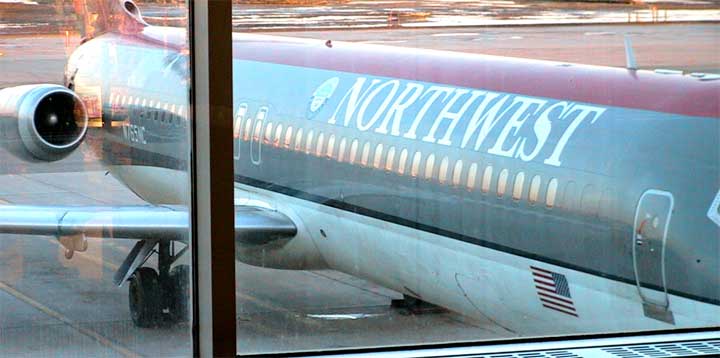 "Boarding will be delayed"
FTLComm - Minneapolis - Thursday, May 11, 2005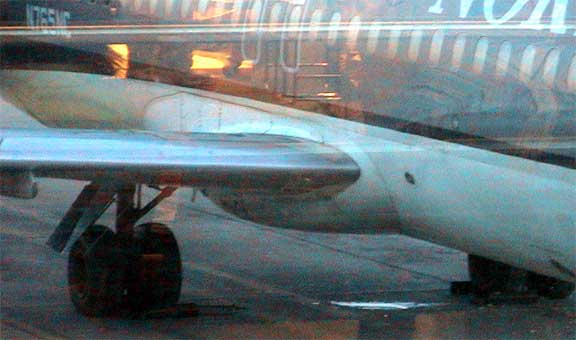 We were beginning our journey from Winnipeg to the National Association of Broadcasters convention in Las Vegas on the very early morning of April 15. We had gone through security and customs and arrived with the less than thirty other passengers whom we would travel with on the first leg of our trip, to MInneapolis.

I was in my usual morning state, hungry, but the little coffee shop did not have anything that would fit into my diet so we sat down to await boarding.
The announcement was calm and full of explanation, during the First Officier's walk around he discovered a disconcerting pool of hydraulic fluid under the aircraft. Perhaps it came from another plane but just to be safe the pilot order up an engineer.

One of the things you learn about flying when you are a pilot yourself is that this preflight caution is a good thing and the other thing you learn if you want to sleep nights is to have good engineers and trust them. With this in mind I was not apprehensive at all when after an hour of checking things out and a positive report to us, that we could board. After all, the good ole' DC-9, and this one was made in 1976, used hydraulics to assist the flight controls and muscle power alone could fly the plane provided the flying tail jackscrew didn't destroy itself (AirAlaska off of Los Angeles). It was dawn when we taxied out and jumped into the bumpy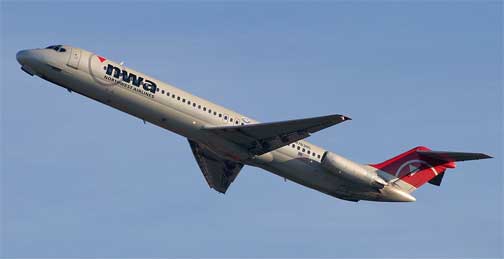 morning sky. This DC-9, N765NC had a tough rather nasty undercarriage and seemed to have a problem maintaining pressurisation. Over northern Minnesota the air was wet a rough and the taxi way in Minneapolis was defined by the hard gear.
That little flying story really was just another one of those things of this age, most things break and sometimes need fixing. My own plane sometimes needed work and more than once I have had a delayed flight because of mechanical problems. It just happens.
This morning Kevin McIntyre sent me a report on an accident on the apron at Minneapolis last night where a DC-9 and an AirBus tangled when the DC-9's hydraulic system failed and the crew could not steer or apply their brakes. Six crew members of Northwest were injured in the incident. I immediately remembered our little hydraulic problem but the aircraft involved was N763NC shown above and tucked under the Airbus in the picture below.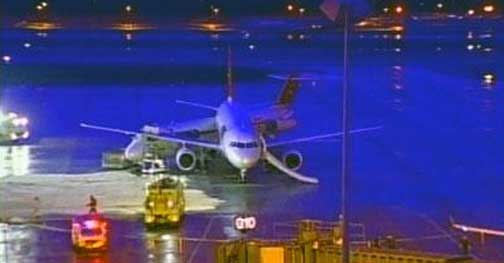 The DC-9 is getting a bit long in the tooth but for the millions of flying hours it has done a great job. Through its life the wear and tear of pressurization and hard work have required stiff maintenance programmes but it is a reliable and safe aircraft. No doubt Northwest will be looking into their hydraulics pumps and lines pretty close but air travel is still far safer than driving a car or riding a bike.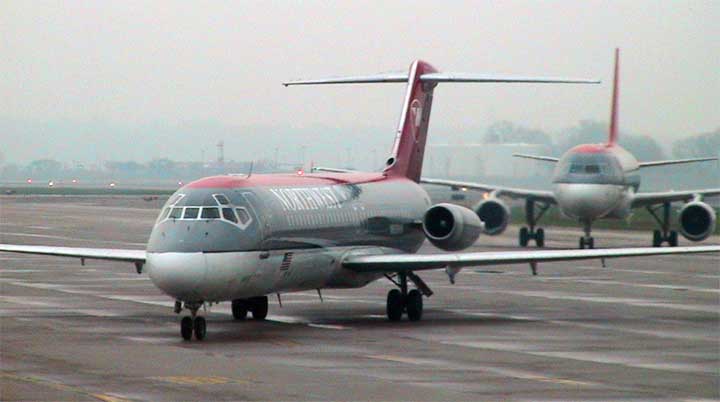 Photo credits: N763NC by Bruce Leibowitz, airport crash scene NBC news
References :
Farer, Paula, Two jets collide on runway in Minneapolis, May 10, 2005, 9News
Fortiti, Amy, Planes collide at airport, May 11, 2005, Associated Press, KARE 11 Minneapolis
Fedor, Liz and Kennedy, Tony, Jet collison under federal review, May 12, 2005,Minneapolis StarTribune
Associated Press, Jets collide on ground at Minn. airport, May 11, 2005 NBC 17 click on slidshow for pictures of incident.
---
Return to Ensign - Return to Saskatchewan News
This page is a story posted on Ensign and/or Saskatchewan News, both of which are daily web sites offering a variety of material from scenic images, political commentary, information and news. These publications are the work of Faster Than Light Communications . If you would like to comment on this story or you wish to contact the editor of these sites please send us email.
Editor : Timothy W. Shire
Faster Than Light Communication
Box 1776, Tisdale, Saskatchewan, Canada, S0E 1T0
306 873 2004