In the late fifties and early sixties general aviation was thriving and designers and manufacturers responded to the market demand with some outstanding aircraft. It seemed that Cessna and Piper were the General Motors and Fords of the aviation industry each with distinctive products and both producing excellent and reasonably priced vehicles up to the task of travel and initiating people into flying.

Cessna and Piper had both initally produced successful high wing aircraft and fabric covered Pacer series by Piper were in need of being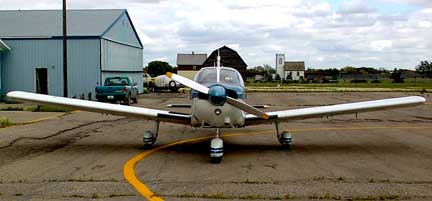 modernised. The first Cherokee took to the air in 1960 as Piper explored its low wing all metal aircraft series but it was not until 1963 that it began introducing these birds to the public for sale.

The basic design of the Cherokee line was a tight fuselage, with a dihedral "hershey bar" wing. The Piper wing was inexpensive to craft and produced outstanding handling characteristics. Tough and stable would be perfect adjectives to describe every aspect of this set of aircraft.

They were indeed a set. Piper created around the same basic airframe and set of wings a whole series of aircraft with different payloads and capabilites based on the size of the engine out front. From a trainer with a 160hp Lycoming through to 300hp for its top of the line six place Lance. Each aircraft in the set were similar enough that moving from one to another was a pretty straight-forward thing and with the positive trend in aviation at the time it seemed the proper route to go, assuming that a pilot would train on a 140 get himself a 180 to travel in and aim toward a Lance later on.

Just as Ford and Chevy always tried to out-match one another with power and model capabilities Cessna and Piper's aircraft do not equate or compare directly as the trainer version of the Cherokee, the 140 was less money than the Cessna 150 then there were 150hp, 160hp versions and the 180hp Cherokee would be the closest thing to the Cessna 172 but had more power and a higher cruise speed. Piper did not produce a Cherokee to compete with the Cessna 182 but instead had the Comanche which was faster and had the added technological leap of retractable gear.

Of all Cherokees the most popular were the 140 series of which there were many different models and the 180 which was Piper's standard sedan of the air.

The Cherokee 180 was first on the scene in 1963 and the 140 came out in 64. What is confusing is that during the years of production Piper fiddled with the names so that we see 140s called Cruiser, Warrior, Executive and the 180 became the Archer. After being out of production for more than a decade Archer IIs with their tapered rather than the straight wing returned to limited production in 1994.

This Cherokee 180 is based in Lucky Lake and among those who fly it is the registered owner Tom Luchenski. It is a 1965 Cherokee and was imported into Canada in 1973 and registered to its current owners in 1985. It has an empty weight of 1,414 pounds and can take off with a gross weight of 2,550 pounds. It cruises at a similar speed as the Cessna 182 at 147mph, stalls at 61mph, needs about 1,625 feet of runway to get airborne and has a blader busting range of 774 miles.