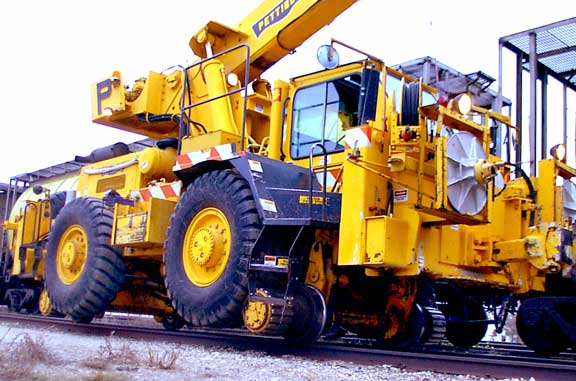 Pettibone
FTLComm -Tisdale - Wednesday, October 16, 2002

The name Pettibone was familiar as I recalled that in the 1970s CN used a machine from that company as a vital part of rebuilding rail lines here in Western Canada. When I saw this machine parked here in town yesterday it also reminded me more of something the folks at Tonka toys would have dreamed up.

The Pettibone Multikrane Model 40 CWR is a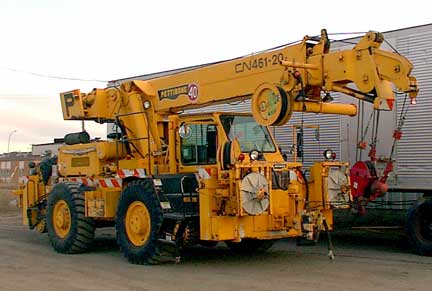 highly specialised machine designed and built for use on and off track. Just a few minutes looking over it from the attached vise on one side to its hundreds of attachments this has got to be the ultimate handy dandy lifting machine.

At 46,000 pounds with four wheel driive and four wheel steering, able to work on wheels or as part of a train it looks like this is the kind of machine that has been developed to handle a wide range of situations and will depend on its operator's ingenuity to come up with even more uses.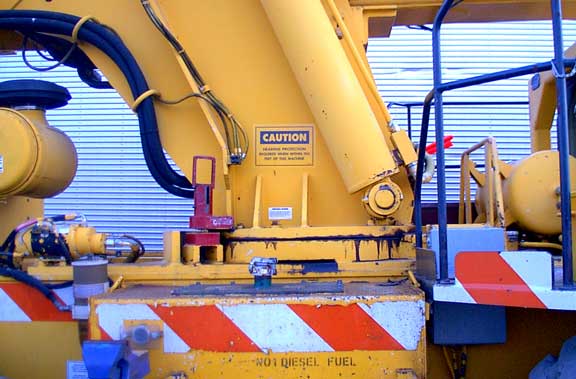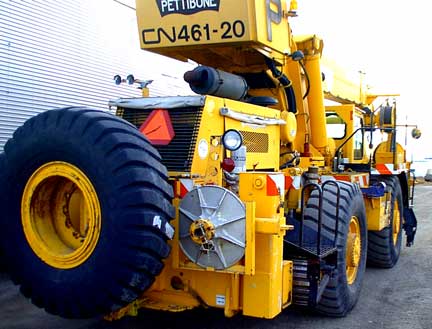 The first caution sticker that caught my eye was the one at the base of the boom which points out that hearing protection should be worn when working within one hundred feet of the machine. Since it was parked at the time I figured it was okay to look a little closer.

As we look at it from the aft position you can see the steel drive wheels which engage on the rubber tires to drive the machine down the track when it has its rail wheels in the down position and sitting on the track.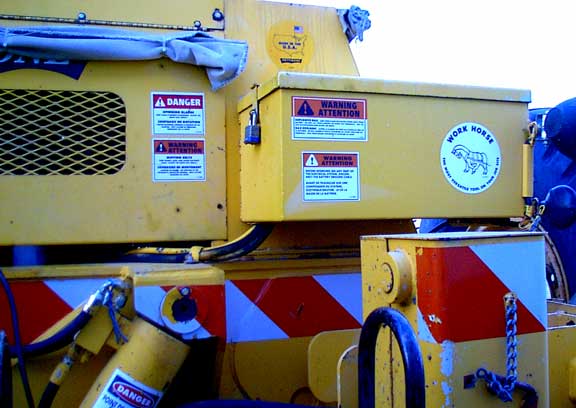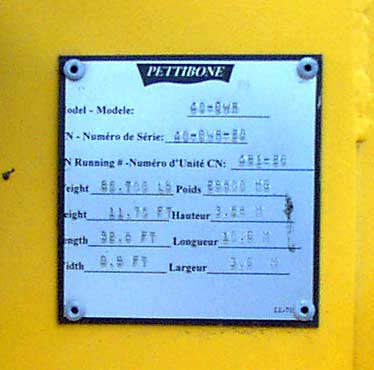 The machine is covered with placards warning of dangers of all kinds. I mention these to the operator and he reminded me that with such a machine the first consideration is "safety first."

When you stand admiring such a beast with all of its capabilities it is easy to realise that lifting loads of up to twenty ton a lot of things can go wrong pretty fast and nothing about this machine or around it is every really safe.

Perhaps the most interesting placard on the machine are the simplified ground handling hand signals to be used between the crew working with the loads and the operator. One thing is clear the swamper here depicted is a no nonsense guy, well except for his ever present smile.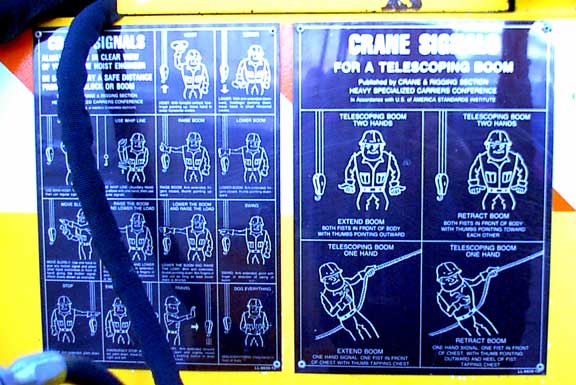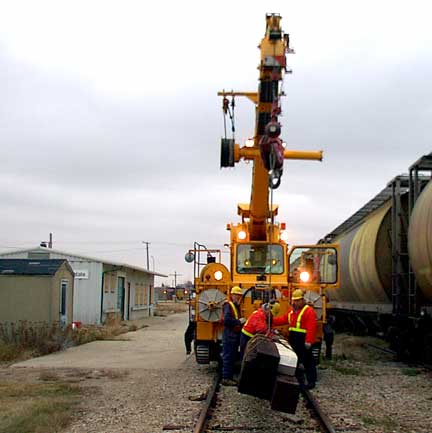 This morning the CN bridge and building crew were on hand to get their work day underway. The Pettibone operator has the unit on the rails and two ground crew were hooking up some timber for a job to be carried out East of town.

I was surprised at how quiet the machine was sitting at idle given the warning sign on the boom.

The machine is fitted with hydraulic and air capabilities so that it can support other attachments and equipment on the job site.

Pettibone is a company only slightly larger than Northern Steel and operates its 145 man plant in Baraga, Michigan.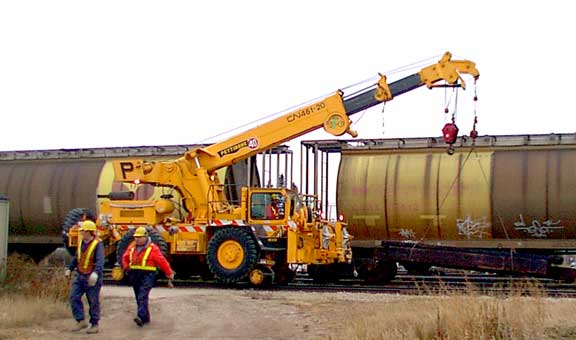 ---
Return to Ensign - Return to Saskatchewan News
This page is a story posted on Ensign and/or Saskatchewan News, both of which are daily web sites offering a variety of material from scenic images, political commentary, information and news. These publications are the work of Faster Than Light Communications . If you would like to comment on this story or you wish to contact the editor of these sites please send us email.
Editor : Timothy W. Shire
Faster Than Light Communication
Box 1776, Tisdale, Saskatchewan, Canada, S0E 1T0
306 873 2004