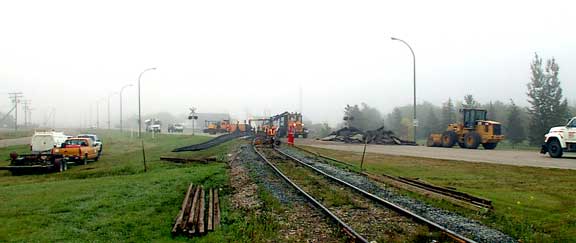 CP replaces long crossing on highway#3
FTLComm - Tisdale - Tuesday, September 17, 2002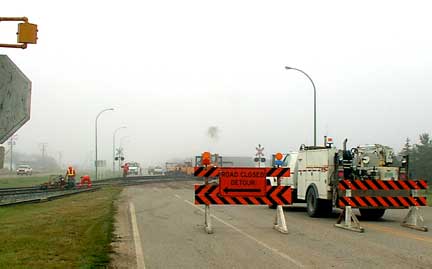 CP took on this morning's task with a no nonsense approach having brought in an "Extra-gang" and all the equipment needed to support a big job.

This indeed is a big job. This line over the years had been upgraded from 100lb. rail (100 pounds to the foot) to 150lb. but because of the highway had left the long curve that crosses highway #3 untouched.

At the top of the page you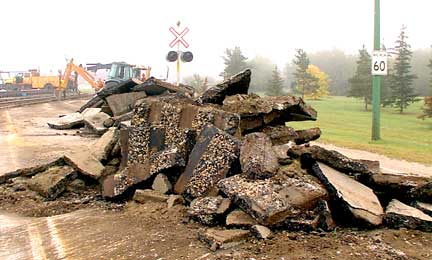 can see the spike pulling machine removing and dismantling the old rail.

The crew had already cut away the pavement and it was piled along the work site, it seems like a lot of material because it was not only the pavement beside the rails but also in between them.

Using a backhoe and small lift crane on a loader the rail was lifted up and the ties knocked off. The workers then picked up the anchors,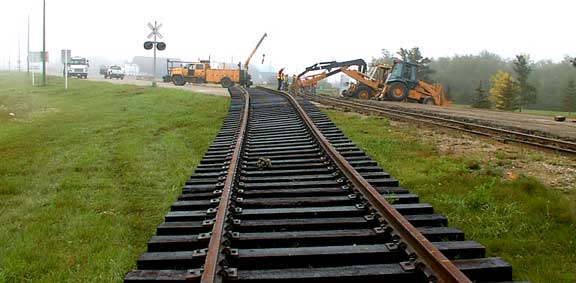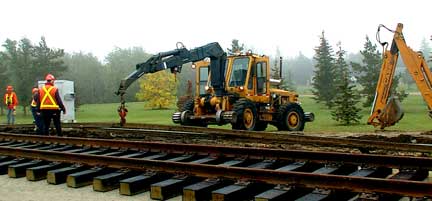 tie plates, and angle bars which were put in the bucket of Chupa's front-end loader which was hired to assist in the project.

Once the rail was free it was dragged from the crossing to be dismantled and loaded later.

CP made use of a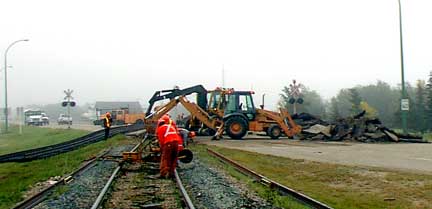 technique often used in wreck situations where the new section of roadway is pre-assembled and moved to the work site in a single piece on flat cars. In a wreck situation this allows the line to be restored to service quickly and in this case will permit the highway to be back in use with traffic only disrupted for a day.

---
Return to Ensign - Return to Saskatchewan News
This page is a story posted on Ensign and/or Saskatchewan News, both of which are daily web sites offering a variety of material from scenic images, political commentary, information and news. These publications are the work of Faster Than Light Communications . If you would like to comment on this story or you wish to contact the editor of these sites please send us email.
Editor : Timothy W. Shire
Faster Than Light Communication
Box 1776, Tisdale, Saskatchewan, Canada, S0E 1T0
306 873 2004