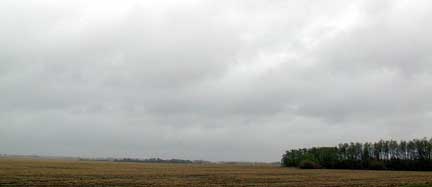 Friday afternoon this reporter finally accepted the need to do something about the long spindly grass in his yard and the lawn mower was put in to action. After which the operator and his clothing were covered, no saturated in dust. This part and most of Saskatchewan is in a similar condition - dry.

With the crops in the field and winds blowing things were looking pretty gloomy until Saturday night when a spot or two of rain began to bless the landscape, but it didn't stop there, through the night and throughout today rain, wind driven rain has splattered on the Tisdale area. These pictures clearly show visibility at around two to three miles and rolling scud coming from the North.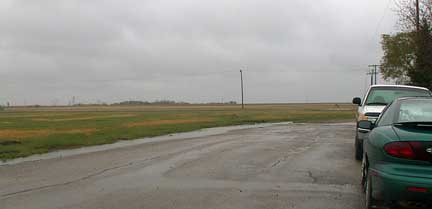 Great stuff!

The continous wind of the past two weeks has continually removed what little surface moisture was available and this part of Saskatchewan really has not had appreciable percipitation since July of 2000. The need for rain is extreme and today's contribution will start the crop of 2001.

As you can see on the right there has been enough moisture in this rainfall to put puddles on the streets and in the ditches. Tomorrow with the least amount of sunshine the dull green will begin to turn green and the weeds will shoot from from the soil of freshly planted gardens.

Winds held steady throughout the day at about 25 Knots and much higher in some open areas. In the picture below of main street you can not make out the dusting of fresh leaves that covered the street but the little arrow points to a lawn chair that made a break for it.