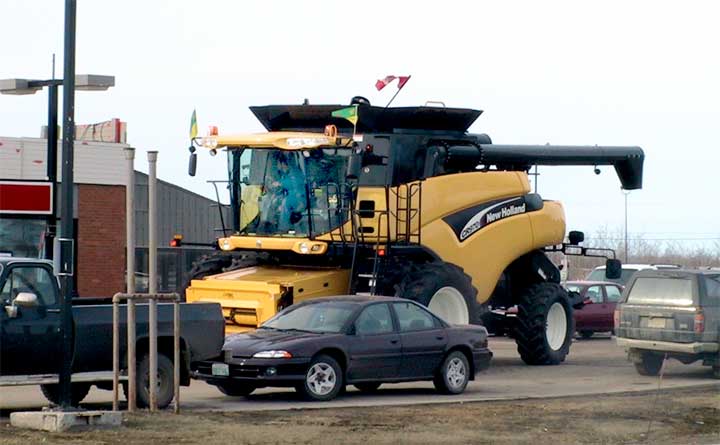 Tisdale Ramblers Rodeo and Trade Show
FTLComm - Tisdale - Thursday, April 1, 2004

Now there's something you don't see every day, well especially with harvest completed six months ago, a combine filling up at a gas station. But wait, that combine has flags!

This morning at 9:00 several teams of workmen began setting up their machinery displaces for the annual Rambler Rodeo and Trade Show. By afternoon the many of the large pieces were parked or being moved into place and a fleet of trucks and trailers were unloading their loads into the curling rink for the trade show that begins Friday evening.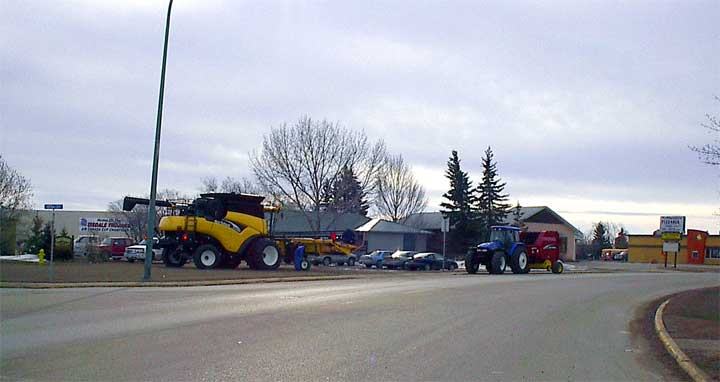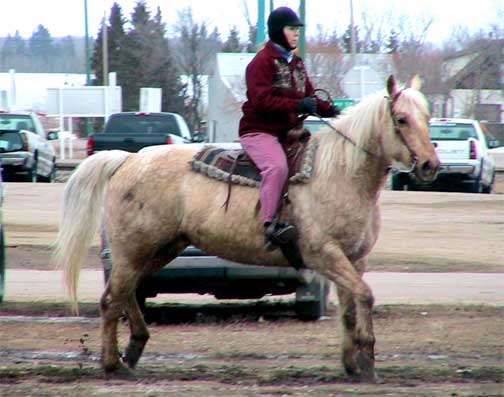 At six hunger was the motivation that brought me to the RECPlex area where I spotted this horse and its rider getting a little exercise after a trailer trip to Tisdale.

Horse by their very nature can handle a trailer ride but just like humans they need a little walk around afterwards to feel a little better about several hours of jolting along in a noisy trailer.

This area between the A&W and Bow Mar Sales made a good place to do some turns, stops and starts and just some walking around. Since the area had been cleared of snow it is certain to dry up some day but this evening it was still pretty muddy. Though I suspect the horse was grumbling a bit, as horses do there was the resigned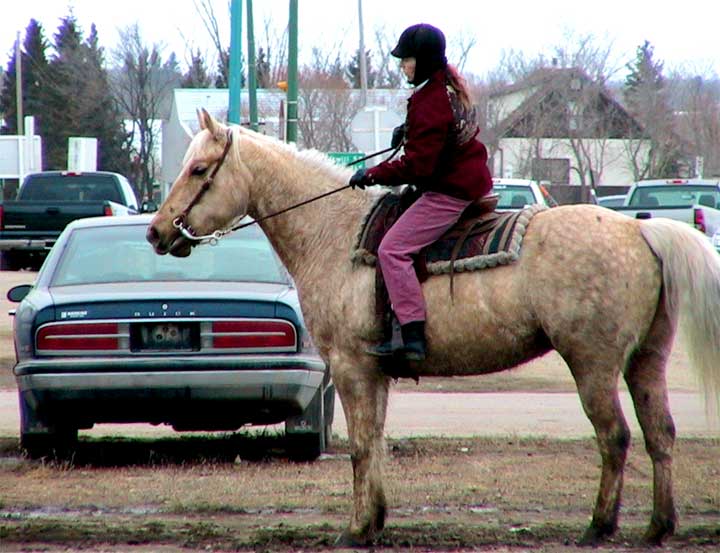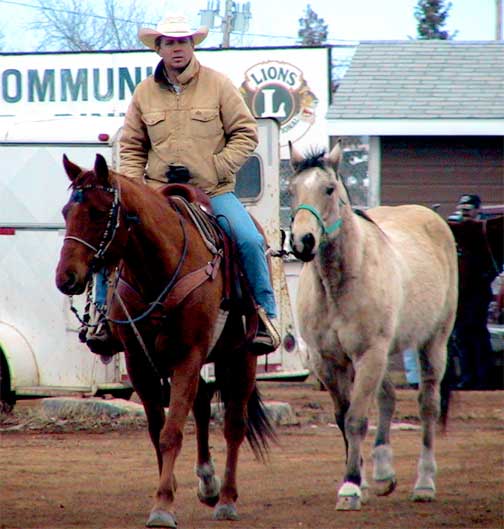 acceptance that comes from hundreds of generations of pretending to go along with what the rider wants.

Before the rider above had made it back to the trailer this pair of horses were taking a man with a great hat out for a gentle stroll in the same muddy field. As they went by the one without the saddle claimed he was just along to keep them company.

Though the trade show is a major event for Tisdale it is the excitement of the rodeo that brings in the people both as participants and as spectators.

Some how it is one of those things that I just never got the spirit of what was going on. I had been to a rodeo or two as a kid and thought the people were far more interesting but my wife who was raised in Maple Creek understands the whole show. I truly consider rodeo a bit of circus mixed with old fashion snake oil show business. But, I am definitely a minority because this show will have a great and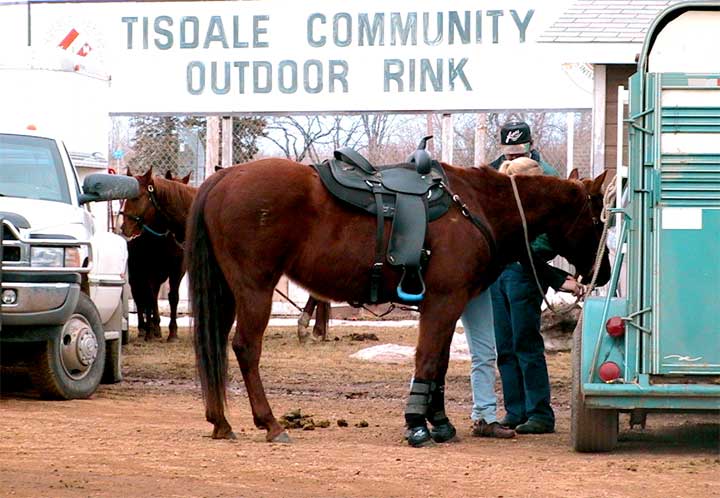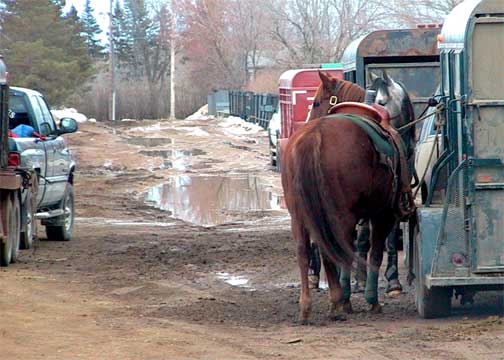 enthusiastic audience for the next two days.

It is a remarkable credit to the way horses handle people to see how they go along with this spectacle because every rider will tell you how their mount loves to compete and quite clearly understand that they are the stars of the show.

Psychologist have suggested that horses share so many things with humans and the horse trainers have discovered that getting the best out of a competitive horse depends on a complex series of experiences that have brought the horse to an intense level of cooperation with its rider.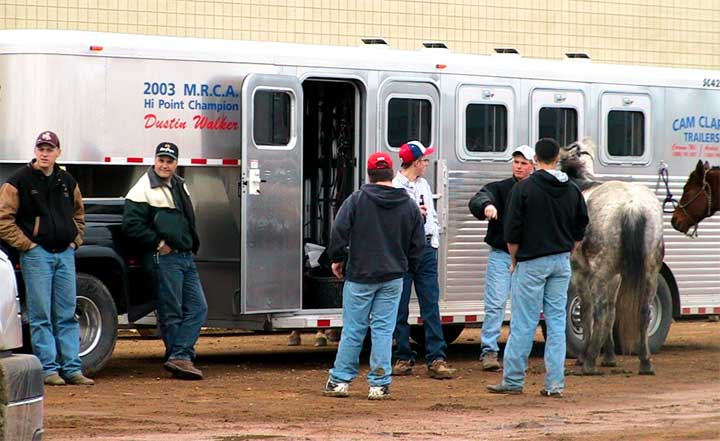 Return to Ensign - Return to Saskatchewan News
This page is a story posted on Ensign and/or Saskatchewan News, both of which are daily web sites offering a variety of material from scenic images, political commentary, information and news. These publications are the work of Faster Than Light Communications . If you would like to comment on this story or you wish to contact the editor of these sites please send us email.
Editor : Timothy W. Shire
Faster Than Light Communication
Box 1776, Tisdale, Saskatchewan, Canada, S0E 1T0
306 873 2004