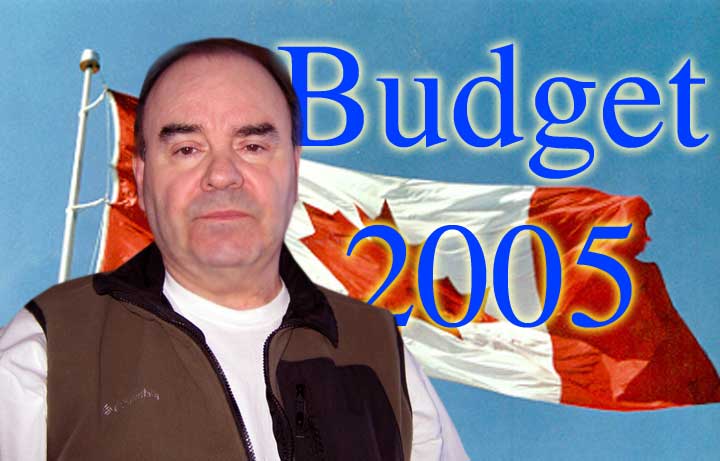 So what do you think of the budget?
FTLComm - Tisdale - Wednesday, February 23, 2005
By the look on my face I guess you can guess that I am a bit less than enthusiastic about today's Federal Budget. I consider it a missed opportunity and therefore I am more disappointed than anything. With a minority government situation we as Canadians have benefited considerably as governments under similar situations in the past were able to launch important programmes that are now part of what makes Canada the unique and definitely better place to live than other North American countries. But the sad reality of politics is that the election did not produce enough seats that would have enabled this progress. If the Liberal government wants to stay in power it can not do so with the support of the NDP, there simply are not enough of them and that simply means that the policies that will keep the government in power and stave off an election must be the policies of the loyal opposition, the Conservatives.

Many of the items in today's budget are directly lifted from the Canadian Tax Payer's Federation that form national director Walter Robinson wrote about and were posted on this web site. Using the gas tax for cities, moving the basic deduction to $10,000, and cutting corporate income tax. After the budget speech was read in the house today Conservative leader Steven Harper said the was happy with the budget and NDP leader Jack Layton said it was essentially a budget that would have been just what Harper's folks would have delivered had they been elected.

So you see, I am disappointed. Ralph Goodale could have brought many of the important spending items into effect immediately instead of spreading them over five to ten years and Canadians would have benefited from a more active stance. Health care and child care spending are positive but removing and lightening the tax burden for corporations, which are now mostly American owned companies just does not seem right to me.

But, Ralph knows full well if he had taken advice from me and not from Walter Robinson he would be shortly out of work facing an election.

Therefore the consolation I have and that can be said for all of us who love this country is that the most important message of today's budget speech came in the first ten minutes. After recognising Canadian generosity for the tragedy in Asia he reported to the House and to us all that once again Canada has a balanced budgeted and will have the same next year. He pointed out that Canada leads the G-7 countries in economic growth, budget stability and the remarkable achievement of continuing to reduce Canada's debt. Ralph made one point that all of us need be aware of and that is that the gross financial problems south of the border could upset the Canadian economy because of the more than 80% reliance on that country for trade. He also pointed out that the fast changing value of the Canadian dollar is posing a difficult challenge to Canadian exporting manufacturers.

Though I feel some comfort that we are at last going to put some money into the Canadian Armed Forces I am disappointed at the slowness and the way this money will be spread out. Canada's military has been in foreign lands working on our behalf to maintain world peace and have had to do so time after time because individually there just aren't enough folks wearing the uniform. We don't have the right equipment and have no means to get our people quickly to world emergencies because we don't have the ships and planes to do the job. Five thousand new troops will help, so will some more helicopters and newer trucks but no ships and no new transport planes. Ralph could have done better on this one as he has the full support and the considerable Canadian pride we all have for our military people.
---
Return to Ensign - Return to Saskatchewan News
This page is a story posted on Ensign and/or Saskatchewan News, both of which are daily web sites offering a variety of material from scenic images, political commentary, information and news. These publications are the work of Faster Than Light Communications . If you would like to comment on this story or you wish to contact the editor of these sites please send us email.
Editor : Timothy W. Shire
Faster Than Light Communication
Box 1776, Tisdale, Saskatchewan, Canada, S0E 1T0
306 873 2004