A clear and present danger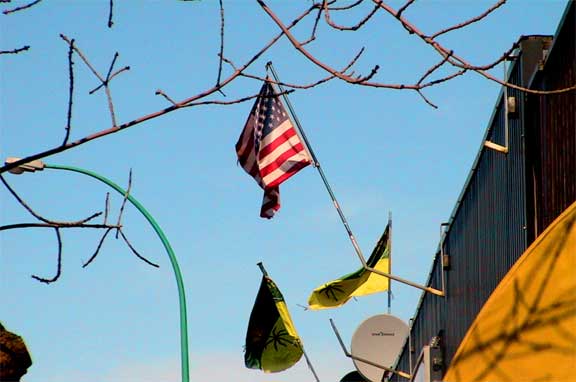 FTLComm - Tisdale - Wednesday, March 31, 2004
I am certain that the owner of Pearson's Store has just been waiting for good weather to replace the Canadian flag from the empty mast on the front of his store, but it certainly made me think today when I noticed that the two prominent flags to be seen on main street were of the province and of a neighbouring country.
We Canadians are under attack by our neighbours to the south in very many different ways most of these attacks are just annoying and only affect our income but the real clear and present danger is much more subtle and a true threat to our Canadian way of life.
I was fourteen or fifteen when my father who was on the school board at the time told me he had been talking to the principal and he wanted to deal with a problem I was having. He went on to explain that it was nothing specific but rather the principal and teachers were concerned about my "attitude". At the time I reacted with only more of the same for indeed "attitude" is something that sneaks up on us, it is not usually obvious to the person showing the attitude but becomes overwhelmingly apparent to everyone around them.
The clear and present danger which we as Canadians must guard against is a change in attitude. The political situation in the United States is only a reflection of American attitude and it is worrisome. Their president did not get into office by winning an election but by rigging the voting in a state where his brother controlled the voting registration. The result has been the most extreme polarisation I have seen in my lifetime. Instead of people being able to discuss things and even agree to disagree the American way has become in your face confrontation. People who criticize the government are attacked on a personality level and every issue is mean and dirty.
I am proud to be Canadian for the many reasons I have discussed in the past but most of all I like being able to say what I think and be able to listen to and reason with those who do not share my point of view. We Canadians understand things and work at the process but with the extremes we see on television and in the press we could easily begin to pick up on this harsh and uncivilised attitude that has become the norm south of the border.
Return to Ensign - Return to Saskatchewan News
This page is a story posted on Ensign and/or Saskatchewan News, both of which are daily web sites offering a variety of material from scenic images, political commentary, information and news. These publications are the work of Faster Than Light Communications . If you would like to comment on this story or you wish to contact the editor of these sites please send us email.
Editor : Timothy W. Shire
Faster Than Light Communication
Box 1776, Tisdale, Saskatchewan, Canada, S0E 1T0
306 873 2004