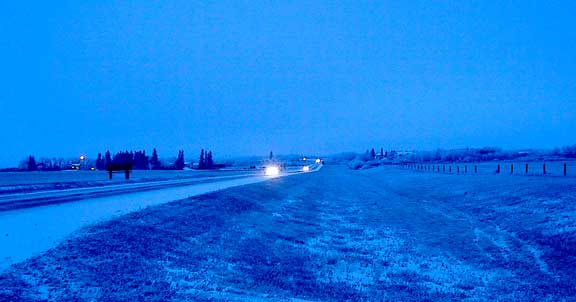 Beginnings and endings
FTLComm - Tisdale - Wednesday, November 19, 2003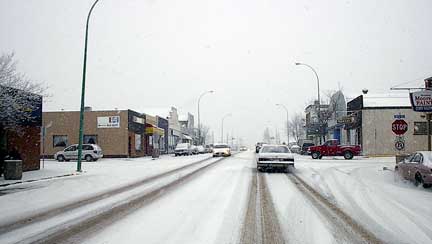 Today the fog hung about the town like a bad tempered ghost, occasionally wafting flurries of snow upon the streets and citizens all going about their business. On the highway, a lone hitchhiker waits for the ride that will get him from this place to yet another. Darkness descends mixing with the snow and dreams of sunlight are just dreams.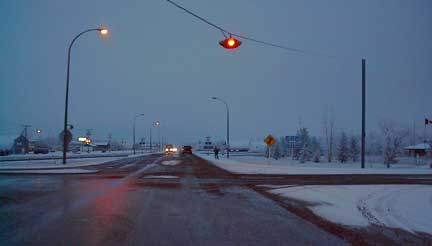 It wasn't just finishing high school and going off to college, or changing from pre-law to education in my second year, the sixties only in their third year, were a new time. Music, art and literature all spoke of change and promises.

At eighteen most premises were off limits to me but a "coffee-house" that featured live entertainment was a go and I met some friends from class at what seemed like a basement in a strip mall at Elphanstone and Regina Avenue. They told me through the smoke, that the entertainer was something special, I took their word for it, but he was a bad singer and a so-so guitar player who whispered magical lyrics as he sat cross-legged on top of a table, his name was Leonard Cohen.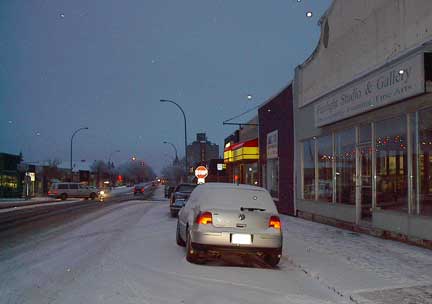 The American's new and apparently enlightened president was assassinated and our Prime Minister, a man I worshiped, was being politically assassinated by Ontario ignorance lead by an American, Dalton Camp. Things had been looking good; there had been hope, now there was a measure of despair in the winter of 1963. Had we just ended a grand era, or was something new and wonderful about to begin?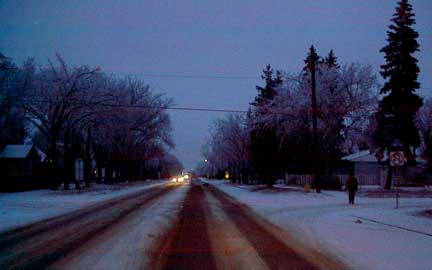 Eight of Canada's premiers have weathered elections or just been newly elected; in twenty-three days Canada's prime minister will retire and a man almost his age with a troubling business background will assume the power of this country. Our province has re-elected a good man as premier who promises to make changes and today the leader of the provincial opposition announced that he would resign in February making way for another leader of his hapless band, out of step with the people of the province, trusting their "belief" is some economic/political credo that has no successful working model ever.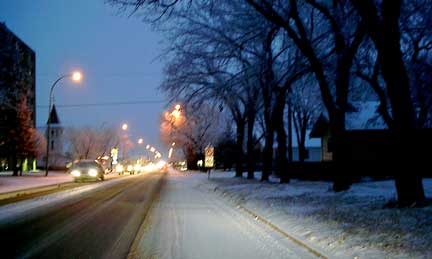 Is this the beginning of something? Is this the end?

This afternoon I watched a truck older than the average age of most Saskatchewan residents, shudder to life, its driver smoking, its exhaust delivering toxic blue waste into the atmosphere and I wondered. No, I did more than wonder, I questioned. No, it was more than that, I lamented the dramatic lack of progress I was seeing.
Where was the promise in the summer of sixty-three, where was the folk music, where were the sounds and signs of a new world of equality and fairness? Where have all the flowers gone?
In the back of my mind I keep having these third person comments pop into my consciousness, things like:
By now we should have good sidewalks
By now we should be spending more time and energy on making things look and be good
By now we should have less illness and better quality of life
By now we should have a shorter, not a longer work week
By now we should all be nicer to one another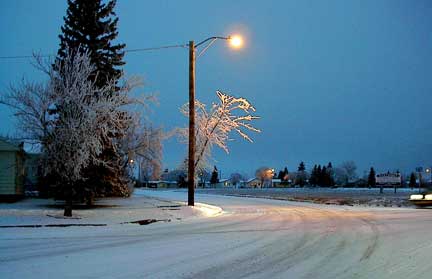 As I admired the beauty of a tree bristling with amazing frost, it is clear to me that there is still beauty on this planet, someone somewhere can still write a symphony, the magic of a wondrous painting will still let us sigh! Isn't it time we no longer accepted excuses, isn't time we expected things to get better?

Yes it is. But if we keep on accepting faith healer politicians as leaders the longer we are going to remain in the dark ages. If you and I want to make things better we get up from our chairs and put effort and intelligence into our actions and with our elevated expectations we can produce improvements in almost anything.
The next time some politician starts telling us about the wonders of some idea like free trade or de-regulations, let us ask for proof. Let us not accept words that come from some creed rooted in greed. It is time to go back, not in time, but in expectations to the sixties, make positive waves, and wear some flowers in your hair.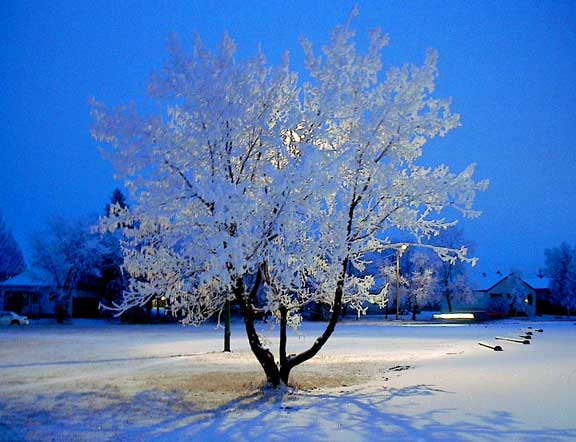 ---
Return to Ensign - Return to Saskatchewan News
This page is a story posted on Ensign and/or Saskatchewan News, both of which are daily web sites offering a variety of material from scenic images, political commentary, information and news. These publications are the work of Faster Than Light Communications . If you would like to comment on this story or you wish to contact the editor of these sites please send us email.
Editor : Timothy W. Shire
Faster Than Light Communication
Box 1776, Tisdale, Saskatchewan, Canada, S0E 1T0
306 873 2004