As you look at the picture at the top of the page, you can easily identify the horizon and most folks take that angry sky for granted, as we have all seen it before and know what a little fall snow is like. I have spent hundreds of hours working my way around and under cloud formations like that, so I have some perspective, I know what they are, what they are like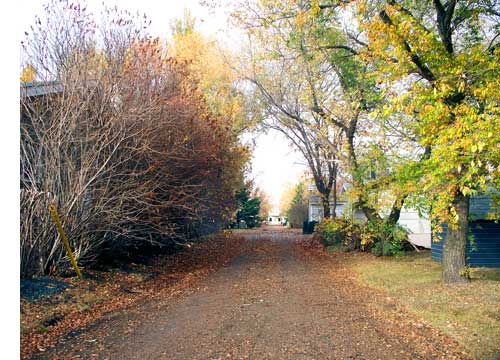 and what you can see when you fly around them.
As you look down this back alley with the leaves on the ground and the doors of the elementary school at the opening, you can with your minds eye, appreciate this scene and understand what you are looking at.
The problem for everyone, as the crisis with the money market, commodity pricing, the decline in our dollar's value, the threat to our mutual funds and RRSPs, these are truly uncertain times and to make matters far worse, wholly and completely unprecedented. The recessions we and the expert economists have experienced, came and went in times before the Internet and twenty-four hour continuous news and commentator coverage. We all accept the concept that knowing about something and attempting to understand it, is essential to helping us deal with crisis, but as I sat there last night, working through Hong Kong, Japan's, then London's stock market contortions, I realised that with all this awareness, we still lack one very important thing, perspective.
As hard as it may seem to most of us to accept, we now know for certain that everything is not a random occurrence, that even the smallest action can result in significant reactions far removed and vastly extended from the source. Essentially, I am pointing out the over simplified version of the chaos theory. Not one thing is truly accidental, there are causes and consequences to everything. With this in mind, scientists in all fields of endeavour have attempted and will continue to seek, the patterns the inherent structures, that govern all things and that includes economics and how governmental policy and especially the attitudes of both leaders and followers, as they influence what happens.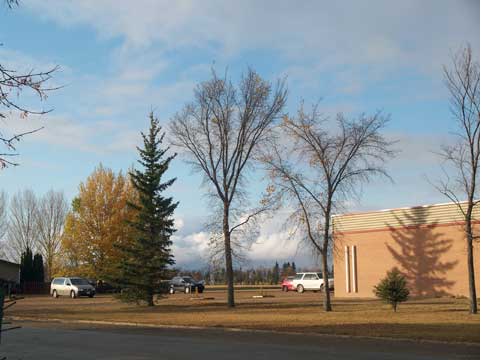 Our prime minister and his attitudes are what are determining how he and his government function, similarly the leader centred government of the United States depends so heavily upon the most subtle things in the personality of their leadership. I point this out to you because it is something I learned last night and feel obligated to share this knowledge with you.
The investors in the Japanese stock market were anxious last night and their fears lead them to sell, these same "emotions" were at work in the other markets as they opened around the globe. When the London stock exchange opened at 2:00 AM our time this morning, it already had orders by investors to sell, sell, sell and at fifteen minutes into trading, the stock exchange had lost 10% of its value.
Then in New York this morning there was a slow start, there was just a little bit less anxiety and though there was selling, it was only moderate. Then fear took over and the pace of selling drove the market and the Dow down more than 700 points, but it slowly settled down and was up more than 300 points at one time and then closed down less than 200 points. Meanwhile, north of the border the panic and uncertainty did not resolve itself, as the Toronto market took a serious beating and the poor Canadian dollar based, on a solid Canadian economy, with government surplus budgets, lost two more cents.
The investors who hold, buy and sell stocks and bonds, do so based on their judgment, judgment which is often influenced by how they feel. So what I am telling you is that the lack of perspective is seriously inhibiting the events of our time.
A recession takes about eight months to work its way through a country's economy, a global recession takes about sixteen months to run its course. Surprisingly the experts, and there are many, do not know if we are seeing this stock market tumble, as the beginning of the recession, middle of the recession, or signally the beginning of the end. There just isn't enough data to make the call.
The problem for politicians is magnified as they have their voters and supporters to contend with and there is a clamour for somebody to do something. Clearly, it was the political and financial leaders, who by their action, or inaction, produced the chaos in the first place, now the politicians are scrambling to appear to be dealing, in a responsible manner. So far, their activity and enormous outlays of money and resources, have had no real affect.
Now let's talk about losses. If you buy something that is tangible, you have it in your possession after you have traded, or handed over money, or the promise of money, for the thing you have bought. This is not the case when you are dealing with stocks and bonds, they are just paper with no intrinsic value. Shares in General Motors have fallen to the level they were more than fifty years ago, the money spent to buy those shares, at whatever price, is gone, vanished, now little more than a memory. So it is with the enormous value in the other stocks that have seen their value descend 40% in this past year. It is this loss of wealth, that we as a society, must come to terms with, because it affects everything.
The price of oil has fallen because speculators are guessing that the recession in the US economy will drastically reduce the demand and therefore, the value of oil has fallen from over $140 a barrel to something in the mid $80s. This will be the same for wheat, canola and barley. Anticipated lower demand will depress the price, even though the product is outstanding in quality and needed by those who might once have afforded it, at its present pre-devalued price.
This is Thanksgiving weekend and indeed we have so much to be thankful for, even this turmoil in the market place is a worth while experience that should provide us with the opportunity to learn and understand more about the processes at work. Don't waste this weekend in worry, or concern about these things, over which we have no control, but let us accept our lives and the bounty of this past year in those solid things, which the tumbling stock markets will not affect or change. For each other and the good fortune to be living and breathing, may we all be truly thankful.