Historically, October has been a time of upheaval, everyone is aware that the great stock market crash that lead the the Great Depression and the Dirty Thirties was in October of 1929. But there was also the October Revolution in Russia that led ultimately to the overthrow of the Czar. In my life time the dramatic and dangerous October Crisis of 1962 when the United States and the Soviet Union pointed ICBMs at one another.
This October has had its time of drama with the world's stock markets following the New York Stock Exchange down down and they up. Today, the Toronto Stock exchange made history with its greatest gain but the fundamental underlying issues that brought the world's economic system to a crisis are far from vanquished and a very deep recession looks to be in progress that will bring down companies, produce widespread unemployment and perhaps more. The most dangerous of all is the devaluation of the US dollar which seems unavoidable at this point.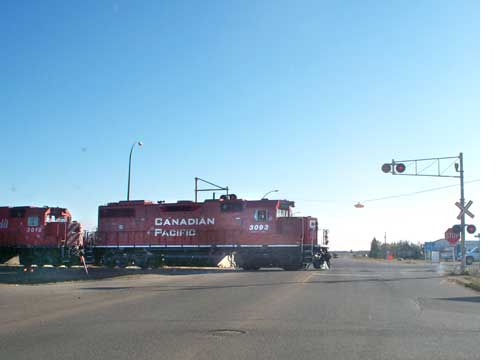 When mentioning the world's economic state and more specifically the mess south of the border it is interesting to note that Paul Krugman, the Yale economist who writes for the New York Times and who has been featured in dozens of stories on this web site was been selected as this year's recipient of the Nobel prize for economics. You might just trying going to the top of the front page of this web site and use the Google tool to check on all the times Krugman's been mention in various stories many dealing with warnings about the collapse of the US economy which is occurring this month.
Today is Canada's election day and many think that the results this evening will bring an end to some uncertainty. Unfortunately, that sorely disturbed economy in the United States is not going to settle down and we In Canada are going to have to suffer, perhaps even more than Americans from their economic and political stupidity. Uncertainty in Canada will not be resolved by our election.
Here is some more uncertainty to deal with. Flu season will soon be in full swing and the medical community is confident that this year's version of the flu vaccine is a good one and will offer those who get a flu shot good protection from the varieties expected. I got my shot this morning. If you are 65 or older you qualify for a one time vacination for pneumonia, which is a major killer of senior citizens. If you are at risk you can get a note from your doctor and public health will happily immunize you from this disease. The uncertainty here is that my doctor seems to have evaporated. Dr. Herbert left the Tisdale Medical Clinic practice and vowed to set up his own practice but has not done so as he has been relieving in Esterhazy and Nipawin. There is also a new doctor coming to town so perhaps there will be less uncertainty with regard to getting to see a family doctor in this community.
I am sorry that Ensign did not post yesterday but more October uncertainty. I obtain my Internet service from Persona Cable and the service over the past month has been really patchy, so patchy yesterday I just could not operate.
Though I have been talking about uncertainty there is one thing that seems something you can count on. That snow that swept across the southern part of Saskatchewan on Sunday is due to make a return visit soon to all of the province and you can cut down on some vehicular uncertainty by switching over to "winter tires". In Quebec it is the law and for the rest of Canada it makes good sense to switch off those all season ties you presently are using and put on "winter tires" which have a significant improvement for safety from -5ºC and lower. Those smart folks who have been using them this past winter are fanatics about the improvement it has made to their vehicles. So by mid November make that switch.