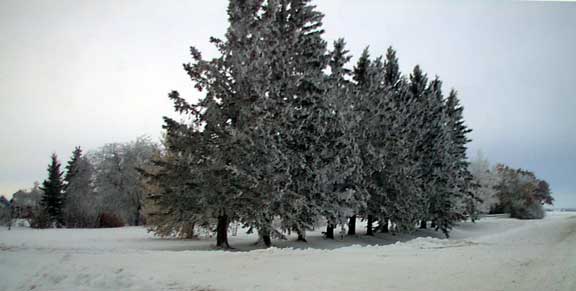 Fragile: Time Space Continuum
FTLComm - Tisdale - Monday, January 6, 2003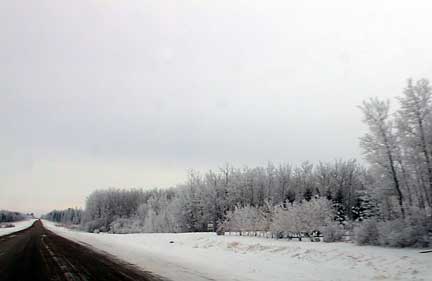 It seems like only a few weeks ago that my little boy was waiting for me to come home from work beside these trees, he was three and his head reached half way to the top of the closest tree in the picture above.

I am never quite sure if it is the memories or time itself that is fragile, just a glimmer there in the flashes of memory that come in a familiar setting. As we approached those trees in the corner of a farm yard yesterday afternoon I could see that little boy with a grin that was visible half a mile away. I had been in the early fall when he stood there on a green lawn beside the young evergreen and yesterday it was mid winter those trees now twenty-nine years later have grown a bit and were covered with hoarfrost.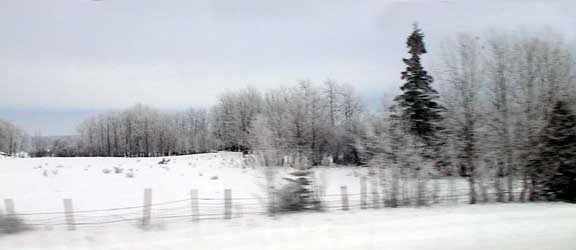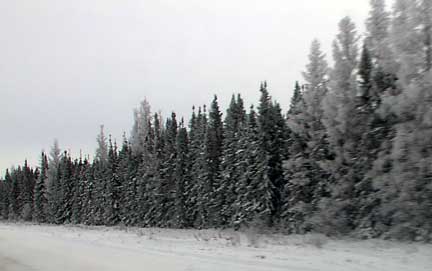 The weather that produces hoarfrost is a combination of damp water vapour filled air forming fog at a dew point below freezing and the frost forms on twigs, stems and on any object exposed giving it a glistening white coat. But hoarfrost is extremely delicate, it is in fact fragile. A gust of wind can send it fluttering into the air as it floats to the ground almost as a light fluffy snow, leaving only a few traces of itself behind, remnants of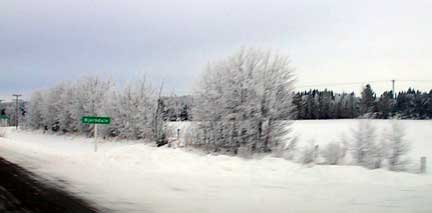 of its magnificence.

Within each of us we sample life especially the special moments that are like hoarfrost, ethereal moments of uncanny importance and at the time they sparkle and light up our life only to be replaced with other mundane realities as the last glistening particles of that special moment cling as fragments of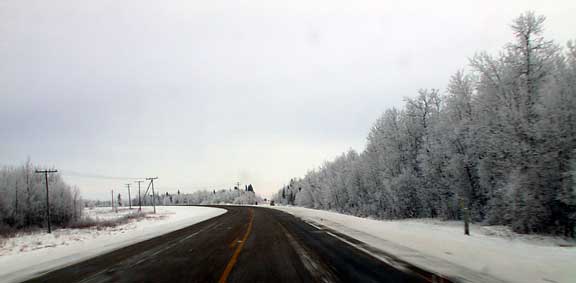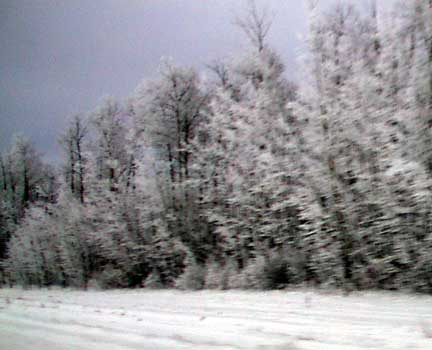 a memory.

Hoarfrost takes the ordinary and makes it miraculous. It transforms the countryside with its pure light but only until the wind comes, only until it is shaken from the twigs and pine needles or until the falling clump of snow knocks it off to reveal the dark reality it covered moments before.

The warm gems in your memory were placed there and filled your thoughts with joy and sometimes, just sometimes you get a rare chance to recall and play again the scene in your memory as once again the elation of a moment long since past once again arises in your consciousness to tell you once again about loving and being loved.

---
Return to Ensign - Return to Saskatchewan News
This page is a story posted on Ensign and/or Saskatchewan News, both of which are daily web sites offering a variety of material from scenic images, political commentary, information and news. These publications are the work of Faster Than Light Communications . If you would like to comment on this story or you wish to contact the editor of these sites please send us email.
Editor : Timothy W. Shire
Faster Than Light Communication
Box 1776, Tisdale, Saskatchewan, Canada, S0E 1T0
306 873 2004