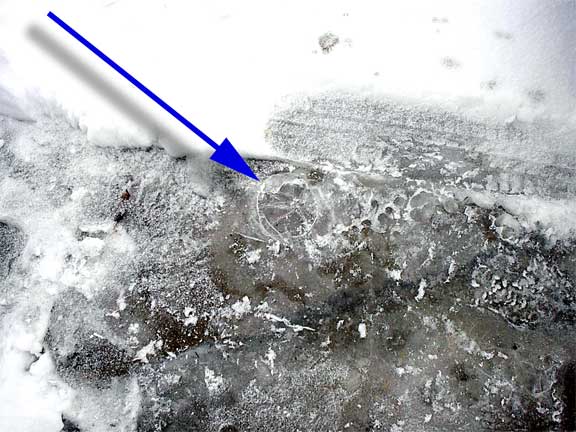 Crash Report
FTLComm - Tisdale - Monday, March 1, 2004
All of life, yes I mean that, all of life is a learning experience. This morning with both cameras around my neck I waddled down the stairs and looked up at the dull overcast March first sky, took a step or two and surveyed the front yard wiith snow up over the front step. The fall was sudden so sudden that I was surprised to see how the angle of the sky had changed and there I was lying on my back both cameras safe and I had not lost consciousness so it was clear that I had done no damage to my cranium and its contents.

My right calf attempted a muscle spasam but other than that I was okay. Water from a huge icicle on the corner of the house had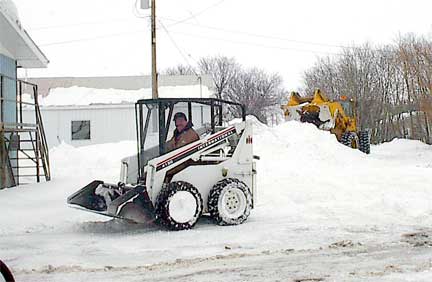 created a perfect inclined slip zone and my gazing into the clouds above had been my undoing. The cool thing about this fall is I was so happy to have survived it without injury. But how hard did I fall?

Good question, the picture at the top of the page shows how hard I fell. My arms had broken my fall but one of them broke the ice I fell on. Victory!

Meanwhile the failing winter is still in evidence as this is the snow removal process at Wicks this morning and only a block away (below) another bobcat was clearing out a driveway. In the background of the picture on the right you can see a Northern Steel front end loader cleaning up their yard.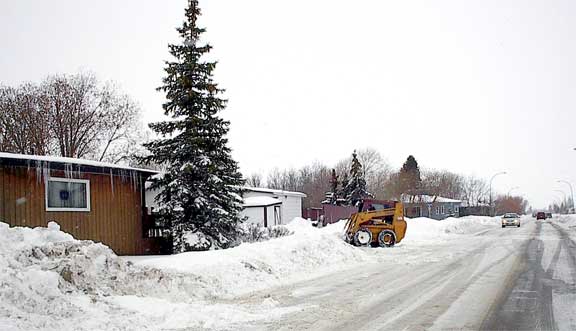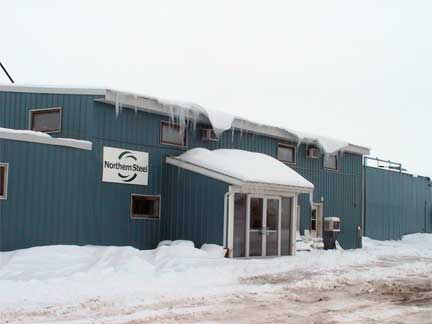 On Sunday Nortthern Steel was closed up and I noticed the amount of snow and ice on their roof.

The picture below was also taken on Sunday and shows the snow piled down the middle of the street, the town crew had that cleared away for today but on Sunday there were piles like that on several thoroughfares.

But for me, the totally good thing is that I fell without damaging a camera and did only minor bruising to my arms. However, it is uncertain to know if I have learned anything, all I can do is hope that I will make sure of my footing before gazing around looking for that picture of the day.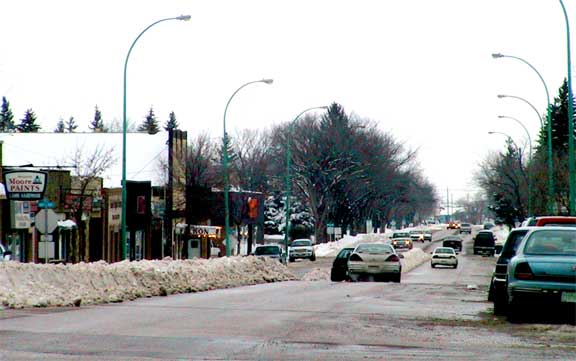 Return to Ensign - Return to Saskatchewan News
This page is a story posted on Ensign and/or Saskatchewan News, both of which are daily web sites offering a variety of material from scenic images, political commentary, information and news. These publications are the work of Faster Than Light Communications . If you would like to comment on this story or you wish to contact the editor of these sites please send us email.
Editor : Timothy W. Shire
Faster Than Light Communication
Box 1776, Tisdale, Saskatchewan, Canada, S0E 1T0
306 873 2004