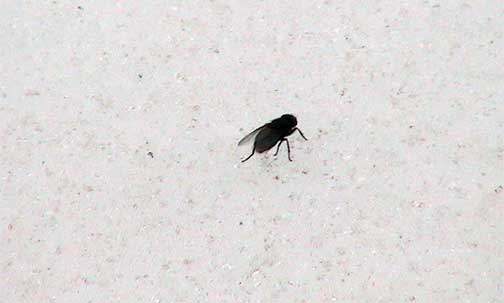 of all ages come up with strange explanations for their remarkable backward failure to adapt to the world in which they live and work.
Not like the guy above, he has crunched through the snow to sit on a park bench up to its seat in snow, now that's adaptation. Or, this jogging house fly who can not fly because his or her metabolism needs more heat than available on that snowbank so jogging has to be the course of action.
It may well be an important t part of human design that we are almost always dissatisfied. We complain that a movie is to silly, to serious or falls short this way or that when all it really is, is a simple form of entertainment. I complain about the lateness of spring but just as easily could complain about the excessive run off. Weather is ideal because no matter what it is like we can always wish for something different.
Our human problem is a tricky one. We must have, absolutely can not do without, challenge. If you stop learning new things you are no longer alive. On the other hand that which is our challenge is also our primary source of complaint. All things would be better if . . .
Until we slip on our thinking caps once more, may our good spirits and positive thoughts go to Gus of Mr. Ribs who suffer a heart attack a week or so ago but is steadily making a recover. And, one more oddity in the news, Colin Chupa the consummate workaholic, has actually gone on a two week holiday.