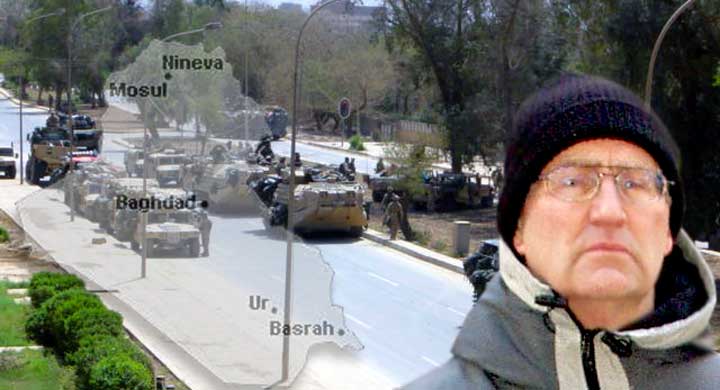 This composite image was made from an image by the Christian Peacemaker Teams and a news picture of David Milne
Stories from Iraq
Abu Ghralb - Monday, November 24, 2003
Editor's note: Though not directly a part of the Mennonite Church the Christian Peacmaker Teams are a group determined to go to the world's trouble spots and do as best they can to make things better. Richard Philips passed on these harrowing accounts from the roads and towns of Iraq that are first person accounts of what is really happening inside this occupied country.
Christian Peacemaker Team intervene in U.S. checkpoint confrontation
Iraq: by Davil Milne and LeAnne Clausen
On November 13, at 11:15 am, Christian Peacemakers Team Le Anne Clausen and David Milne intervened in a potentially deadly checkpoint confrontation between U.S. soldiers and Iraqis.
Milne and Clausen were leaving Abu Ghraib prison camp in a car with two Iraqi men and their translator. As their car pulled up to the intersection of the four-lane highway and the gravel road to the prison, they came upon a makeshift U.S. checkpoint.
One Humvee, parked sideways, blocked the passing lane just past the intersection. Another sat in the median twenty yards ahead. Three U.S. soldiers stood in the passing lane or on the edge of the median in front of the Humvee. Traffic on the highway was heavy, including large trucks, and moving at high speeds. The soldiers had posted no signs warning drivers of the checkpoint, and vehicles in the passing lane had to merge into one lane to avoid the Humvee.
As the driver of Clausen and Milne's car waited to cross the highway, a black Jeep Cherokee approached the checkpoint. The driver had been following the vehicle ahead too closely and appeared not to have seen the soldiers.
Two soldiers pointed their weapons at the vehicle, yelling for the driver to stop. As the driver braked, one soldier pointed his pistol at the windshield and walked toward the car, yelling and signaling for the Iraqis to get out of the car. Another soldier, aiming his M-16 at the vehicle, indicated the Iraqis should stay in the vehicle. While the driver looked back and forth at the two soldiers in confusion, the soldiers stationed on each Humvee also trained their machine guns on the car.
Clausen began taking pictures as the soldiers paused and both gestured with their weapons for the vehicle's occupants to get out. Three Iraqi men quickly exited. The soldiers ordered them to put their hands on their heads and stand in the median. One soldier frisked the men while another soldier searched the vehicle.
Clausen and Milne got out of their car. Milne walked slowly to the shoulder of the highway where he could observe and also be visible to the soldiers conducting the search.
A soldier noticed Clausen taking pictures and ordered her to stop. Clausen lowered her camera. The soldiers began treating the Iraqis less aggressively. Shortly thereafter, the soldiers allowed the men to return to their vehicle and drive away.
U.S. soldiers have killed many Iraqi civilians at checkpoints over the past several months. Human Rights Watch documented this phenomenon in their report of October, 2003. Christian Peacemakers Team has also documented cases in which soldiers opened fire on civilian vehicles. Often the checkpoints were poorly marked or unlit. Only moments earlier outside the prison a young man told Clausen that U.S. troops had killed four of his friends and wounded and detained another three when the driver of their van hadn't been able to stop in time one night at an unmarked U.S. checkpoint.
Testimony of an Iraqi man detained and tortured by US Forces
November 5, 2003

Baghdad: [Note: Christian Peacemakers Team Matt Chandler and Allan Slater took the following testimony of Abd al-Rahman on October 20, 2003. It has been edited for length, which required cutting descriptions of the prison camps, accounts of torture through electric shock and accounts of demonstrations that prisoners have organized against U.S. forces in their camps. People wishing to see the full 2528-word report may send their request to guest.445947@MennoLink.org.]

I was a low-level employee at the Ministry of Agriculture in Baghdad. Someone who had a grudge against me told the Coalition Forces that I was a Ba'ath party militia member. The U.S. raided my family's home at about 2am on June 14, 2003. I was away at the time. . . The soldiers broke in the doors, ransacked the house, confiscated some jewelry and 5 million Iraqi Dinars [$2,500 US], and held my wife and daughter at gunpoint. . . .
The soldiers returned for a third raid June 18 at about 2am. They came to the house with a helicopter hovering overhead, three tanks, and six armored vehicles. They entered the house from all directions, including from above. . . . The soldiers searched the whole house--even the toilet--and interrogated my neighbours. They found nothing in the house and all of my neighbors said I was innocent. The commanding officer apologized to me . . .but then he said he didn't have the authority to let me go, so he arrested me.
The soldiers took me to their base in the Al-Shaab district of Baghdad. They kept me alone in a room with my hands zip tied behind my back for two days, feeding me only one spoonful of Army rationed food per day and giving me a total of two glasses of water during that time. During these two days, some interrogators beat me frequently, shoved me around, stood on my back, and pried off one of my toenails.
[At the Baghdad Airport] the guards moved me to a small wooden room outside with one small hole through which they passed food. It was very hot and very dirty inside. The guards gave me Army rations with pork in them (which I could not eat because I am a Muslim), prohibited me from showering, allowed me to use the toilet only three times a day.
I told them as much as I truly knew: I have only seen Saddam Hussein once in my life, when I went with my school to a speech he gave in 1980. ... Eight days later, the US soldiers began interrogating me again, this time threatening to harm my family if I did not give them information. . . .
We heard rumors that there was a mass grave of Iraqi and US soldiers underneath the prison camp. My fellow prisoners and I secretly dug under our tent for a few feet and found recently deceased corpses.
[At Bucca prison camp] I became very depressed again. I kept thinking about one of the US interrogators who told me I would be transferred to Guantanamo Bay. I attempted suicide by cutting my neck with wire. Maj. Garrity [an officer at Bucca prison camp] attended to me personally for three days in the hospital. She listened to my whole story and agreed to contact her leadership to try to help me.
I want people in the United States and around the world to know about my case and the hundreds of others like mine. I want Iraq to be a truly free and just country.
Testimony of Iraqi mother whose three sons are under detention by US forces
November 8, 2003
[The following is a the third in a series of human rights testimonies being released as part of Christian Peacemakers Team Iraq's upcoming Campaign for Justice for Iraqi Detainees. It has been edited for length. People wishing to see the entire statement may send their request to guest.445947@MennoLink.org.]
Christian Peacemakers Team workers Le Anne Clausen and David Milne visited this family's home in mid-September to record their story and document the damage done to their house during the raid. Zaynab the mother of the three sons, sobbed during the entire interview.
"U.S. forces attacked our house in the middle of the night. They dynamited the front gate and threw in small bombs [percussion grenades] before they entered the house."
" Our family was sleeping and the men were in their underwear. The soldiers tied them behind their backs, put sacks over their heads, and put guns to their heads as they forced them to kneel."
"My second son was still sleeping when the soldiers entered his room. To wake him, the soldiers shot into the pillow beside his face. They ripped his clothes as they arrested him. They kept the rest of our family under guard in the kitchen, pointing guns at us--women and children. They forced my daughter-in-law to walk through the house, with four soldiers' guns pointed at her back, showing them every possible hiding place. There were about forty soldiers in our home during the raid."
"The soldiers said they came searching for weapons and demanded we show them where we had hidden them. They didn't find anything here, so they took my sons instead."
"One child, my grandson, was in the home when the raid happened. Now he shakes and screams at night. He thinks the helicopters took his father, since several were hovering overhead when they raided the house."
"We went to the International Committee of the Red Cross and the military, seeking information about my sons, but until the mosque came with information from Christian Peacemakers Team, we heard nothing."
"We had no relationship to Saddam Hussein; we were not supporters. During Saddam's reign, no one came here searching in our house. We had security. No one broke down our door. Why didn't they pursue the looters instead of taking our sons and
brothers?"
"We are pleased the U.S. removed Saddam's regime, but there is no improvement in our situation."
"It was like doomsday. Are the U.S. forces like looters? I want to tell them, 'You shouldn't hurt people, you should treat them well because you are Christian and you should follow the teachings of Jesus.'"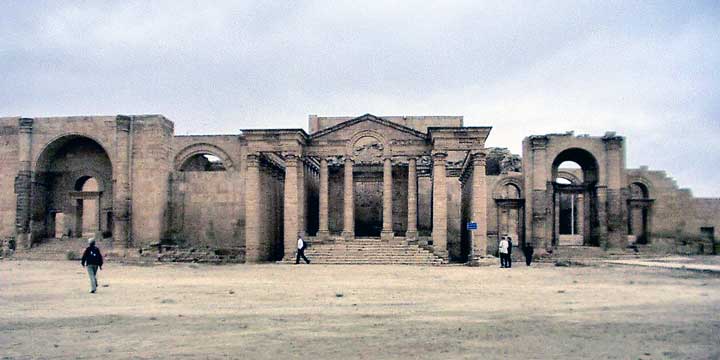 Ancient ruins of Nineveh in Northern Iraq
---
Return to Ensign - Return to Saskatchewan News
This page is a story posted on Ensign and/or Saskatchewan News, both of which are daily web sites offering a variety of material from scenic images, political commentary, information and news. These publications are the work of Faster Than Light Communications . If you would like to comment on this story or you wish to contact the editor of these sites please send us email.
Editor : Timothy W. Shire
Faster Than Light Communication
Box 1776, Tisdale, Saskatchewan, Canada, S0E 1T0
306 873 2004