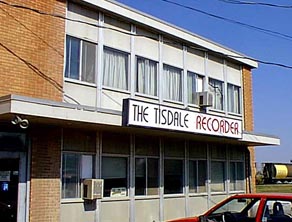 FTLComm - Tisdale - September 11, 1998

The Tisdale Record has transferred its operations to the Commercial Block across from the Medical and Dental offices in Downtown Tisdale. The premise formerly occupied by the regional college is spacious and provides this busy operation a whole new work environment. The newspaper business is driven by deadlines and the move and development of the new facility will take time as plans are to replace the web printing press with a new one, but for now the old one seen at the bottom of this page will keep doing its duty until is replacement is installed in the new building.

For now it is work as usual with no special grand opening party planned.

Some of the older equipment is being shuffled off as seen below.