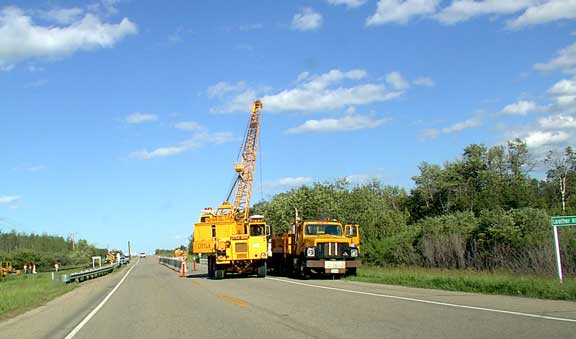 Highways Rebuilds Bridge West of Tisdale
FTLComm - Tisdale - July 4, 2001
This bridge West of Tisdale on highway 3 is about to get a complete rebuild. It was originally thought that the surface decking on the bridge would be replaced this summer but with the recent collapse of the pilings on the bridge near Turtleford the Department of Highways is being much more cautious with treated wood piles.

The Turtleford bridge was being repaired and half of the bridge was being used, just as this bridge is being set up to be used in this same manner. A loaded semi creeping over the open side of the bridge suddenly plummeted twenty feet destroying the tractor unit but the driver walked away. The mystery of why this happened was soon learned and reported this past week. Several of the treated wood piles had routed completely through some four feet below the water line. No one has ever heard of such a thing and the Department of highways is checking all of its bridges as well as checking with neighbouring States and provinces about this surprising problem.

For the next while it will be one lane only across this bridge West of Tisdale so watch for the lights that have been set up to control traffic.