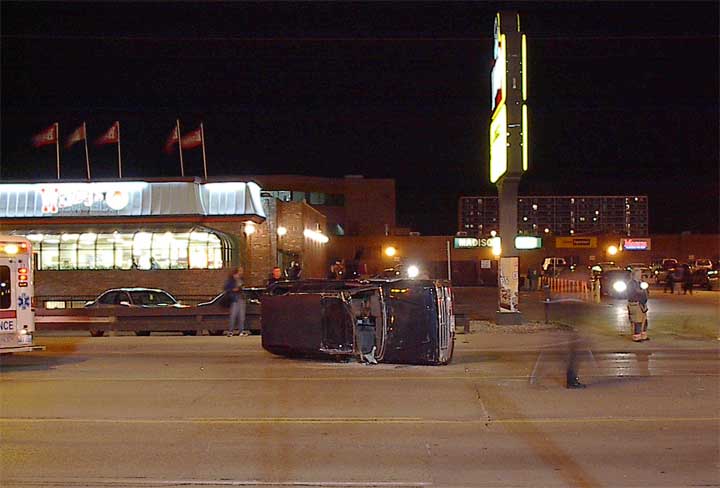 Must have tripped or something
---
FTLComm - Winnipeg - Monday, September 20, 2004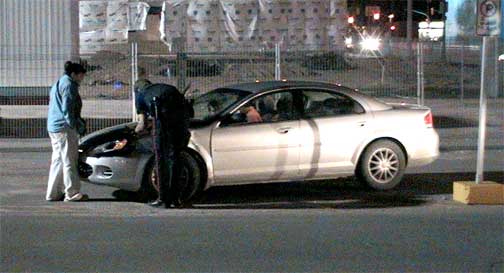 Less than a block from busy Portage Ave. this was the scene just after supper Wednesday night. We can only speculate that the top heavy Toyota SUV some how made contact with the vehicle on the right which had a nasty gash just above the left front tire, about the bumper height of the SUV, and over it went.

It was a low speed event because there were no obvious signs of tire marks and though the occupants of the SUV were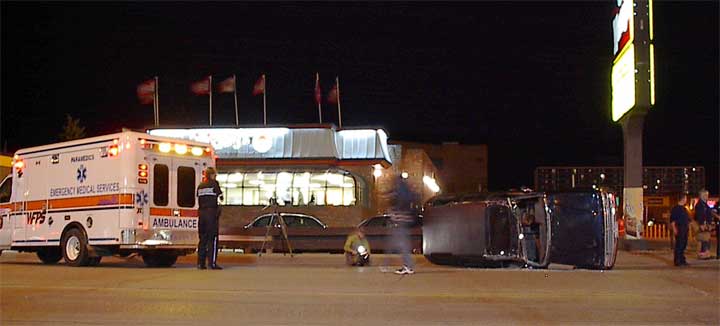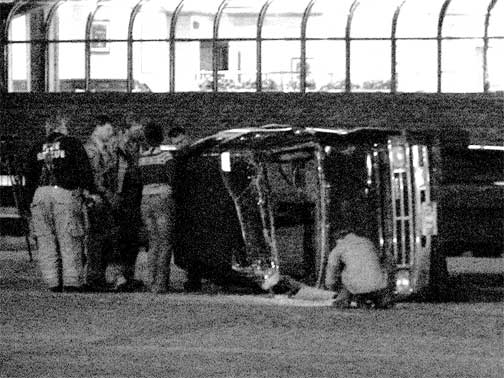 flipped SUV drew a fair number of spectators. The Free Press had their photographer on the scene and "A Channel" camera man did his best to capture the scene for television.

It is ironic that people buy SUVs for their safety and ability to cope with poor weather and road conditions yet the statistics show that these are the most dangerous vehicles on the road and besides their tendency to flip over they are simply unable to avoid most dangerous situations and are involved in more accidents than any other class of vehicle. Because of its age it is unlikely that this vehicle will be repaired and that is the other issue with SUVs with the burden they place on the cost of insurance everyone has to pay.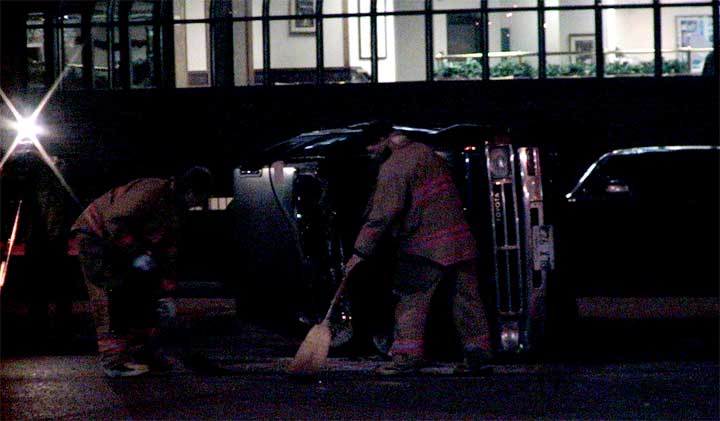 Return to Ensign - Return to Saskatchewan News
This page is a story posted on Ensign and/or Saskatchewan News, both of which are daily web sites offering a variety of material from scenic images, political commentary, information and news. These publications are the work of Faster Than Light Communications . If you would like to comment on this story or you wish to contact the editor of these sites please send us e-mail.
Editor : Timothy W. Shire
Faster Than Light Communication
Box 1776, Tisdale, Saskatchewan, Canada, S0E 1T0
306 873 2004