This weekend and next week people are going home for Christmas. This is an important thing and the pressure to make the trip despite the weather can be really powerful but let's face it the most important decision about dealing with winter travel is accessing the driving conditions and making that go-no-go decision. Waiting a few hours or a day could make a huge difference and far better to get to your destination then have a harrowing or even worse outcome.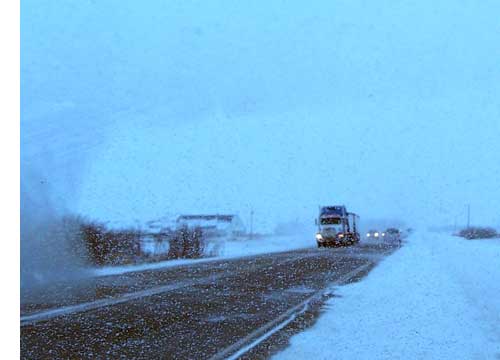 First thing you have already done, make sure your vehicle is road worthy for adverse winter conditions. An emergency kit in the trunk, your cell phone up and working and not being used while you are driving.
Consuming alcohol and driving is suicidal but keep in mind that a drivers ability to cope degrades to the level of a drunk driver when using a cell phone behind the wheel. So if you got to make or take a call pull over, well over.
So many folks cram so much activity into the days before Christmas and then launch on a trip of considerable duration. Being tired is like being drunk, remember what I said, drinking and driving is suicidal.
One of the keys to a successful and pleasant trip is not driving straight through but stopping regularly to take a break, shake off the fatigue and make the travel itself an all round better experience.
Some driving tips are just so darn obvious but you need to understand that getting to your destination is more important than getting there in the shortest possible time, Try to keep your travel at the speed limit, the few seconds you will gain by driving on the edge is simply not worth it and you will arrive in a much better frame of mind then being geared up from a Mario Andretti experience.
If visibility starts to go bad get off the road and wait til it blows over. With falling snow and blowing snow the Department of Highways can not keep the surface safe and it just makes sense to save your life rather than time.
One other little thing, much of your travel is going to be at night so dim those lights and if you are driving a vehicle with driving lights turn them off when meeting traffic. No need for you to be annoying. Spread some Christmas cheer and be a considerate driver.