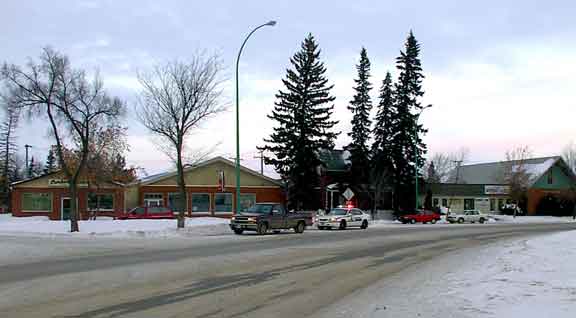 On the job
FTLComm - Tisdale - Thursday, January 30, 2003
Last Thursday morning it was cold, bitterly cold and I was wearing a parka with the hood up and making my way across this street on the cross walk that goes from the park to the corner of the Chicken Delight. I was half way across the street when I heard the sound of a semi and turned to see one rounding the corner in front of the A&W. As is often the case, the truck was well above the posted speed and even if the driver had seen me in the cross walk his speed was accessive and he would have been unable to bring the rig to a halt. Fortunate for me, I did not lose my footing and was able to get across the North bound lane in time to avoid becoming a statistic.
After all Tisdale is a pretty tame place but there are far more fender benders on its streets than one would expect. I was pleased to see this R.C.M.P. patrol car out on the job this morning and just stopping a vehicle with the lights on, sends the message and the reminder for drivers to be on their toes.
The streets and back alleys will all become increasingly slippery over the next few days with the temperature creeping upward. Now at noon hour the temperature is up to -9º and the sun isn't out. Though the town will sand most of the intersections and major streets you will still find it extremely slippery as it became yesterday afternoon.
---
Return to Ensign - Return to Saskatchewan News
This page is a story posted on Ensign and/or Saskatchewan News, both of which are daily web sites offering a variety of material from scenic images, political commentary, information and news. These publications are the work of Faster Than Light Communications . If you would like to comment on this story or you wish to contact the editor of these sites please send us email.
Editor : Timothy W. Shire
Faster Than Light Communication
Box 1776, Tisdale, Saskatchewan, Canada, S0E 1T0
306 873 2004