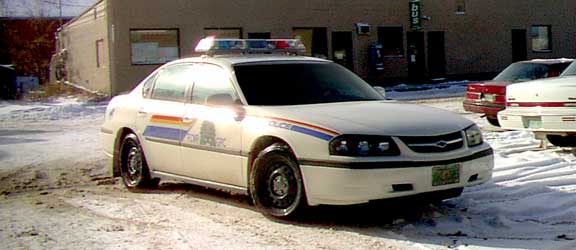 Our new car
FTLComm -Tisdale - Friday, October 18, 2002
When General Motors ended production of its full size rear wheel drive car in the early nineties law enforcement and taxi companies saw their choice of vehicles drop to one the Ford Crown Victoria which is now, according to CNN, the vehicle 90% of all North American law enforcement agencies use. The Ford Crown Victoria is also the standard police Car in Moscow.

Now our very own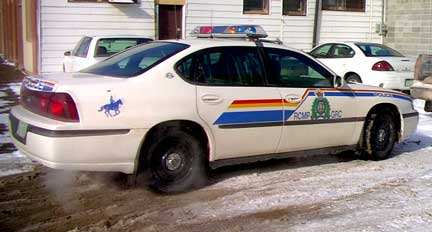 Canadian police force are making use of the front wheelled drive Chevrolet Impala.

This is a major departure for law enforcement as they have only used a few front wheel drive vehicles in the past such as mini-vans and a few Ford Taurus. Perhaps the conservative nature of law enforcement has something to do with the persistence of using rear wheel drive vehicles but in the long run, the durability and dependability, of the drive train on a rear wheel car seems to make them the first choice.

The officer at the wheel of this vehicle said he liked it for in-town work and its roomy interior was excellent for the work that he had to do.

The advantage both in safety and handling has been shown in the public's use of front wheel drive vehicles since 1986. Able to handle slippery surfaces and avoid trouble has been known all of this time. The primary concept of the modern car that we civilians use is to be "crushable." The front and aft section of a modern front wheel drive car can take a remarkable hit and maintain integrity within the passenger compartment, while repair cost have risen sharply, as even a minor crash with a modern front wheel drive vehicles is often a write off situation.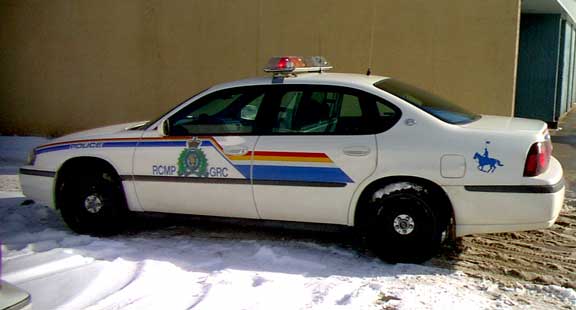 ---
Return to Ensign - Return to Saskatchewan News
This page is a story posted on Ensign and/or Saskatchewan News, both of which are daily web sites offering a variety of material from scenic images, political commentary, information and news. These publications are the work of Faster Than Light Communications . If you would like to comment on this story or you wish to contact the editor of these sites please send us email.
Editor : Timothy W. Shire
Faster Than Light Communication
Box 1776, Tisdale, Saskatchewan, Canada, S0E 1T0
306 873 2004