RCMP open house and barbeque
FTLComm - Tisdale - Thursday, May 13, 2004

It was well after two when I came by the RCMP detachment this afternoon but the smiles and good spirits were still around as I had a hamburger and the hospitality of Tisdale's RCMP detachment.

They started cooking up hamburgers and hot dogs around 10:30 so that they would be ready for guests at 11:00 but in short order the crowd of about three hundred waded into the food.

Being in the sun and the temperature for the first time in weeks made it possible to be outside, Tisdale's people took advantage of being able to have burger or hot dog in the noon day sun. Beeland Co-op had pitched into the project and those $2.00 hamburgers and $1.50 hot dogs raised a lot of money for Tisdale's Air Cadets.

Officers dressed in several versions of their uniform including representatives of the RCMP auxillary in this distinctive dark uniform(right), were on hand to meet their guests while the police cars, patrol boat and patrol bikes were on display.

If you missed the event today just put this event in your memory calendar and be on hand next year.

This is police week and time to recognise the people who have chosen a line of work that serves and protects the people and upholds the law of the land. Being a police officer is not easy work. Everyone assumes they are your boss and in a democracy they actually are. The tradition of having police officers evolved in fuedal times as officers of the court and of the crown.

We in Canada took this process one great leap beyond other societies when it was decided by John A. MacDonald's government that one of the things that made us different was our determination to have an orderly safe country. "Peace order and good government" was what Canada was to become and the Northwest Mounted Police which became the Royal Canadian Mounted Police were no small part of bring law and order to one of the largest countries in the whole world. Having seen the vulgar lawlessness that came with the opening of the American West and the chaos after the Civil War Canada was determined to have things much more peaceful, so before the settlers made their way onto the vast western plains and before the railway, the mounties were on hand to keep a firm hand on things.

They did their job so well that they earned our eternal respect and Canadians are far more inclined to accept the authority of "their" police force than other societies.

With so many bikes in town it is great to see officers mounted once more and patroling. Not only visible, but setting an example for us all. A great day for the Tisdale detachment.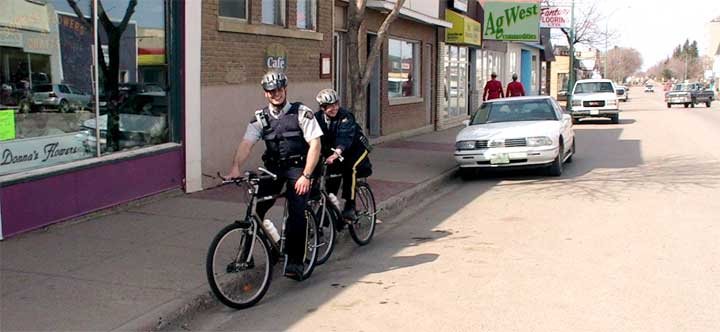 Return to Ensign - Return to Saskatchewan News
This page is a story posted on Ensign and/or Saskatchewan News, both of which are daily web sites offering a variety of material from scenic images, political commentary, information and news. These publications are the work of Faster Than Light Communications . If you would like to comment on this story or you wish to contact the editor of these sites please send us e-mail.
Editor : Timothy W. Shire
Faster Than Light Communication
Box 1776, Tisdale, Saskatchewan, Canada, S0E 1T0
306 873 2004