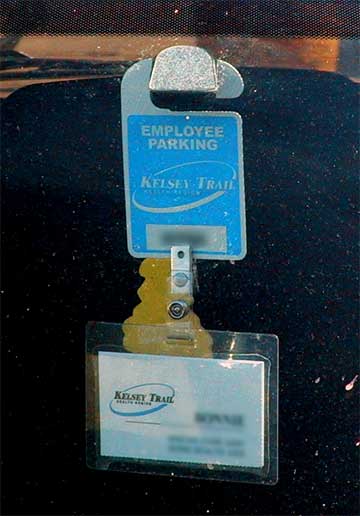 I spotted this windshield in the Tisdale Mall parking lot today, it troubled me. People decorate their car interiors to give it a sense of personal space and they even hang things that interfer with their visibility from the their rear view mirrors. There is no point in complaining about that, it just is one of those things about people wanting to make something their very own. But this goes just one step to far.
I can understand a parking permit being displayed on a car's windshield, but an institution has to think this through. This one included the person's identification badge, their name, and the job they have. So here you have a car in a parking lot advertising the name and sex of the owner and now you know where they work and perhaps can even guess the hours they go to their car. Not a good idea.
Tisdale is a peaceful safe place, that's why I chose to make it my home, but let's not kid ourselves, even in nice places some very bad things can happen and this sort of personal information does not belong displayed in a shopping mall parking lot.
In laRonge this week, a woman was beaten and tortured and left on the beach in critical condition, that's not that far from here. In a small town we have a good idea as to who everyone is, but each year several thousand strangers pass through here, stopping at the shopping mall before heading off on to their destination. So let's be careful about identity badges and parking permits.