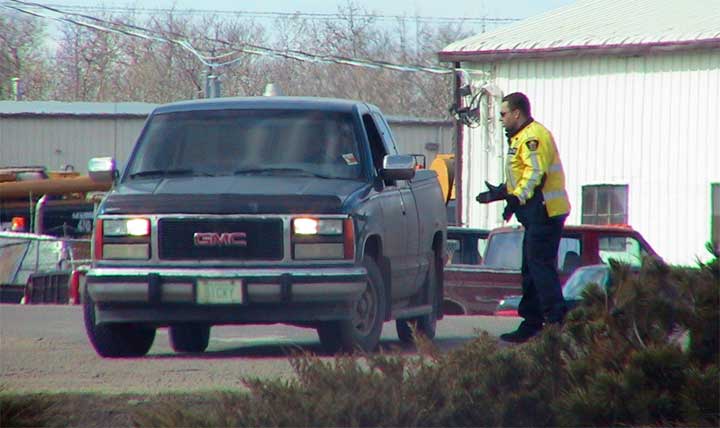 World Health Day:
Road Safety is no accident
FTLComm - Tisdale - Wednesday, April 7, 2004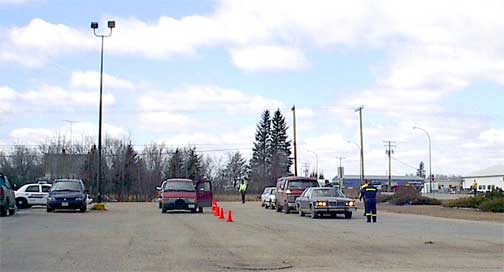 When I set out for the post office today I encountered three local police cars and thought that was a bit of overkill, but when I drove into the mall parking lot there was a whole area just for police cars and I counted at least ten uniformed officers, guns and bullet proof vests and all, with a full scale road block catching all traffic east bound toward the junction of #35. (I have to tell you hand guns really make me nervous especially since police who use them officially or accidentally, are completely beyond the law as each officer is trained only to shoot to kill, the only thing that eases my anxiety about being near that many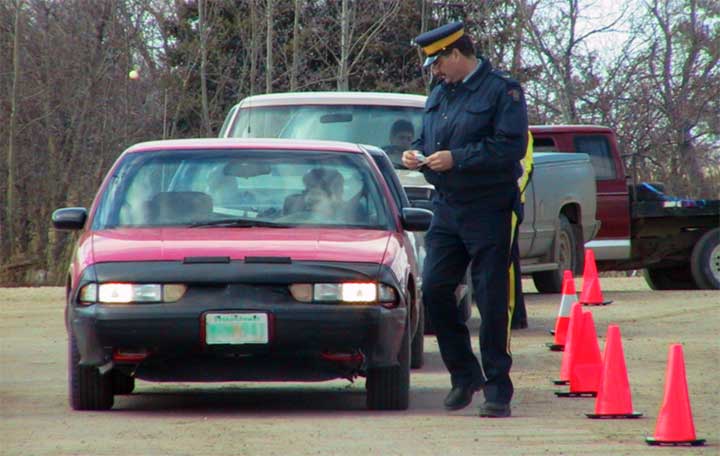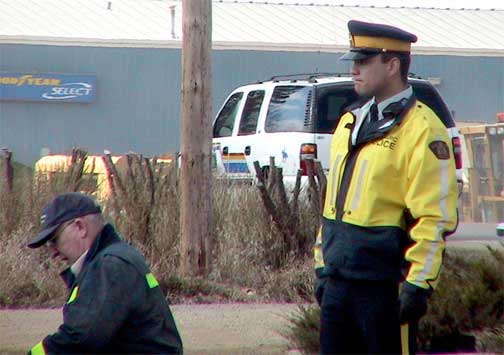 armed and dangerous men is that I am not aborigine and since most police victims are, my chances are fair. You can definitely tell how dangerous they think their weapons are as each wears a bullet proof vest and since they are they only people with weapons, that is a little unsettling.)

My good friend Glenn White, who was once stationed here in Tisdale, told me that as a highway patrol officer he and his team could actually reduce the number of accidents on the highway he patrolled, just by placing their cars in conspicuous places as it tended to put a damper on speed and drivers moved their level of awareness up just a notch.

In actual fact that was what today's exercise was all about. Showing the flag and letting the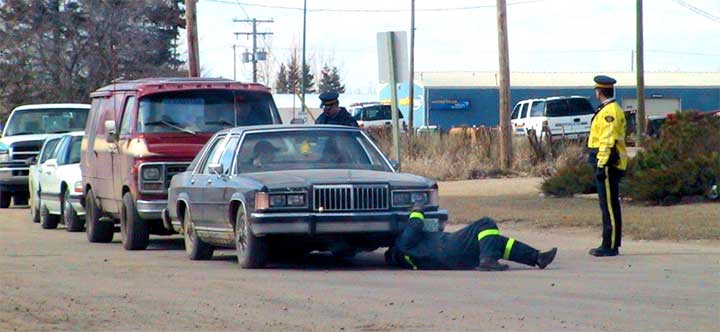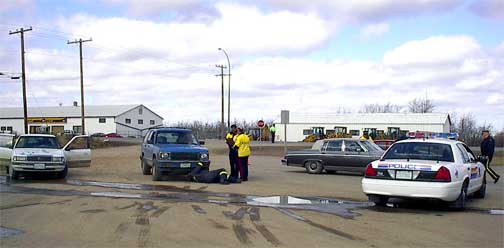 public know that they are around and will make an effort to improve the safe movement of people on the highway.

Today, similar programmes were in effect in Melfort and in Tisdale as part of the World Health Day and in their handout the text points out that transportation accidents are a growing number, with 168 fatalities in Saskatchewan each year and 7,600 injured. These figures are especially alarming when you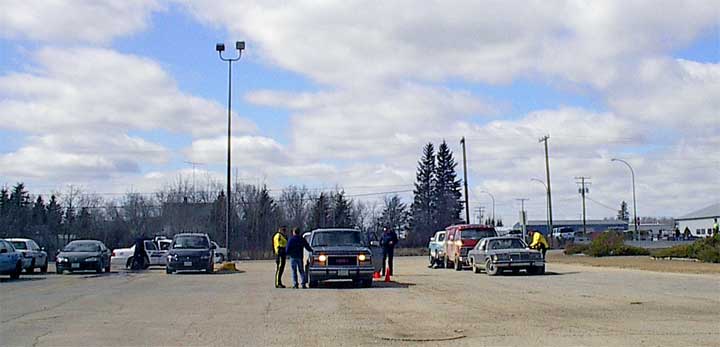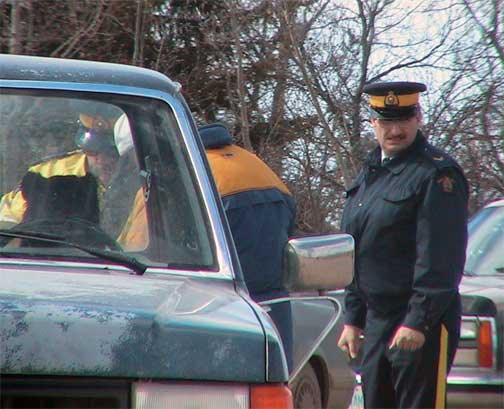 consider the improved safety of modern vehicles and roads which are offset by the very high amount of travel all of us do.

Mechanical safety, the vehicles themselves, was once a serious matter in Saskatchewan, but in recent years, driver awareness and regulation has clamped down on unsafe vehicles and today's screening was really more of a visible awareness programme than a real safety lane.

Meanwhile, on the north side of Tisdale (below) another unit were running a radar speed check. This is a serious problem in Tisdale and something of a miracle that we have avoided tragedy up until now, as heavy trucks frequently maintain highway speeds almost to this point.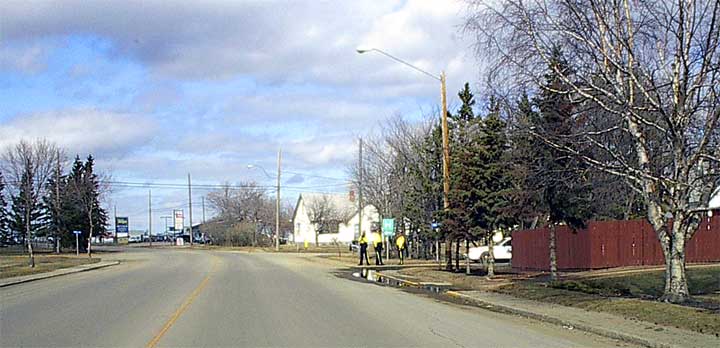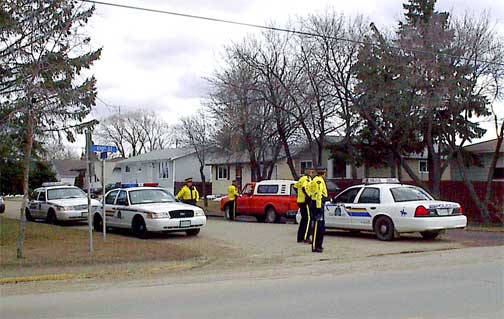 With this high profile awareness campaign today SGI had their brightly painted van here in town with a crew of three people.

In the past two years Tisdale's detachment of the RCMP have put a solid effort into traffic safety in this community and have earned the respect and appreciation of the population for their efforts to make Tisdale a safe place to live and work.

It just seems with such a small community, today's traffic was much heavier just because there were so many police cars roaming the streets.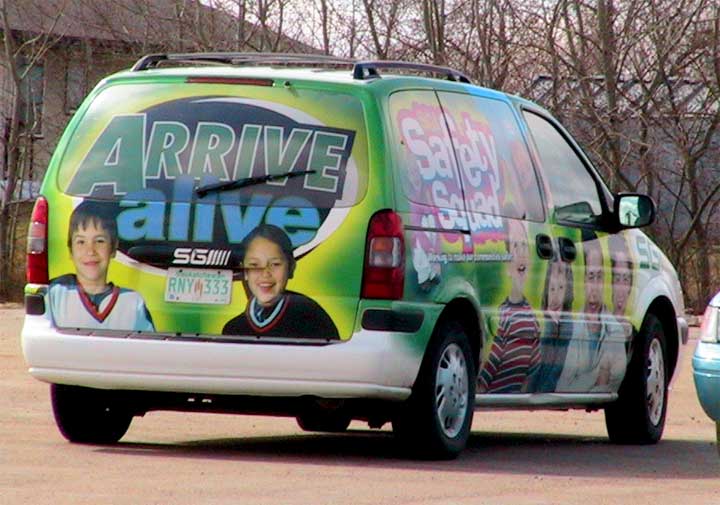 Return to Ensign - Return to Saskatchewan News
This page is a story posted on Ensign and/or Saskatchewan News, both of which are daily web sites offering a variety of material from scenic images, political commentary, information and news. These publications are the work of Faster Than Light Communications . If you would like to comment on this story or you wish to contact the editor of these sites please send us email.
Editor : Timothy W. Shire
Faster Than Light Communication
Box 1776, Tisdale, Saskatchewan, Canada, S0E 1T0
306 873 2004