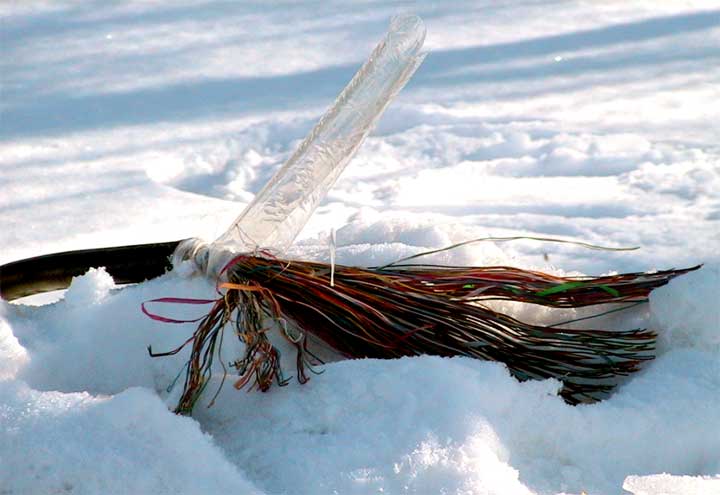 Clobbered Cable
FTLComm - Tisdale - Tuesday, March 23, 2004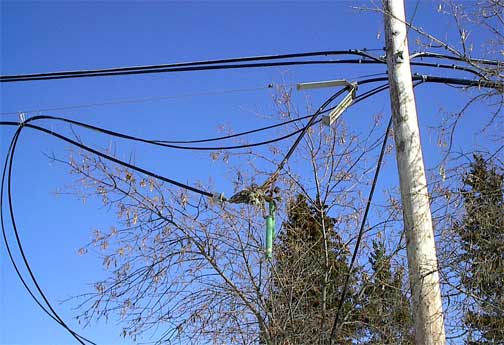 This is a police matter so an investigation is ongoing to determine who or what caught the cable that crosses from back alley to back alley a block from our office, just before noon yesterday and snapped the bottom 100 pair line and pulled the second 400 pair line apart.

The cable company's line was not damaged nor was the fibre optics line that runs along the top of the system.

We did not notice that our telephone was dead but I noticed an Internet problem just before noon but just assumed that SaskTel's Internet web service was temporarily interrupted.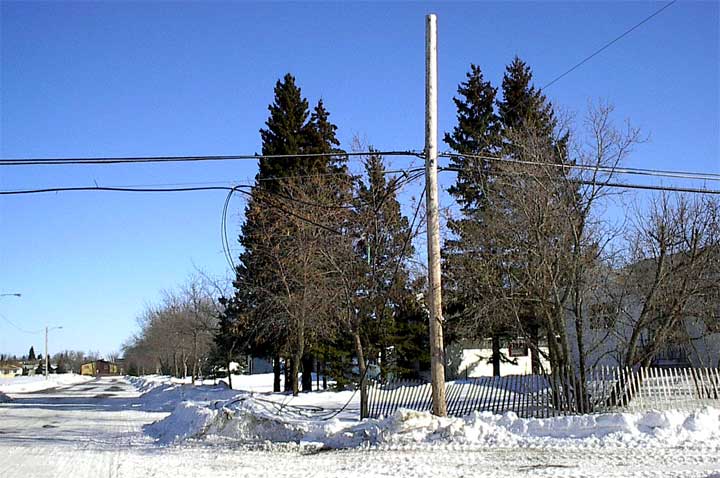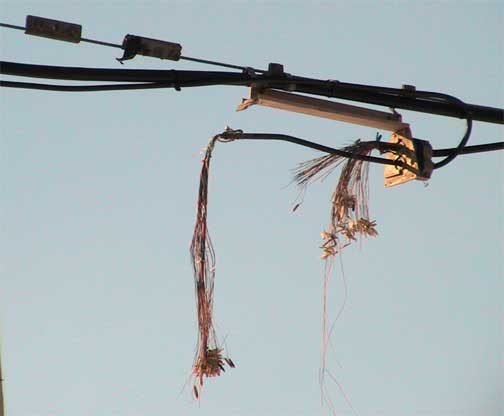 Early afternoon my wife discovered that e-mail was not working and assumed that our e-mail server had taken a break and it was then that I decided to check with SaskTel and discovered that our phone service was out and called 611 from the van. The trouble operator was aware of the problem and just after 3:00 SaskTel was on the scene but it wasn't until 4:00 that a repair gang from Prince Albert arrived to begin replacing the bottom line and fixing up the 400 pair line that had been pulled apart.

The picture on the right and below shows the severed line and the next picture below shows the damage a block away to the south from the impact of what ever snagged the line.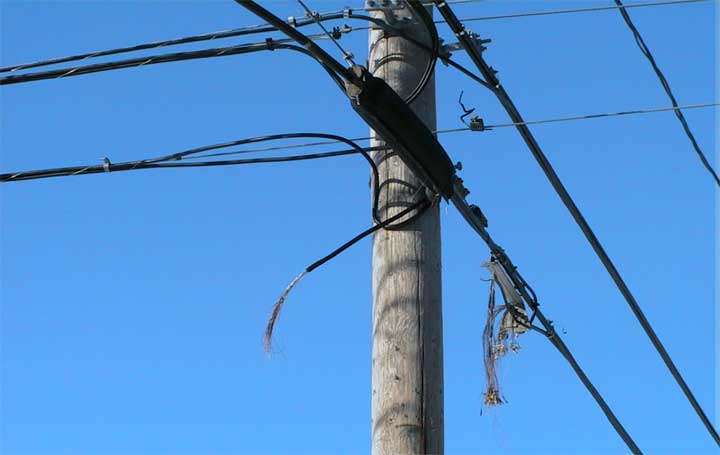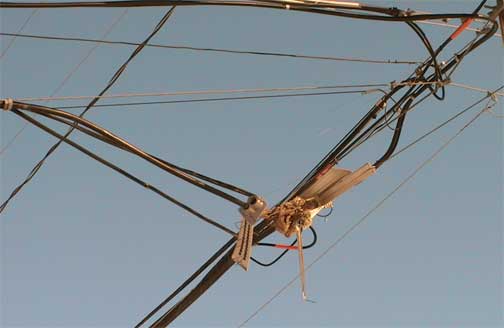 It is remarkable how we have come to rely upon these lines for so much and pretty much take them for granted. In Tisdale only some main lines are actually buried with most of the lines running down the back alleys with the television cable lines.

Only last fall we had trouble with the line behind our house where water had got into a junction box and cause our telephone to falter requiring more than a day's work by a crew to rewire the area.

Though radio systems are in place and increasing in their reliability it will be many years before we end our reliance upon copper wires strung from pole to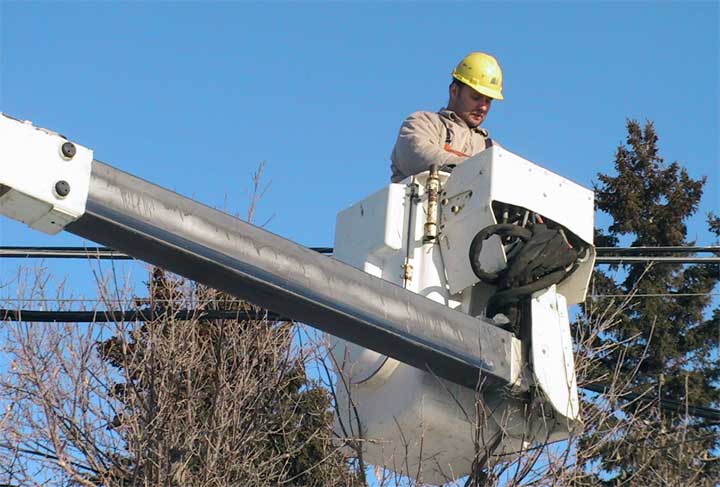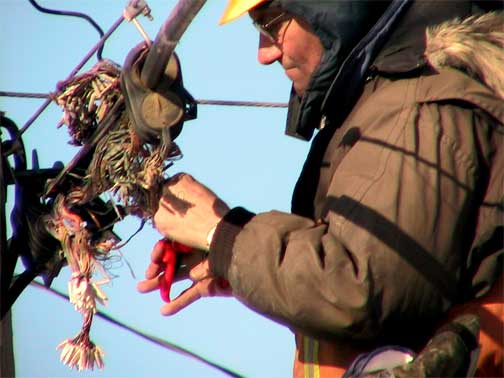 pole.

Saskatchewan is quite in advance of much of Canada and United States with fibre optics cables but these are used primarily for long distance high traffic lines and simple copper wire is still the mainstay of most residential and business telephone and data systems.

This technician is just beginning his work to sort out the 400 pair line while the rest of the crew were removing for replacement the bottom 100 pair line that was completely severed in the incident.

This crew got to work just around 4:30 and wrapped up the system repair just after 9:00.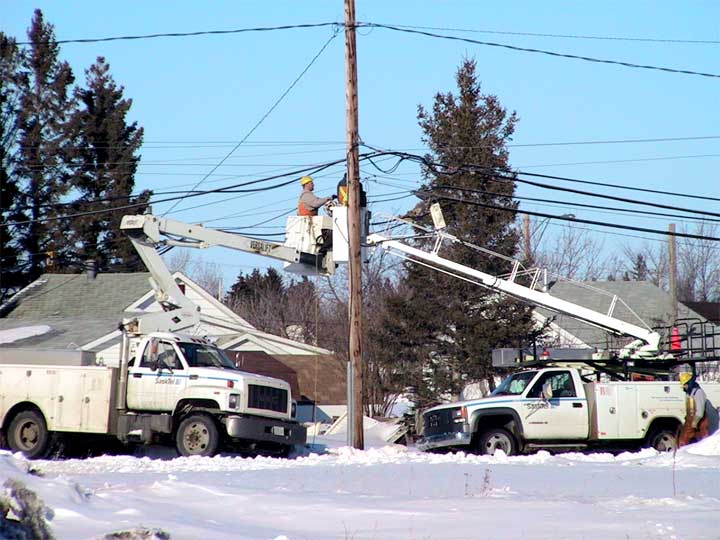 Return to Ensign - Return to Saskatchewan News
This page is a story posted on Ensign and/or Saskatchewan News, both of which are daily web sites offering a variety of material from scenic images, political commentary, information and news. These publications are the work of Faster Than Light Communications . If you would like to comment on this story or you wish to contact the editor of these sites please send us email.
Editor : Timothy W. Shire
Faster Than Light Communication
Box 1776, Tisdale, Saskatchewan, Canada, S0E 1T0
306 873 2004