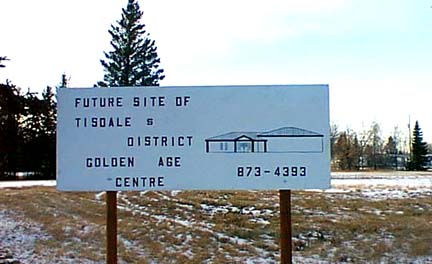 Tisdale's Senior Citizens are on a mission to construct a Golden Age Centre this coming Spring. The project has been in the works for some time and the Town of Tisdale has done their part donating this outstanding piece of property, serviced.

Including a kitchen and bathrooms the building will stretch one hundred and ten feet East and West with its large forty-eight by sixty meeting and activity room. With donations and pledges the organising committee has been able to raise over $80,000 towards what will exceed a quarter million dollar project.

Though the local town council has helped out with the property, which is a huge donation the provincial government has no programmes in place to fund the construction of infastructure. Ongoing and operational support can be found in grant money from the provincial government but no provincial contribution is expected.

A project like this one is to the benefit of the whole community as this multi-use facility can provide for a wide range of activities, it is a very positive development. In addition, senior citizens already make up a sizable portion of the the community's population and their numbers will grow and grow with each year as we baby boomers move out of the labour force. If you or your organisation would like to participate in this outstanding project give the Golden Age Centre's secretary treasurer a call at 873 4393.

The plans for the building are pretty well finalised now and with just a little more money in contributions and the passage of winter ground breaking should occur in the spring and plans are for the building to be open for use in the fall of 2000.