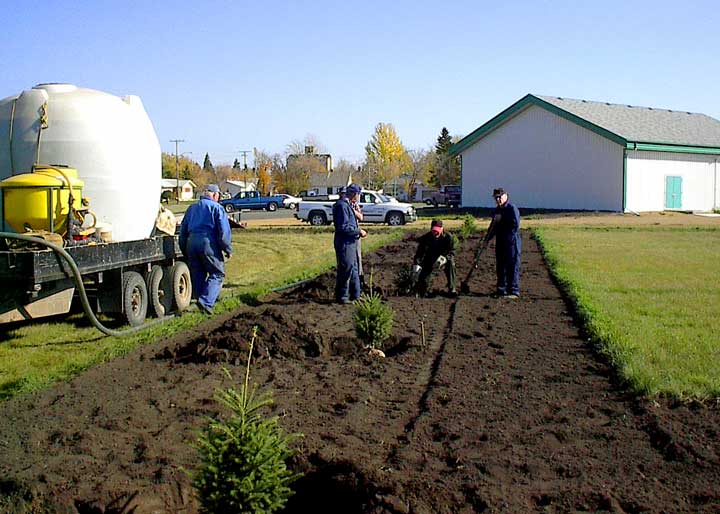 Trees for a Golden Age
FTLComm - Tisdale - Tuesday, October 7, 2003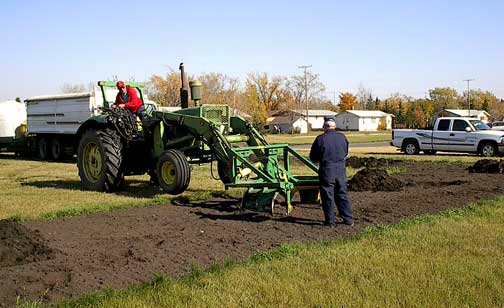 It was last summer when the area for trees was first dug up, then this summer it was enlarged and kept free of weeds. Today it was time, sixteen feet apart locally grown spruce trees were put in place to give some landscape to the grounds around Tisdale's Golden Age Centre.

The tree by our house is now close to the end of its life at about thirty-five as that is the life expectancy of an Aspen but Spruce trees are a different matter altogether. A spruce tree grows much more slowly and unlike an Aspen has its roots spread out on the ground's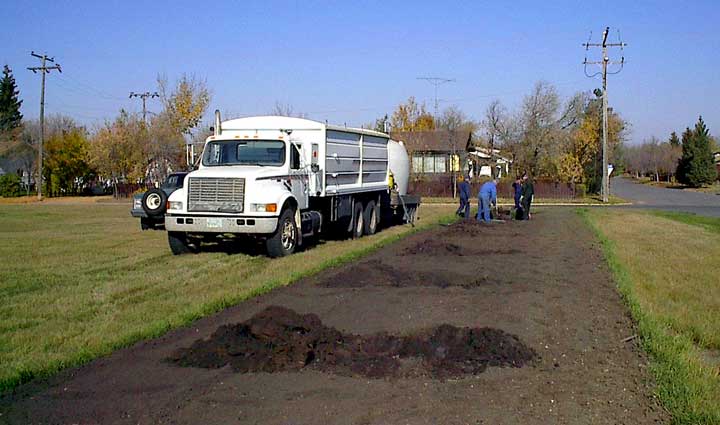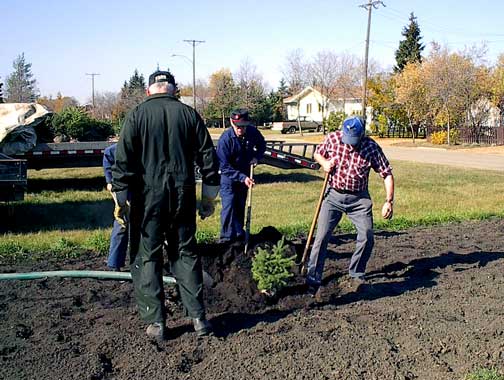 surface but it can remain viable for much more than a hundred years.

As you look at these pictures you can see spruce trees in the yards in this part of town and most of them are similar in age to the aspen being around thirty years and as you can also see, they are among the tallest trees in the neighbourhood.

It was their durability and low maintenance that lead the planners of the Centre to place spruce around the field. As the trees were planted today it was clearly on the minds of those involved that this is important event as these trees will grow and stand here for decades to come.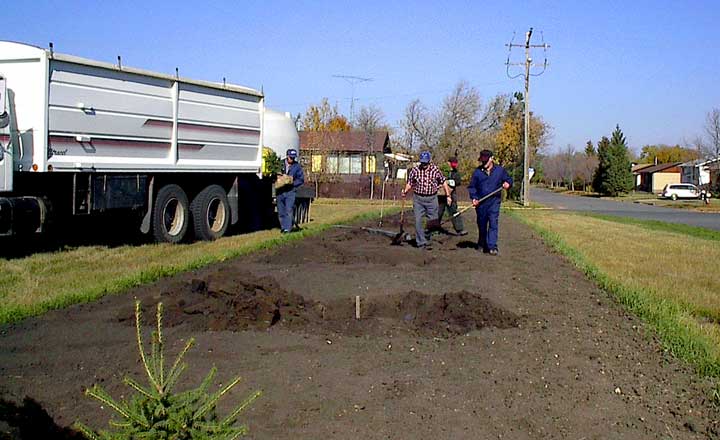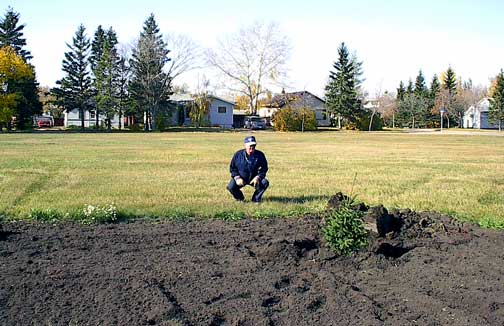 Since these trees will be here for years it is important to get them in a nice neat line. The thought that in twenty or thirty years it would be so disconcerting for one to be sitting off set from the rest.

As you look at this picture (right) those spruce were planted in 1972, they have endured wind, ice and extreme drought and the little trees that were planted today will have similar hardships to face in their lives. People will sit in their shade throw horse shoes protected by the wind they will block and as the years go by they will be a silent and solid tribute to the folks who made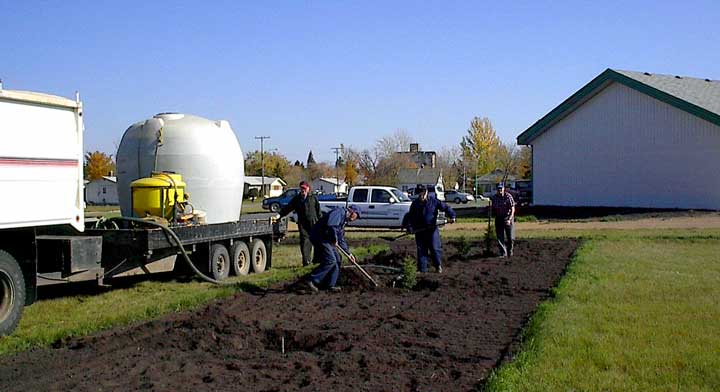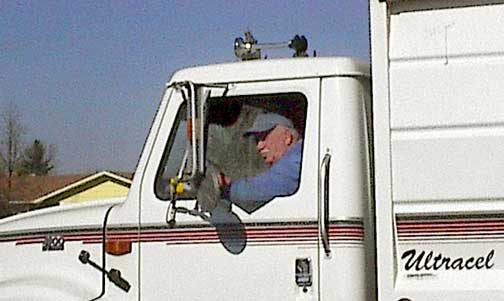 the effort to create a Senior Citizens Centre in this community that will continue to provide recreation and service to Tisdale and the surrounding communities.

This summer the parking lot was paved, a street lamp installed, the lawn on the South East side prepared and now these trees planted. Developing a Centre and seeing its role expand is a certain sign that this project was both needed and appreciated.

On October 7, 2003 the spruce trees were planted.

---
Return to Ensign - Return to Saskatchewan News
This page is a story posted on Ensign and/or Saskatchewan News, both of which are daily web sites offering a variety of material from scenic images, political commentary, information and news. These publications are the work of Faster Than Light Communications . If you would like to comment on this story or you wish to contact the editor of these sites please send us email.
Editor : Timothy W. Shire
Faster Than Light Communication
Box 1776, Tisdale, Saskatchewan, Canada, S0E 1T0
306 873 2004