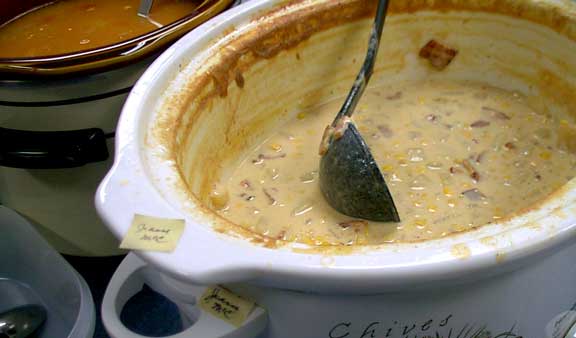 Soup N sandwiches for 157
FTLComm - Tisdale - Wednesday, January 22, 2003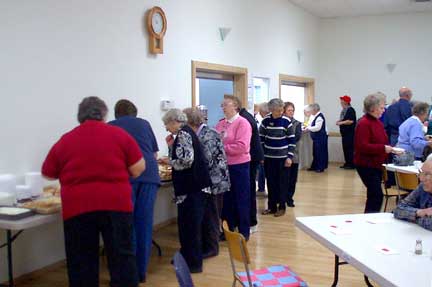 Now how about a lunch that includes a choice of soup, a variety of sandwiches, coffee, tea or juice and a wide choice of desert and all for $4.00. The answer is definitely yes!

It was lunch day at the Golden Age Centre in Tisdale today and one hundred fifty-seven people came out to share in a dandy of a meal.

Of course members of the Golden Age Centre were on hand but so were the staff from Scotia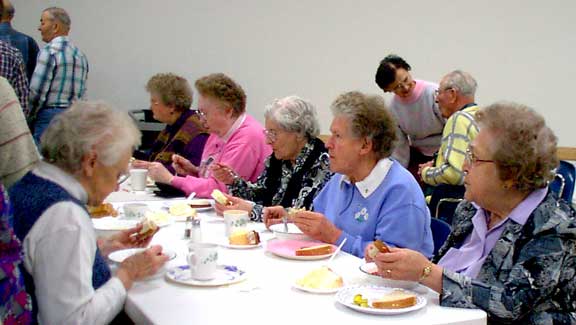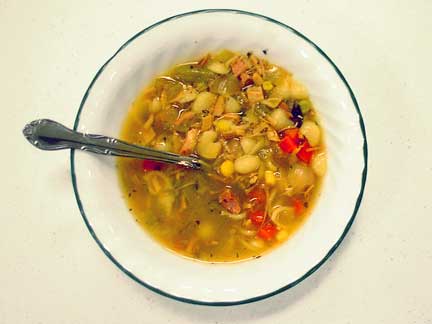 bank, accounting firms, the Co-op and the entire staff of Faster Than Light Communications.

The meal was scheduled for 12:00 and I was there at 11:50 and more than half of those who would attend were already either already eating or waiting in line.

A few minutes after twelve the line up stretched the full length of the large meeting room in the Centre.

Borsch, corn chowder, turkey and chicken vegetable soup awaited us (chicken vegetable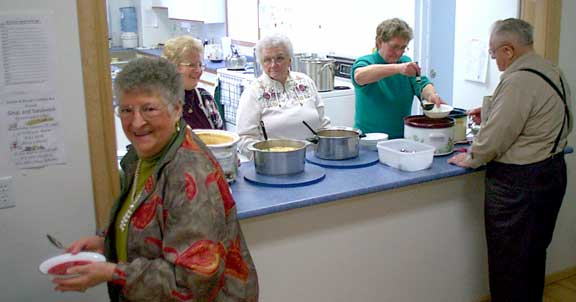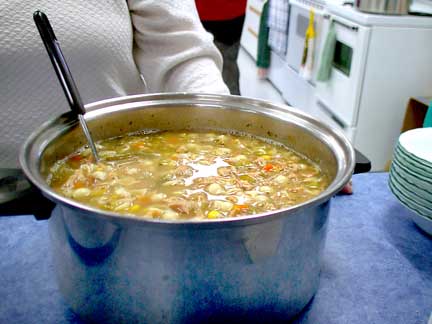 shown in the picture). I went for corn chowder with bacon and it was truly a blessing. The kind of soup that puts a smile on your face when you savour its aroma and a satisfied feeling of sadness when the bowl is empty.

The coffee was just perfect and the sandwiches were in stacks of egg salad, salmon and baloney on fresh bread.

The desert area was a disaster. Most of the cakes and other delicious items should be illegal. There was



ice cream to go with the angel food and I stopped and said prayers before a marvelous chocolate cake with a caramel topping and marshmallow on top of that. I felt that it was a place of worship but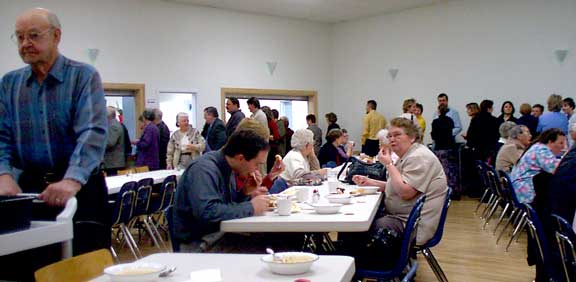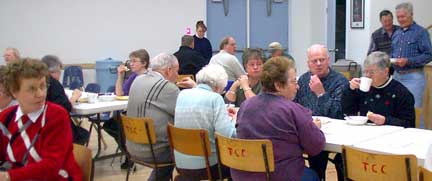 feared that even the aroma may be dangerous and shuffled off to sit and eat my soup.

What an absolutely great event and I was definitely not alone in enjoying such a great midday meal. I went back and got a second cup of coffee once more gazed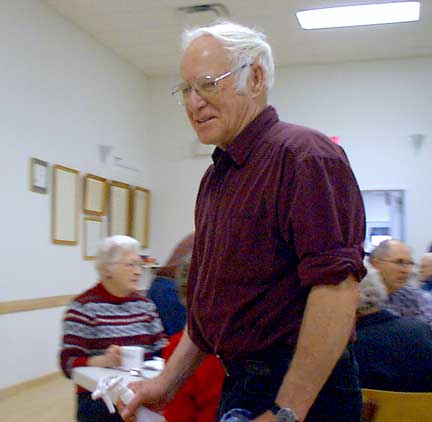 but resisted the temptation to feast on the cake.

I asked if there were plans for another lunch and was told absolutely. The Golden Age Centre wants to get on with the landscaping and completion of the grounds this coming spring and summer so a few simple fund raisers like this would really help to get that part of the project well underway.

A team of about twenty handled the meal and clean up as Art Smith went around tidying up during the meal.

Before I left the scene below is the final stage of the meal as the kitchen crowd finish things off but there were cars at the Centre most of the afternoon putting things away.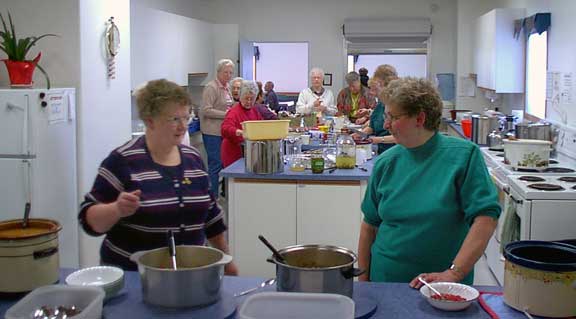 ---
Return to Ensign - Return to Saskatchewan News
This page is a story posted on Ensign and/or Saskatchewan News, both of which are daily web sites offering a variety of material from scenic images, political commentary, information and news. These publications are the work of Faster Than Light Communications . If you would like to comment on this story or you wish to contact the editor of these sites please send us email.
Editor : Timothy W. Shire
Faster Than Light Communication
Box 1776, Tisdale, Saskatchewan, Canada, S0E 1T0
306 873 2004