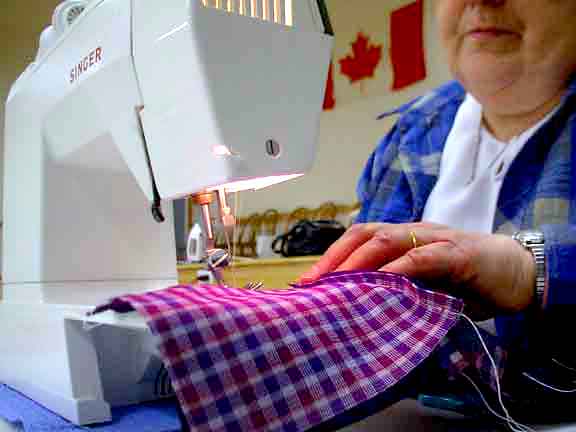 Golden Age Centre Quilting Bee
FTLComm - Tisdale - Friday, January 31, 2003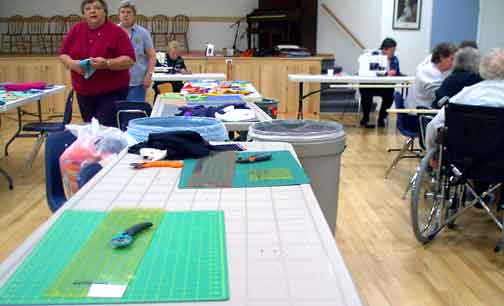 This group began work on their four quilts at ten in the morning and this is how things looked at around 2:30 in the afternoon.

The patches had been cut and two had been sewn together, the third was being assembled and the forth still was stacked up ready to be put together.

I must have been four years old when my mother, a member of the "Ladies Aid" club took be along to a quilting bee. It was not exactly the sort of thing a four year old would choose to be a part of but there were cookies and everyone was nice to me.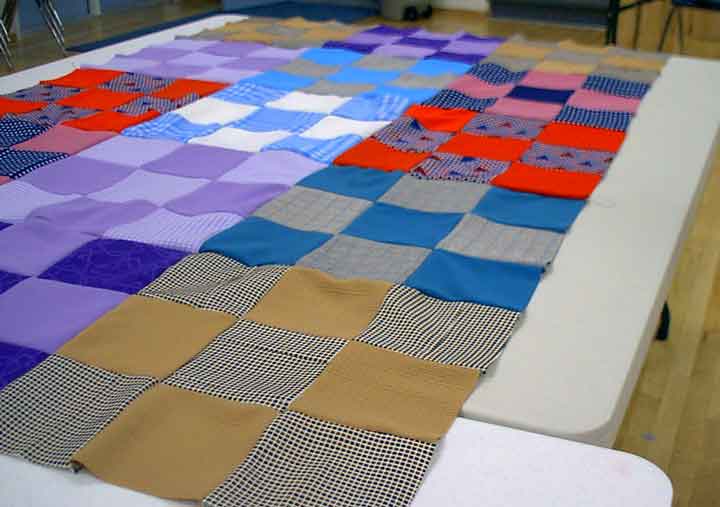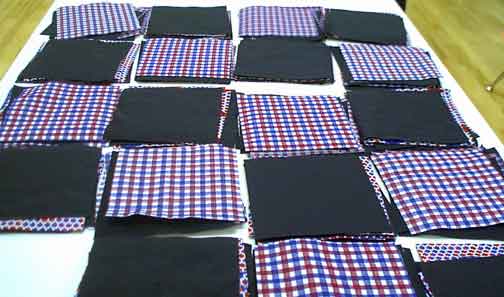 Right up until I was dispatched under the frame and given the task of catching needles that would shoot down through the centre and I was to turn them around and send them back up. I did not like that part and said so, but for what seemed like a lifetime, I was the bottom end guy.

That memory came back to me as soon as I saw the quilting frame, as did the unpleasant memories of being under it for an eternity. I still have a quilt that was made by my mom and friends at that time, more than half a century ago.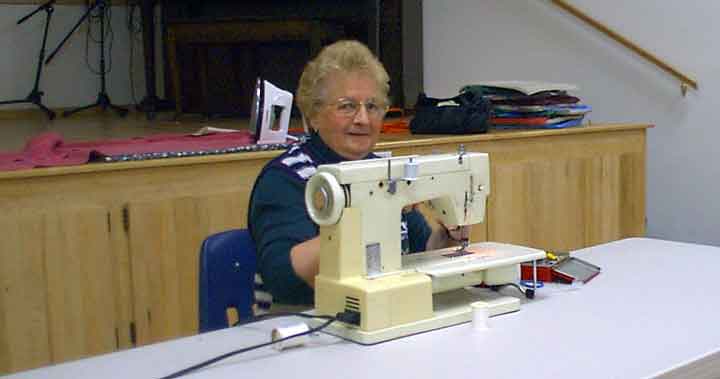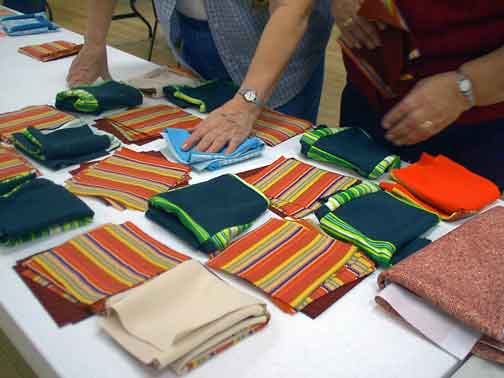 These four quilts are being constructed of "fortrel" knits which makes the fabric stretchable and actually reduces the work of construction. Instead of having to sew each patch into place, they were able to tack them in place with a centre knot and one at each corner.

A suite has been set aside in the McKay Tower for people convalescing after a stay in hospital and the Golden Age Centre has set to work fitting out that suite. Two of the quilts from this project will go to the suite and a list of other items to furnish the it was at the front desk.

The third quilt will be a prize for a raffle and they had not decided what would become of the fourth.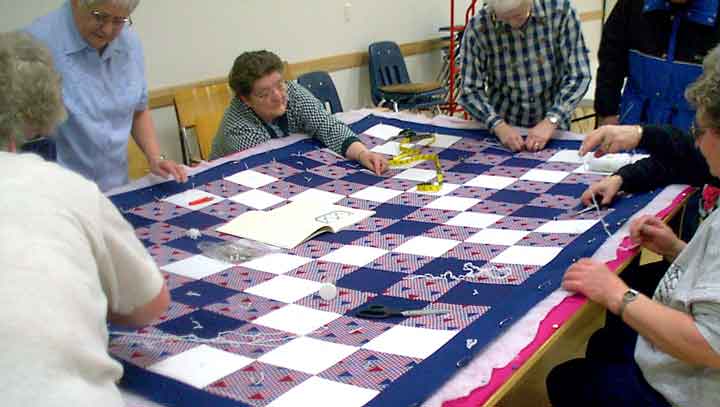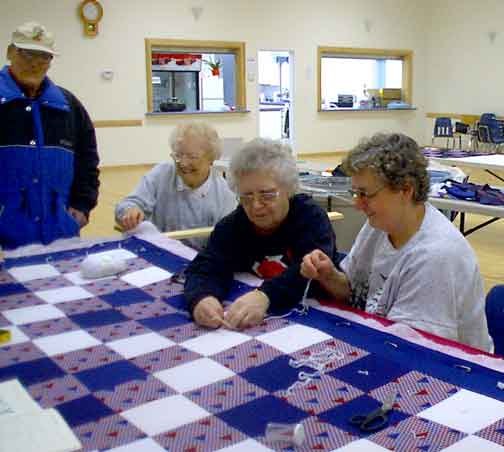 Working together on a quilt is one of those unique shared experiences. Stories are told almost being sewn into the fabric becoming part of what it will be. The work seems to be accompanied with laughter and the chain of exchanges that pass between friends.

I can remember those exchanges about things and topics I did not understand as I sat cross legged or wiggled around in the semi-darkness below the quilters, who to me were just feet and legs. I remember the warmth of the place the yellow light of the late winter afternoon coming through a window and the smell of tea. Their conversations hummed above me, punctuated by my complaints, for it seemed that for every needle I grabbed and returned, I was able to stab a finger with another. When I told this group of my suffering long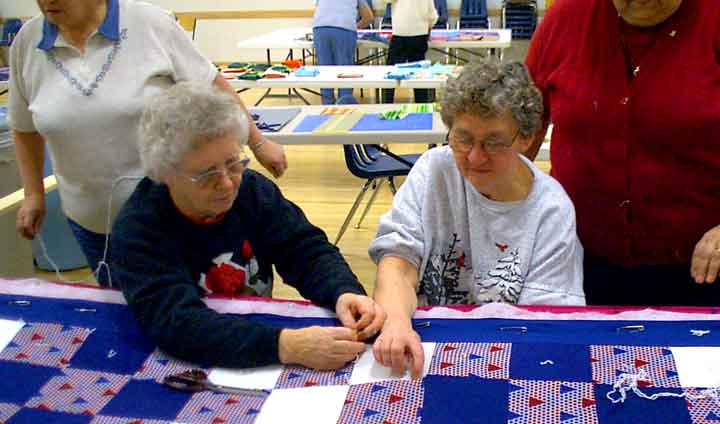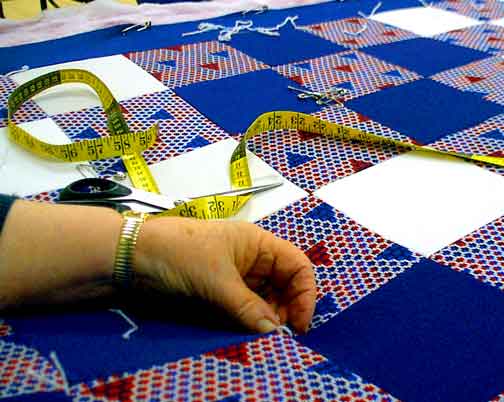 ago they were totally unsympathetic, just as the quilters in the Kelso living room were so long ago.

As I watched them at work yesterday I was keenly aware of their attention to the design of each quilt. Just as I took the second picture on this page a lady carefully going over it spotted an error and whisked it off the table to remove and reposition a patch to complete the harmony of a design that will last for a very long time, giving comfort and warmth to people far into the future.

More than a blanket, more than the individual pieces that go together to make it into what it will become, a quilt is a promise, a legacy and an enduring piece of work that embodies the many hands and the spirit of each individual who helped to make it this winter afternoon in 2003.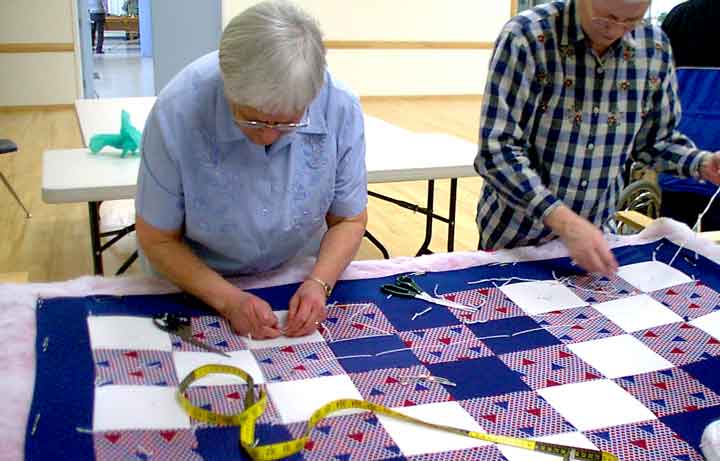 ---
Return to Ensign - Return to Saskatchewan News
This page is a story posted on Ensign and/or Saskatchewan News, both of which are daily web sites offering a variety of material from scenic images, political commentary, information and news. These publications are the work of Faster Than Light Communications . If you would like to comment on this story or you wish to contact the editor of these sites please send us email.
Editor : Timothy W. Shire
Faster Than Light Communication
Box 1776, Tisdale, Saskatchewan, Canada, S0E 1T0
306 873 2004