Basking in Blossom
FTLComm - Tisdale - Saturday, June 8, 2002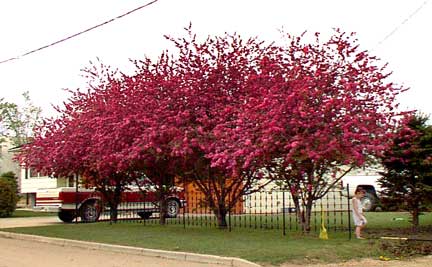 We spotted this set of trees in a yard on the South side of Tisdale this morning. The home owner said she wasn't sure what the trees were but they did not seem to attack a lot of birds in the fall. Though they bloom each spring this year's show is the most spectacular in some years.

Though I got right into the blossoms to get the picture at the top of the page they do not have a noticable aroma.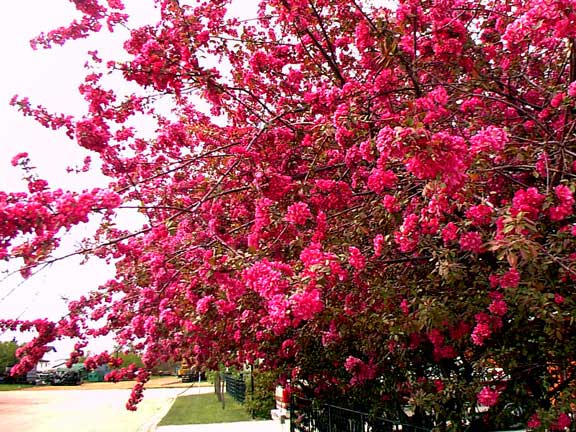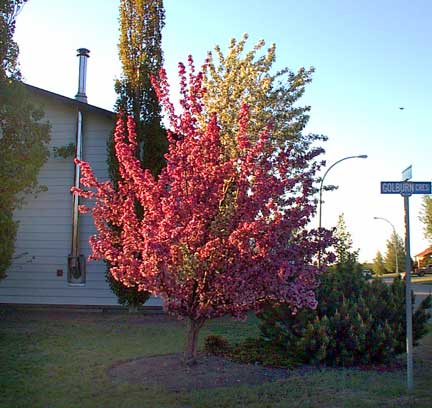 Now this one caught our eye last night on the North side of town and this is not two trees but a single two toned tree with both light and dark coloured blossoms.

Throughout town people were out working in their yards and gardens this morning. With such cold weather many folks are just getting their gardens planted now and if they are like ours it has been so dry that the weeds are not even growing.

The sky is pretty solid now (11:30) and it looks like it will continue to darken and we should get some additional precipitation this afternoon. The temperature did not go below 4ºC overnight.