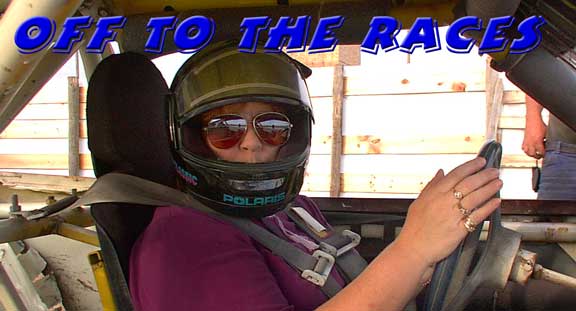 FTLComm - Tisdale - September 9, 2000
Friday night and its last minute practice as a few drivers were out on the track doing a few laps and getting the feel of things. Mrs. Schpansky boarded one of the two cars owned by Bruce Schpansky (44 and 69). She was getting ready for the powder puff event and turned in about ten fearless laps as she explored the range of the speeds to entre turns one and three.

Meanwhile Northern Steel's Old Yeller was getting checked out. The car has had two new rims and tires installed and was mechanically in top shape ready for this weekend's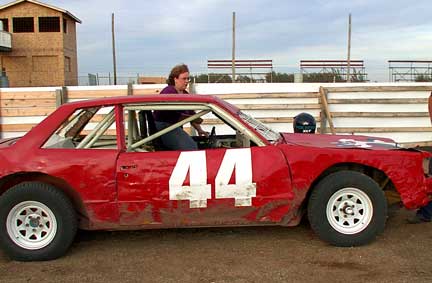 races at SilverTown Speedway.

This is a major invitational race scheduled for this weekend with races beginning at 2:00 this afternoon and on again Sunday afternoon. Most folks are expecting up to forty cars to participate in this weekend's racing extravaganza. The new Tisdale track is a hit with drivers and the members of the Tisdale club have put their enthusiasm into this year's races throughout the area and race teams from Preeceville to Prince Albert want to return the good spirited rivalry and come to Tisdale's outstanding facility for some great competition.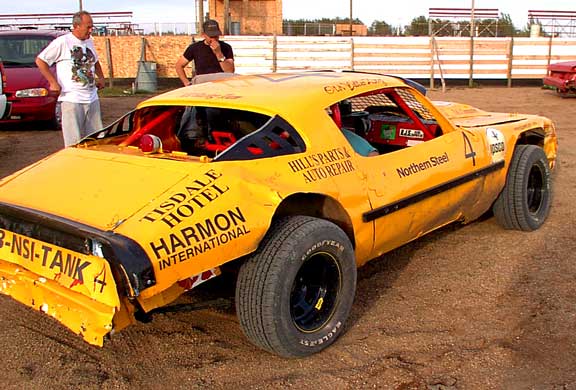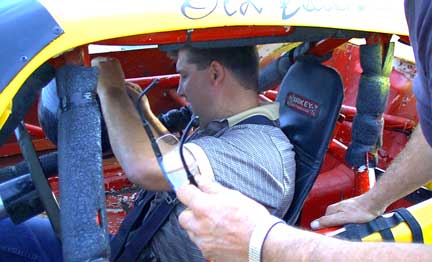 The Northern Steel car started the season with a pretty ugly white paint job but has been steadily improved as it is mechanically upgraded and the damage in a seven car pile up forced the race team to make some improvements to the vehicle so that it is in top running form.

Northern Steel's Darcy Simoneau buckled on the car for a few laps Friday night getting the feel of the car and what its like to dash around the dirt track with no muffler and a lot more horsepower than you need to get down the highway.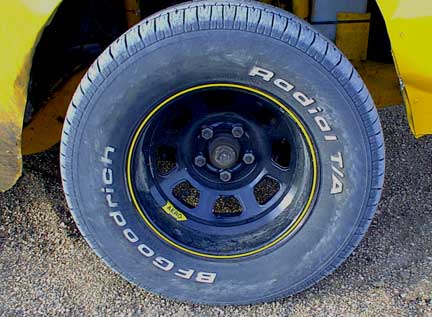 This car has reversed wheels which widen its stance considerably so that drivers report that it will stay flat in a spin and will keep all four tires on the ground most of the time.

I thought it interesting that one of the new tires the Northern Steel Car is wearing is one of the suspect tires that has causes so much trouble with recalls for Firestone and Ford. These T/A tires were among those that have lost their tread and resulted in countless accidents in Southern United States. The reason for the accidents being in a specific geographical area is that the problem with the tire is temperature related. With very high temperatures like those experienced in Florida and Arizona these tires simply lose their skin with the tread separating from the tire casing.

Stock car racing is about safety. The cars are constructed to withstand collision and roll over and the driver is encased in a compartment that will protect him or her from misadventure. In the picture above Darcy Simoneau is getting on a helmet and eye protection as the car has no windshield to protect the driver from small particles. It was interesting that in the practice laps everything was checked and double checked to see that the experience was a safe one.

This should be an outstanding weekend of racing and with admission so low everyone can go over to the track and enjoy the fun excitement and preparation as the race teams prepare their cars and leave it to their drivers to do their best race after race.