Mud Metal and Tires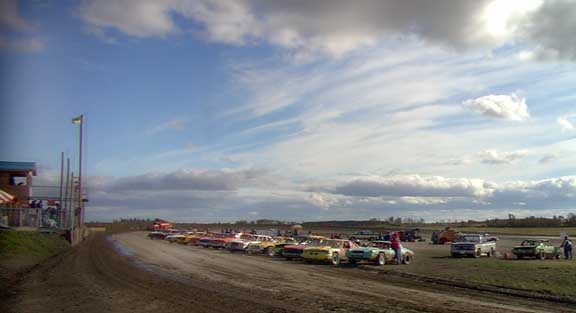 FTLComm - Tisdale - September 10, 2000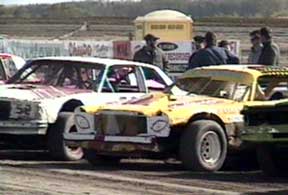 Rosetown, Meadow Lake, Elfros, Swan River Manitoba are just some of the places represented in the Invitational races this weekend in Tisdale. In the picture above midway through Saturday afternoon the cars participating in the day's events lined up in front of the stands each race team was introduced to the spectators. Despite a roaring thirty knot wind with the temperature hovering around 15 the stands and beer garden were full as people from Tisdale and surrounding communities came out to enjoy a day of truly remarkable racing.

In the pits I talked to an owner of a car from Elfros where he owns a wrecking yard just a mile West of town. I asked him about this new Silvertown Speedway and he reported that it was the best he had raced on and he had been all over Saskatchewan and Manitoba and this is the best race track
to be had. I asked him about the speed and he agreed with me that it was a fast track but drivers like to get the speed up there and so for them this was a fun track to use. Both he and his wife participate in the sport and they both were really enjoying their visit to Tisdale.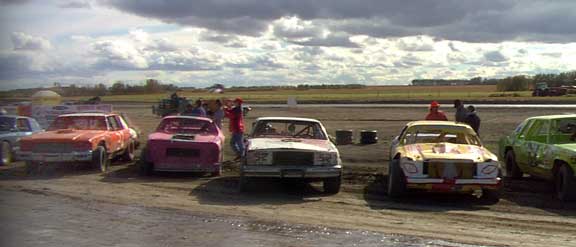 If you do not have QuickTime loaded in your computer you will not be able to see two pictures on this page which are composite QuickTime VR panoramas. However I have included a single still of the scene so you can see part of what is in
of tires and the occasional crunch of metal on metal. The colour of the cars and the fabulous Tisdale sky can be seen in these pictures but the smell of motor oil, burning rubber and leaking antifreeze has to be experienced first hand, well at least first nose anyway.

This picture was taken from the West side of the track outside the fence and shows the Silvertown Speedway with the pits in the infield. I went over to this side to get this picture but a safety officer came over and asked me to move for safety reasons. So I quickly snapped these images and got out of the there. Then twice about twenty minutes later I learned the reason why this was a dangerous location as on two occasions cars shot out of turn two (which you can see below at the left hand side of the QuickTime VR panorama) zoomed up off the race track on to the grassed area. Clearly in a tense moment a car could just keep right on going into the fence and the area where I was taking these pictures. I really appreciate the safety guy coming over and warning me.

The QuickTime VR below is a 180 degree image of the whole scene as you see it from the West side with the sun behind me. The fans are looking into the sun on the back straight-away but have outstanding views of both ends of the track from the stands. The track is so well laid out and safely designed that no wonder the Elfros driver branded it as the best he has seen.
Now for some details and more pictures of the races and environment click here to go to the "Second Page".