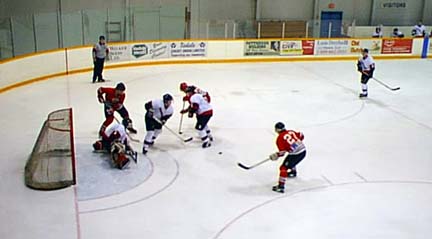 Ramblers
At Top of Pasquia League
FTLComm - Tisdale
November 28, 1999
Friday night the Ramblers played their third over time game of this short season and for the first time this year lost to Kinistino. But last night they demonstrated their league dominance with a seven to two victory over Birch Hills Blackhawks.

The Blackhawks have been changing their line up extensively as this season has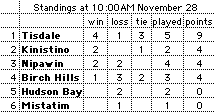 gotten underway and last nights team did not have much cohesiveness. They popped in a goal early in the first period and very late in the third and for the rest of the game they were on the defensive. Tisdale's outstanding positional play simply maintained control of the puck and seven goals moved the team well ahead in the league standings.
The poor showing by the Blackhawks was not expected, but even less expected were the altercations. Most games this year in the Pasquia league have had large numbers of penalties and this game was no exception but fighting has been on the decline this year with them becoming something of a rarity Birch Hills appeared to have decided with in minutes of the game starting that they were hopelessly out gunned and with less then two minutes into the game a fight occurred during which the Birch Hills participant was able to step on Jeff Farber's hand require a trip to the hospital for some serious stitching As the game ended two fights occurred one after another.
Despite these altercations the game was a pretty tame event with the Ramblers playing good hockey and the Blackhawks forced to play good defense.
This game was video taped and a copy of this game can be obtained from FTLComm for $15.