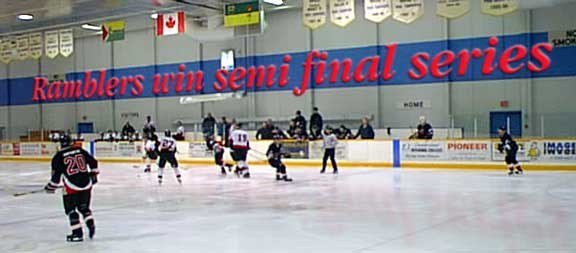 FTLComm - Tisdale - February 28, 2000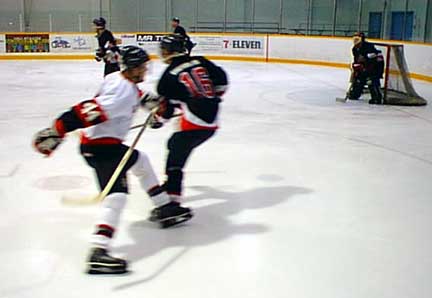 That's it for this series of best of seven games with Nipawin as Tisdale wins the series in five games having lost the first game and won each game since. Sunday night's game saw the Ramblers throttle the Knights 10 - 3.

The Nipawin Knights had suffered a number of injuries and with their shortened bench were doing the best they could. On Saturday night they had some problems in the first period but dominated the second only to see the Ramblers pepper Kevin Lockwood (Nipawin goalie) punishing him with seven goals and a final score of 9 - 3.

Lockwood was in net again last night and the Ramblers were in cruise mode. Combination plays, hot passing and relentless mastery of the Nipawin zone.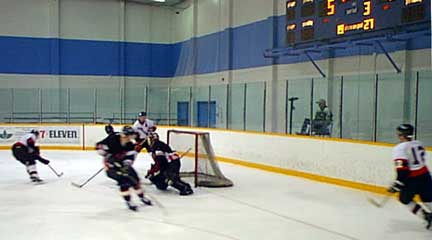 In this picture we can see Turcotte on the right, Spagrud on the far side and another Rambler in front of the net. The defenders are bottled up protecting Lockwood but it is a no win situation. Turcotte got two assists and two goals in the game. You can see the score sheet and see how Mike Thorley got two of Nipawin's goals. During the third period all Nipawin penalties resulted in power play goals.

Now we have to see which of Kinistino or Birch Hills emerge to meet the Ramblers in the final series.