Ball season struggles in the cold
FTLComm - Tisdale - Wednesday, May 19, 2004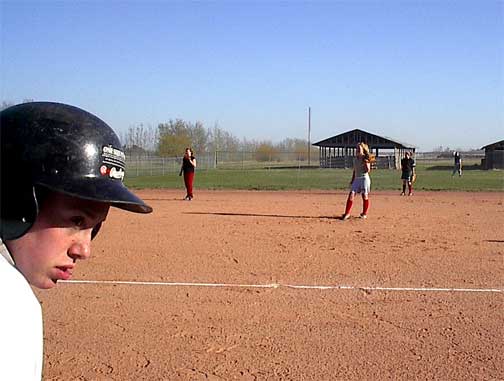 Though the sun was shining as the early evening ball games got underway it was still only about 12ºC which is a bit on the mean side for wearing shorts. But its ball season and no one is going to let a little chill cool the fun.

Before I got to these two diamonds I passed through the little league diamonds and they were just getting ready for their games but by the time I reached the softball diamonds it was time to play ball.

This contest with 13 - 14 year old girls from Weekes and Somme playing a Tisdale team was in its first inning when I tried to capture some of the action to share with you. The Weekes girls were first at bat and they made the best of it as they got through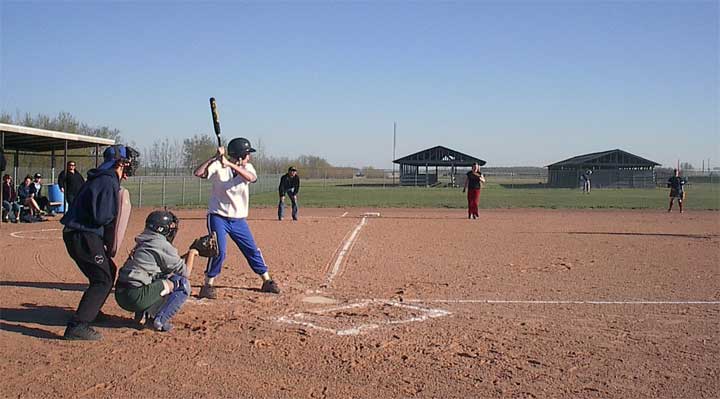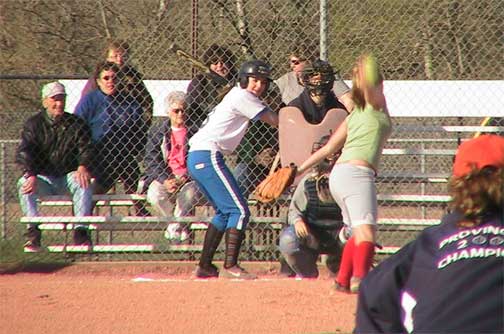 their line up in their first at bat.

But girl's softball can be like that the score is often pretty high as they like to hit and defense lacks polish at this age.

The wind was light and the sky perfect, only the cold made it a little hard on the fans. But, the joy of the players having fun is infectious and only the photographer was complaining.

All of Tisdale's ball diamonds are in superb condition, a real credit to the foresight of Tisdale's Recreation Board to have fitted out the town's playing fields with the right materials to require little maintenance and handle the play well.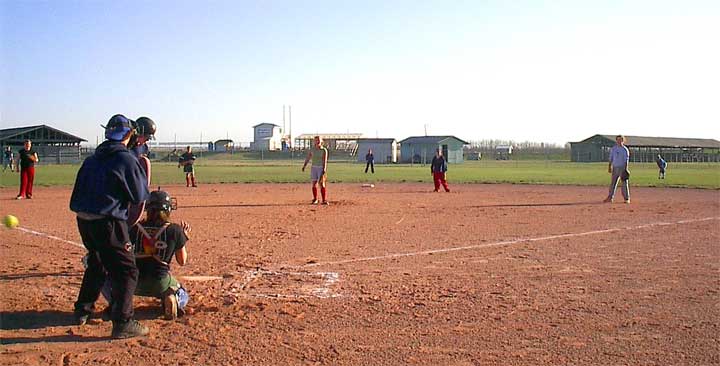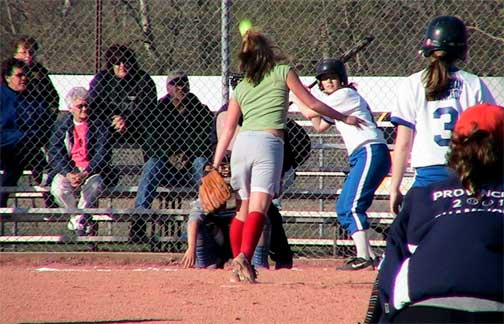 Mr. and Mrs. Peter Wasylyk were on hand to watch the game and support their granddaughter who was the Weekes starting pitcher.

Weekes has a long tradition of great ball, both hard ball and softball and Peter was part of that tradition coaching his daughters and sons who in turn are now coaching.

The Tisdale pitcher (top picture) had good speed and control but the Weekes batters were doing their best to pound that ball every time it entered the strike zone.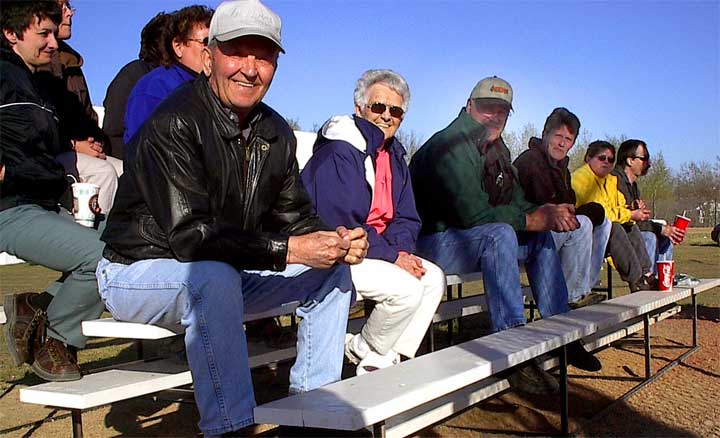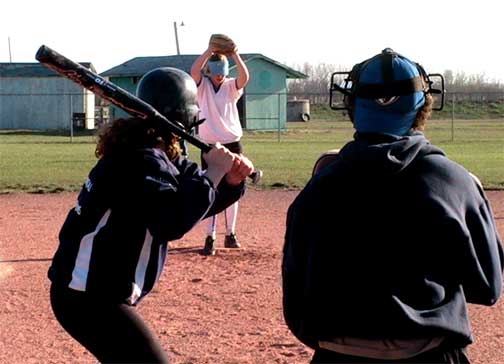 Softball has a short season in this part of Saskatchewan as most leagues wrap up play by mid June. With a cold spring like this one it means you have to make the best of the weather and I suspect most teams will be trying to get into as many tournaments as possible.

Peter's grand daughter is on the mound. She is a tall girl and there is no doubt that being tall is really an advantage in women's ball. The United States Olympic team picture is a six foot one inch nineteen year old.

Coach Bob Wasylyk (below) is seen out at third base while his team was at bat and in the second inning they continued to make their rounds.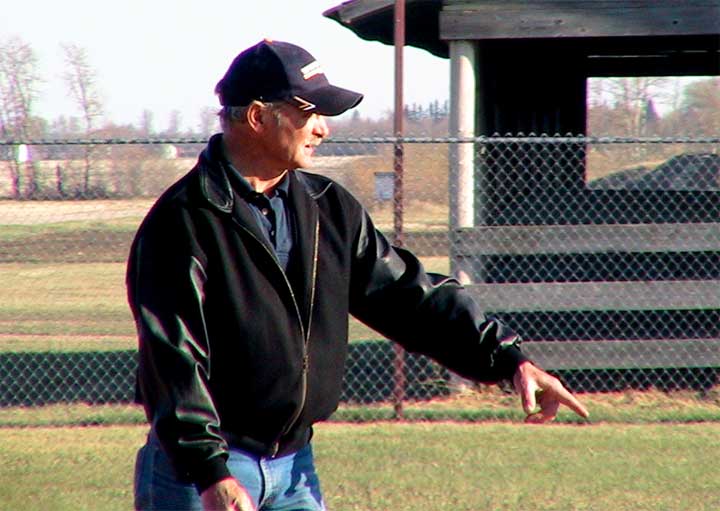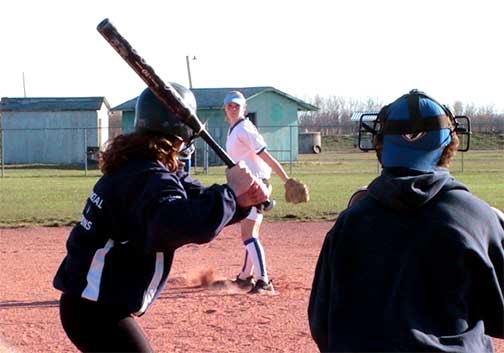 Of all the sports I have coached including hockey, volleyball, track and curling, girls softball was always my favourite. The game is a game and played with enthusiasm and fun, and most of the time, in good weather.

One afternoon in Weekes in 1974 or 75 we had to call a game and get in the school when our pitcher's long blond hair began to stand on end. Even the hair on my arms was at attention, it was one of those scary situations with a looming thunder cloud.

This pitcher's aunt was on that team and I am sure Bob would have been on hand as he was always there when his sister Qwen was playing.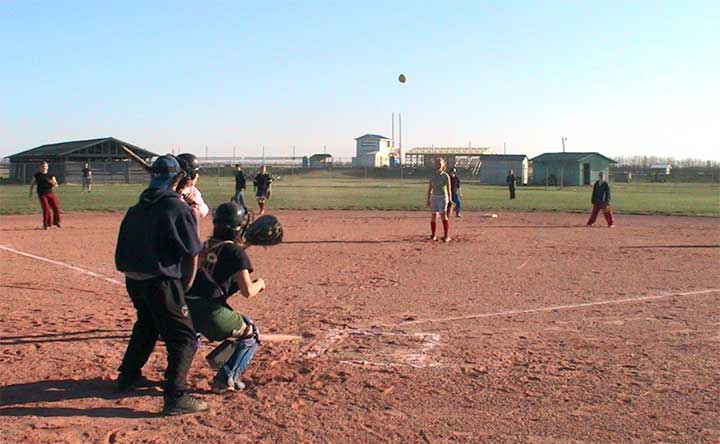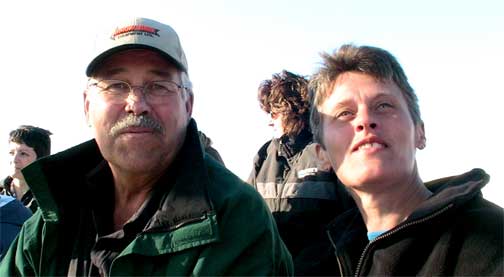 Playing that team was Cindy (right) who was toughing out the cold this evening. Her daughter was on the bench awaiting her turn to play. That's one of the great things about ball is that everyone gets to play. I always like to have at least fifteen players to start a game because it gave me more flexibility as a coach and relieved the pressure on the individual players. Girls enjoy the game and I always felt good about being out their with them because win or lose, there was always something to laugh about.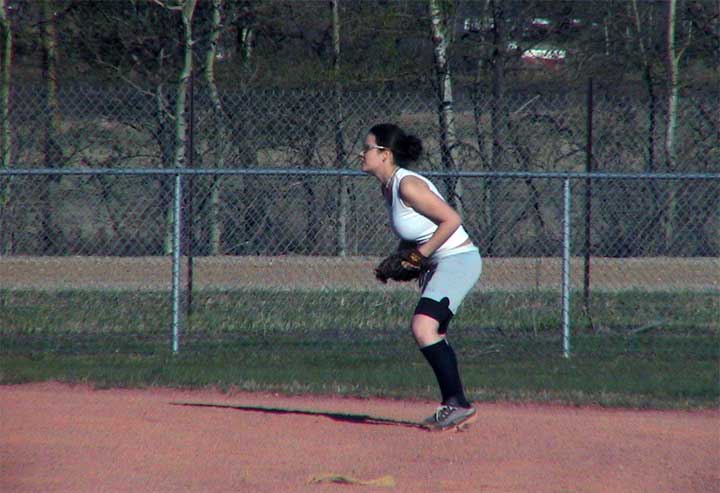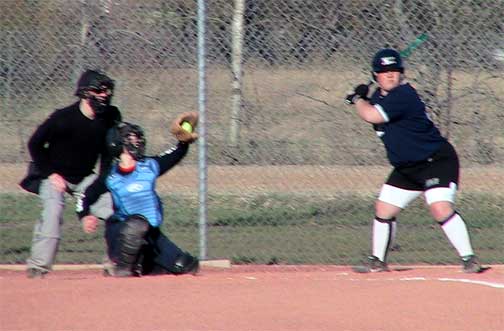 On a neighbouring field another game had got underway. This looks like older girls but to show you what I mean about this game.

Check out the centre fielder below. I took several shots of her as she was in the game and clearly have a great time. I had moved around to the home plate side of the field when a line drive went out to centre field just beyond her reach and bounced almost to the fence. I was astonished as she grabbed the ball and whistled it into the in field as if it were thrown by a hardball pitcher.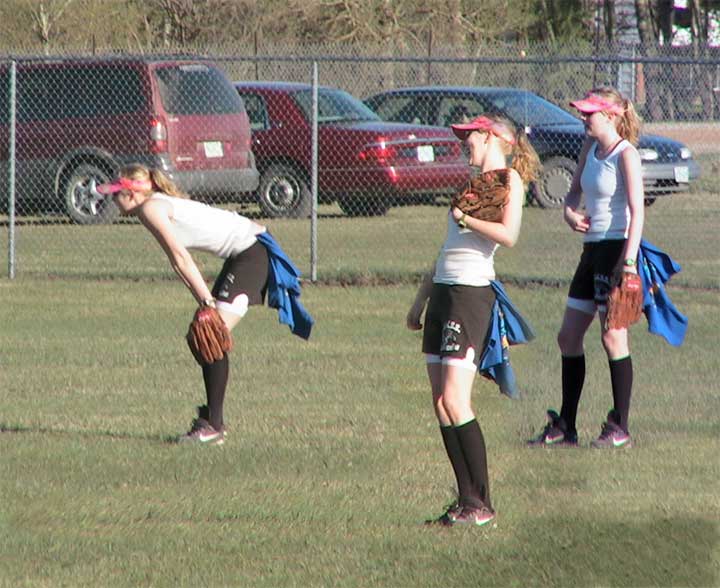 Return to Ensign - Return to Saskatchewan News
This page is a story posted on Ensign and/or Saskatchewan News, both of which are daily web sites offering a variety of material from scenic images, political commentary, information and news. These publications are the work of Faster Than Light Communications . If you would like to comment on this story or you wish to contact the editor of these sites please send us e-mail.
Editor : Timothy W. Shire
Faster Than Light Communication
Box 1776, Tisdale, Saskatchewan, Canada, S0E 1T0
306 873 2004