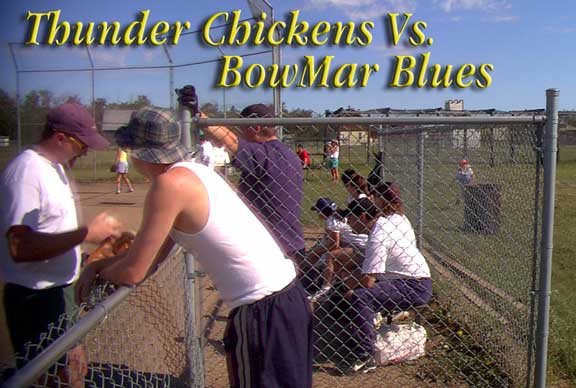 FTLComm - Tisdale - July 30, 2000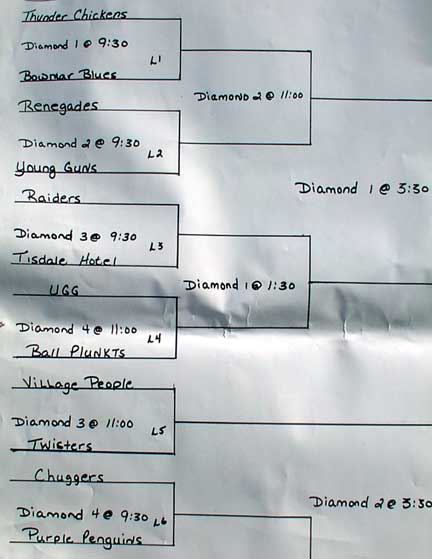 God Bless the inventory of co-ed slow pitch baseball. Today tournaments in Tisdale and Porcupine Plain and perhaps numerous other communities, as people of all ages get out in the sun and enjoy the time together.

This Tisdale tournament got under way at 9:30 this morning and these pictures were taken just as the first innings were played.

The BeeHive Hotel's Thunder Chickens met in their six inning contest against the wiley BowMar Blues. At first it looked like the Blues were in trouble as the bravado of the Thunder Chickens and their first round at bat put them into an early lead. But slow pitch is a game of consistency. Making those hits getting on base and bringing in the runs.

With a minimum of three women on each team the long arm throwing ability of the big guys are stretegically placed in the outfield while the women are in the infield and in the catcher position.

With no steeling bases the game is all about hitting that ball into unguarded territory and moving the runners around. So at bat the strength of the atheletic male is of no more value then the accurate and well swung bat of the smallest female.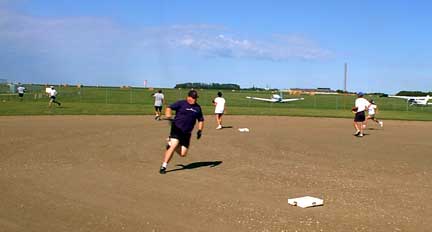 BowMar Blues are in the field for the first inning as the first games of the tournament begin and the Thunder Chicken's female pitcher hammers a stand up triple into a wide open spot on the outfield bringing in three runs to start the game. (seen on the right).

The sweat sound of laughter carries along from play to play as this is a game of fun but the high stakes of honour and competitive second effort win points and appreciation from every team mate.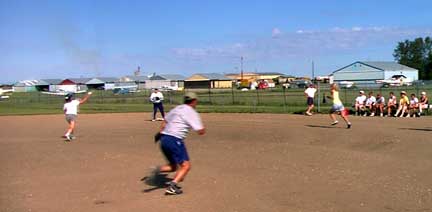 In this picture, it is the BowMar Blues at bat as Ms. Kusiak drills one up the centre and is picked off by the pitcher. The Blues are battlers and just keep stepping up to the ball and the hits just keep on coming as they went into the second only one run separated them from the confident Thunder Chickens.

On the second diamond it was the Young Guns at bat to the Renegades as Jordon Spagrud sent a bases loaded smash hit over the fench for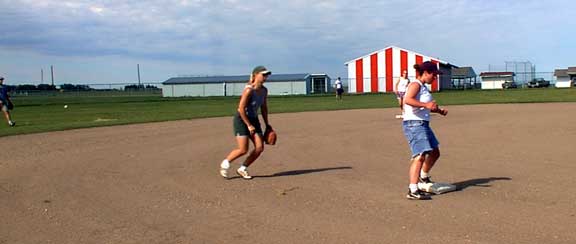 a grands slam putting the Young Guns out in front. The Renegades simply dug in and replied with a solid offense of their own as in the early part of their game things were very close.

The twenty-three degree morning was excellent for ball with the last games winding up with a five-thirty draw for the finals in the A and B sides.