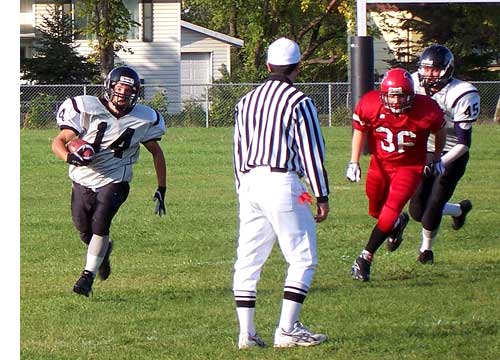 The picture above shows the crowd out for an exhibition game on a beautiful late summer day. This was a minute before the start of the third quarter.
Esterhazy kicked off to the Tornados and the ball was caught by Evan Pelchat who got one block then it was beep beep and down the field he came (right and top of page) making the score 20 to 12. Both teams had trouble with conversions (below) as the Warriors blocked this one.
Fans had an outstanding program to guide them through today's game and the businesses of Tisdale, as usual got right in step with sponsoring the Tornados.
Exhibition game on Friday, September 4 in Nipawin, first home game Friday September 11 with Nipawin, September 18th the Tornados play in Wynyard, September 28 they play in Foam Lake, on October 2nd Humboldt plays here the following week, October 9th, the Tornados are home with Melfort and the regular season wraps up as it started with Tisdale playing on October 16th in Nipawin.