FTLComm - Melfort - Friday, June 5, 1998

CJVR and Melfortís Donorís Choice have pitched in to execute a major fund raising and fun event. Running from Wednesday to Sunday this week, the event staged at the Melfort golf club has been attracting duffers of all kinds to swing into the competition. With daily prizes including todayís hole-in-one winner of a golf bag, the top ten each day are moved onward in a ever increasing higher level, culminating in Sundayís best ten of the week, where the three ball winner can win $30,000 or a car and finally the six finalist go for the $1,000,000 with a single ball, with the closest finalist winning an all expense paid trip to play and stay at Whistler.

Helen Calverley, is the promotional coordinator at the project whileCJVRís Bill Wood is president of Donorís Choice Melfort as he has been putting in long hours to make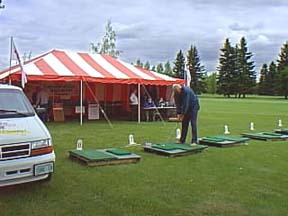 This coming week its Prince Albertís turn for the $1,000,000 hole-in-one event and Tisdale right after that.

The way the project works is the promotional company signs up the various charitable organisations to carry out the project in return the promotional company backs up the $1,000,000 prize money betting on a fairly sure thing as to the numbers of participants and the predicted possibility of a score. But check out their web site to find out more.

Clearly, the companies who put up the daily prizes and the volunteers are pitching in to raise money for their clubs and organisations and the work they do, the bottom line is that this is a commercial venture. The insuring company is providing the back up for a fee and is clearly making a profit on the campaign and the companies involved as sponsors do so as much for the positive advertising it provides their companies, as it goes to support the charities.

Ensign invites your comments on this event.