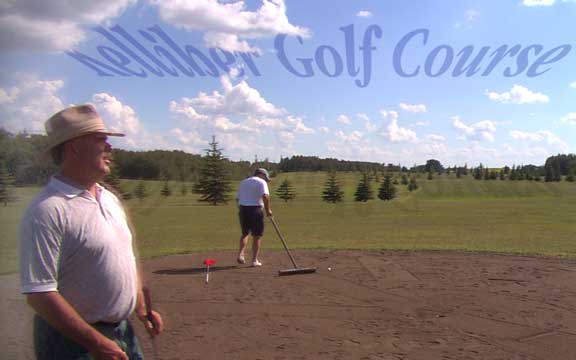 FTLComm - Kelliher - August 14, 2000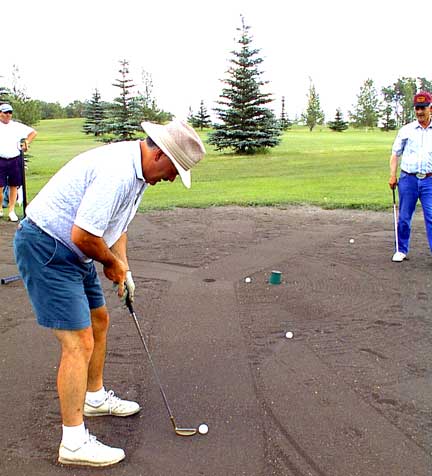 Environmentalists and conservationalists have raised alarms over the enormous land use in many parts of the world by what is almost always, an extra-ordinaryly elitist form of recreation. Golf, by its very nature demands outstanding space requirements and the better the course the more costly it is to play.

It is remarkable and utterly pure Saskatchewan to see what so many small towns have done with this game. Since land in Saskatchewan is not expensive, rural communities can find a pasture or quarter section and develop it into a golf course. Kelliher is only one of many small Saskatchewan villages that has developed a course that makes most golfers green with envy.

The members of the Kelliher club have pitched in together to plant trees, maintain the fairways and in time produce a course that rivals the best.

Allan Shire, seen putting here, and his friends have put years and years of energy and resources into their community golf course and unlike most places, golf in Kelliher is a family activity costing so little that everyone can participate. As we went along, a mother and her two ten or eleven year old boys with a hand ful of clubs were playing a neighbouring fairway and having a wonderful time. The only shortcoming between a rural community course like this one and the urban and provincial park giants is that here you must make do with sand greens.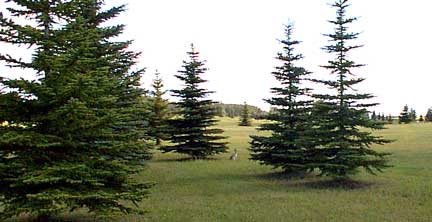 Allan explained that it would require tens of thousands of dollars to install each green on their nine hole course and that would simply make it to expensive to maintain. With their present system, volunteers look after the immaculate fairways and service the greens, keeping the costs to where they can manage them. Each year the course hosts several tournaments that bring in golfers from neighbouring communities to enjoy each other's company and the excellent well treed surroundings of this course. Below we see Yorkton resident George Broda waiting his turn to putt, George is a seasoned golfer who plays on what for him is his home course, the grass greened course run by the Ochapawas band near Crooked Lake.