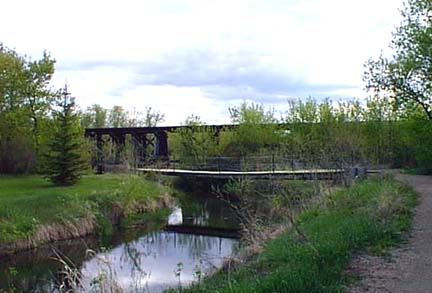 One of the most impressive things about Tisdale is its park system. Along the Doghide River a system of hiking and bicycle paths take an individual through some outstanding scenery. This part of the pathway is at the South West end of the golf course and leads to Ashley Place.

This image of the railway bridge and the little suspension bridge is one of my favourite spots and is also one of the places we made our first QuickTime VRs two years ago. I thought it would a good idea to make a QuickTime VR panorama of this same scene as it looked Sunday, mid afternoon.

You might best see this scene by clicking your control key to zoom out then use your mouse to look around.