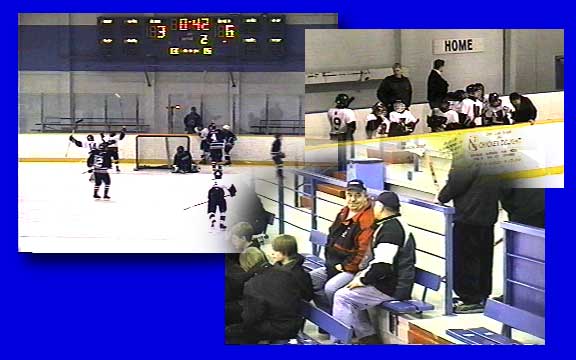 Kindersley PeeWee Klippers "AA" 8-6 over
Tisdale PeeWee Ramblers
FTLComm - Tisdale - Monday, January 26, 2004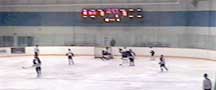 Kindersley first goal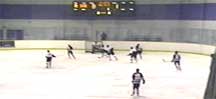 Kindersley second goal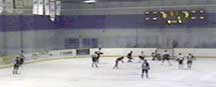 Kindersley third goal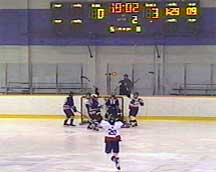 Ramblers first goal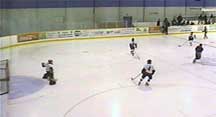 Kindersley goal 4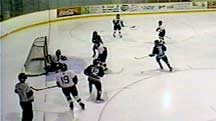 Kindersley goal 5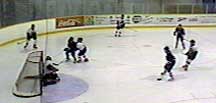 Kindersley goal 6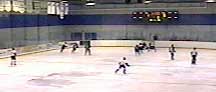 Ramblers goal 2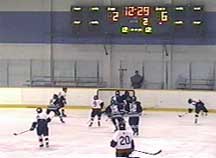 Ramblers goal 3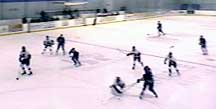 great defensive move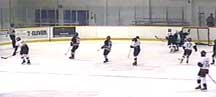 Ramblers goal 5

Sunday at 12:15 it was time for the Tisdale Rambler PeeWee "AA" team to play the Kindersley PeeWee Klippers.

For me went through each level of hockey with three sons and clearly PeeWee, that time when they were eleven and twelve years old was perhaps the most interesting. PeeWee hockey players have the ability to learn and understand the game. They apply the skills they learned in Atom and add body contact while at the same time every one of them is in the midst of a huge physical change. They learn things quickly and are definitely the most enjoyable age group to coach.

So shooting a video tape of a PeeWee game was to a certain extent reliving those three periods of time when each of my sons grew up. One of the difficult things about this age group is that the size differential can be considerable and when I first looked out on these two teams warming up I realised that many had been atoms last year and some were men who will play bantam next year.

Sunday's game was a high scoring affair. The Kindersley coaches have clearly emphasised checking more than Tisdale and the Tisdale players were like most Tisdale teams, better skaters and better passers. The first period had three unanswered goals as Craig Patterson picked up three penalties and from those Kindersley was able to score two goals. Patterson is a player that a coach can almost build a team around as he is big and very mobile, he is smart, makes good passes and does not hog the puck. Because of his versatility the coach likes to use him as a forward as well as a defensive player and this creates a lot of line changes which may not necessarily add to the young man's defensive skills as he badly needs to improve his team play with Riley Hobbins who is a disciplined player.

Tisdale's Rhett Fairburn, Bo Lenard and Chris Musselman are aggressive and promising players who will clearly develop into players who both enjoy the game and will master its offensive skills.

Grayson Magnus had a tough first period as the team's goalie and since this position is far more a psychological position then one of skill he was pushed well over the limit and half way through the second period he was relieved by Jay Hudon who evened things up for the rest of the game.

Kindersley has some pretty impressive players but Jesse Ismond who not only got the most penalties for his team also got them into scoring position time after time. Djay McGrath and Riley Down were also impressive as they made plays happen and showed considerable puck control in both ends of the rink.

The Kindersley coach has definitely done a fine job of teaching his players to use their bodies safely, but now its time to concentrate on passing and coordinated play. Though scoring eight goals in a game would suggest they have scoring down pretty well that isn't actually the case. More than half the goals were pretty soft and several were solo long shots. He has some good skaters and plenty of strength with his team even line by line.

One skill the is very important in getting possession is winning face offs and Kindersley capitalised on more than 70% of time when the puck was dropped.

PeeWee hockey is critical in the whole process of proceeding through the various levels of the sport and most players are being eyed up at the end of their second year as a PeeWee by higher level teams. The very best players have already been spotted as Atoms but many great players do not tune up their skills and team play until the enter the Bantam level when all the team tryouts and screening gets serious. Both teams have players with great potential and need now the calm nurturing that will turn them into heads up, quick thinking masters of the game.

The third period was less than impressive as Tisdale was tired and the very quick line changing was taking its toll so that more than half the period they played with three defensemen and two forwards making it impossible to enter the Kindersley zone. The game ended with a score of 8 - 6. Ismond first star, Hudon second and Down third star.

Video tape copies of this game are available for $15 plus shipping from Faster Than Light Communications.
---
Return to Ensign - Return to Saskatchewan News
This page is a story posted on Ensign and/or Saskatchewan News, both of which are daily web sites offering a variety of material from scenic images, political commentary, information and news. These publications are the work of Faster Than Light Communications . If you would like to comment on this story or you wish to contact the editor of these sites please send us email.
Editor : Timothy W. Shire
Faster Than Light Communication
Box 1776, Tisdale, Saskatchewan, Canada, S0E 1T0
306 873 2004