Hockey Sisters
FTLComm - Tisdale
October 11, 1999

When a player wins a spot on a competitive hockey team there are some serious and long reaching ramifications to that event. In the case of a player in the Centre 4 league it means that he will be playing across all of Northern and Central Saskatchewan with regular league games in Wilkie or Meadow Lake. For his family there needs to be a lot of organisation to get him to practices and share in the
games with he and his team as for many families all members of the family become involved. For the other children in the family they quickly learn to adapt and enjoy the experience of Saturdays at the rink, long bus or van trips and absorbing what they can from the wide interaction between themselves and other family members of teams throughout the league.

Julisa (left above) Little's brother is Jared and Michael Olson's sister is Kelsey (above right). On Saturday they were enjoying the game behind the glass as they drew some pictures and shared the time together. Kelsey is also a hockey player.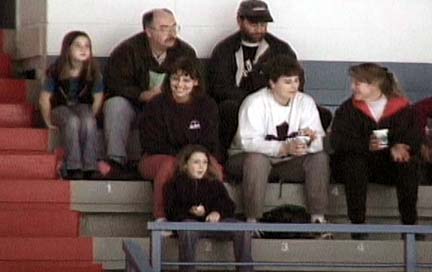 Meet the Blatchfords of Kelvington. This is the second year Dan's (second from left) boy has played in Tisdale, which means trips for he or his wife (dark sweater) to drive up to Tisdale for several practices a week plus the games. That's not an easy task as Dan himself is a dedicated volleyball coach and has his own community and work responsibilities. For the two girls its part of a rich family life that involves a lot of travel and sharing as they experience their brother's hockey life.

With the nature of hockey being so extremely team oriented parents realise the positive elements of life that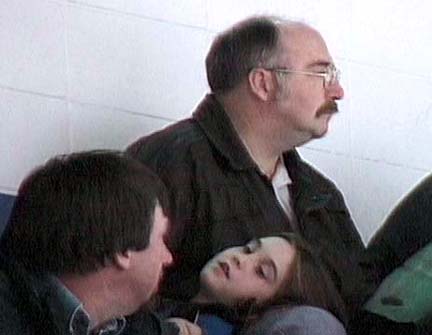 the game offers a family
member and it is not a hard decision to support or encourage a child to pursue hockey at the competitive level. This means that you have to be prepared to go those distances with him and spend endless hours waiting for the game, waited as the players undress and finding food at odd hours of the day and week. So many people suspect that hockey parents all have the idea that they are pushing their kids toward some career goal in hockey not realising that the family that has a child in competitive hockey is building a much more complex life style around the success of teamwork and the prised values of family life.

Hockey is a sport that much closer resembles a military crusade as the support needed to put a team on the road and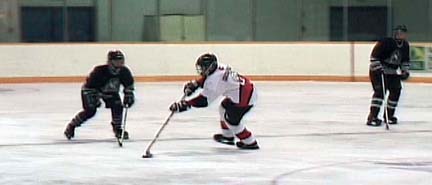 remain competitive required
considerable financial as well as dedicated human resources to accomplish the project. Winning is by far less important that achieving self respect, team solidarity and positive life style. Having had three boys go through various communities both in the South Saskatchewan League and Centre Four I can tell you with certainty that the experience both for the family and the player will last them a lifetime.

Ryan Blatchford is seen approaching the blue line above as he advances the puck on Melfort and moves his line into scoring position.