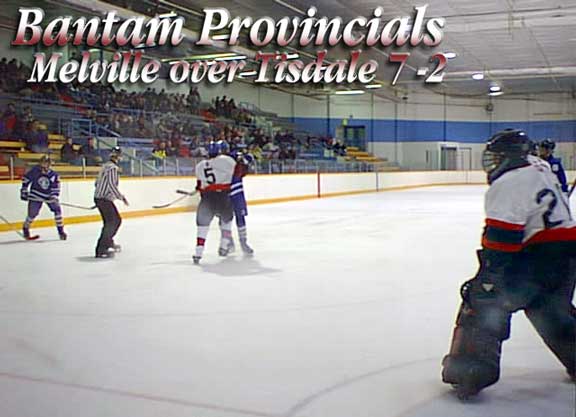 FTLComm - Tisdale - February 21, 2000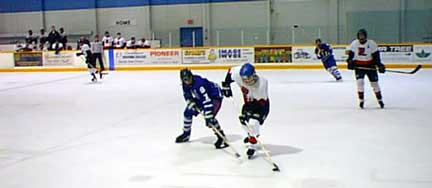 The provincial play downs continue as Tisdale's "B" level face the guys from Melville. Sunday was their first of a two game total point series with the second game scheduled for Thursday night in Melville.

For Tisdale this was a difficult game. The Melville Millionaires have extremely similar open ice play with the emphasis on skating. This made for an exciting game but Tisdale had real problems
getting the play to move out of their own zone. In the play above you can see the close checking Melville was using and this tactic proved to be successful keeping Tisdale bottled up in their own end.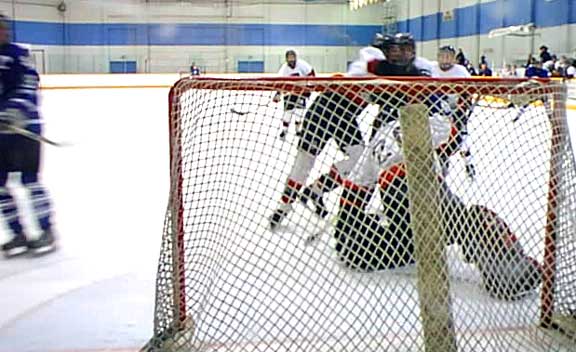 This was one of those games were being a spectacular goalie was just not enough. No matter how good a goalie he can not stop a torrent of shots on net and Melville dominated the Tisdale team in their own end so extensively that it was pretty much between their forwards and the Tisdale goalie.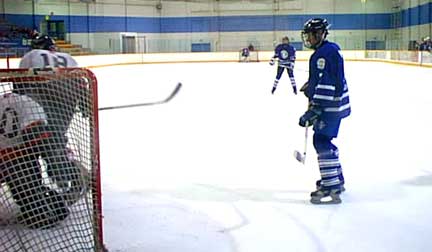 Tisdale's team is an impressive one with some outstanding individual players and very good size for a bantam team. Melville's squad look pretty much to be first year bantams and though slightly smaller were more then up to the challenge of both taking and giving the hits that are so much of such a physical contact game.

I only was able to see the last period of this contest but thought that from my point of view behind the glass that Tisdale was getting off luck in that the referee wanted to keep the game moving and was willing to let some of the
frequent elbows go but he drew the line with stick offenses and was keeping them under control.

Play off hockey is always exciting no matter what the score and in this game there was plenty to cheer about for both supporters of Melville and Tisdale. The third period had lots of scoring as Melville continued to keep up the pressure and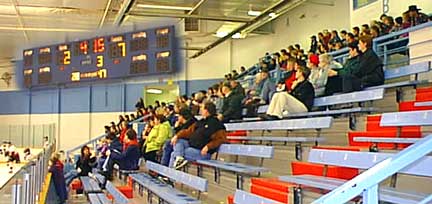 Tisdale was more then
prepared to keep up their efforts to stay in the game.

The final score was 7 - 2 for Melville and that leaves Tisdale looking at a tough outing Thursday night where they will be starting the game down five goals behind.

However, all is not hopeless as Tisdale has the players and ability to play great hockey and win or lose it will be a spectacular game in Melville Thursday night.