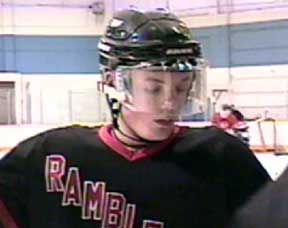 Monday Feb.28 8:30 at Birch Hills

Saturday March 4 8:00 at Kinistino

Sunday March 5 5:00 at Birch Hills

The Rambler / Knights series could be a pretty exciting affair. Scott Homstol (left) lead the league the highest number of points for the season and four other Ramblers were in the top ten including Shane Magnus, Jordan Spagrud, Ryan Turcotte and Chad Olson. When the Ramblers get their scoring play going they are virtually unstoppable.
The Knights have a very young and aggressive team they can skate at the same level with the Ramblers and their defense is effective when it keeps the area in front of the net clear. Curtis Wannamaker has lead his team in penalties but he and the solid goal tending of Curtis Parkinson and Kevin Lockwood make the Knights a difficult team to score on. This should be a great series so make sure you get out to the Sunday night game.