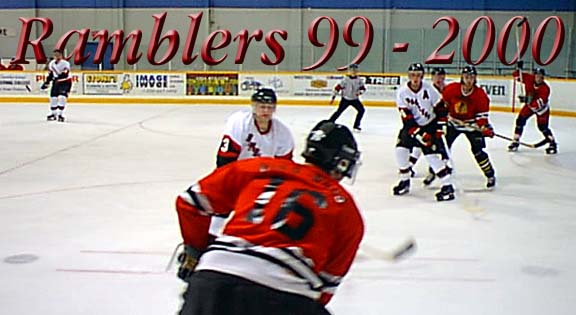 FTLComm - Tisdale - November 14, 1999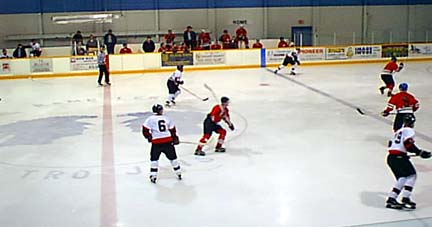 Tisdale Ramblers have enjoyed two remarkable seasons winning back to back league championships and Saturday night made their first appearance on home ice for the season. This exhibition game is their last before the serious stuff begins and we can confidently predict this is going to be an outstanding season of hockey for both players and fans.

The team of the past two years had Barkley Swenson to rely upon for goal after goal after goal and the best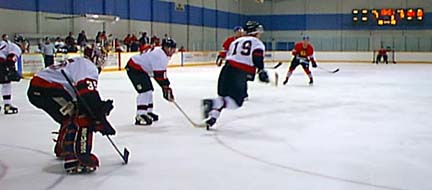 goalie in the league Gil
Hudon. Not only are these two super stars no longer with the team but the two giants of the team Darcy Simoneau and Darrel Mann have retired. There is no question that this season the way is clear for a whole crop of young players to make their mark and establish their own glorious tradition.

Scott Kearns, a high scoring player from two seasons ago returns to the Ramblers this year after last season with the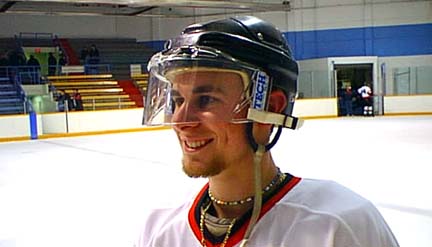 now folded Carrot River
Loggers. Lee Morgan who had played two seasons with the Ramblers was away last year and he is back. But the bright lights are the rookies. Jeremy Markwart (right) and Ryan Turcotte put the puck in the net in a losing effort last night (8-7). Lee Bowerman, Ryan Hudon and Scott Holmstol will be part of the Rambler tradition of this year.

Brad Kirkland takes over the responsibility of coach this season as he continues his remarkable role as one of the toughest defensemen in the league. Luc Simoneau and Pet McAvoy will continue to produce some of the most spectacular defensive hockey you will see this year and the Ramblers will be looking to Shane Magnus and Chad Olson for scoring and aggressive play that has kept this time on top for the past two seasons. Cory Styan moves from back up to the teams regular goalie with Jon Hamlin ready to step on the ice as back up goalie. Jim Fofonoff, Jeff and Brad Farber will make their usual excellent contributions to the team and of course Neil Elmslie will continue to be there in triumph and defeat as the core of a team that has entertained and aroused fans for years.

For details and loads of pictures from last night's game with Mistatim click here to go to the "Second Page".