Though we declare ice hockey as Canada's national sport that may not be entirely true. Certainly many consider, and think of hockey as a game, or a sport, but the complex formation of skills and interaction between those participating in the event suggest that it is often far far more than a mere game.

Sunday afternoon I had with several hundred others left the RECPlex arena after watching and cheering as some of the best sixteen and seventeen year olds who participate in hockey had just finished their match. These players are selected from the best of the best and each team had players from all parts of the province on the ice working together in an effort to do what they do the very best. Almost every one of those players want to be selected to go on a play major junior hockey when they leave the midget ranks and every one of them dreams of making hockey a full time living playing and earning enormous sums of money in an NHL professional team. For them hockey is far more than a game, it is their intended career and each of them to reach the point where they are now in their lives have been learning their skills and teamwork since their were five year older or younger and by ten their coaches would had known which of them had the potential to play at this level.

On the open air ice surface as the sun was setting and people were heading home a few were on the ice doing a Canadian thing, they were doing hockey.

Historians have looked at the game of hockey and know that it was cobbled together from a game played on ice by Five Nations people long before the European made it onto the scene in North America. The skates and boards would come later but the spirit is what most of us know continues to this day. Hockey is one of those things that if you talk about it to much, g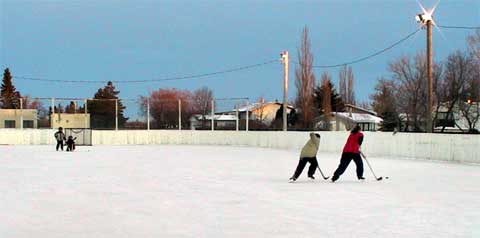 ive it to much analysis, you endanger the concept and begin to wonder about the possible break with reality that such thoughts might lead to. When evangelists of hockey talk about it they can not put into words exactly what they are talking about, they have a concept of the pure form of hockey, the idealised version and yes, it does involve fighting, and yes it does involve a level of seriousness that transcends playing a game.

The Five Nations version of the event was sometimes used to settle disputes and was called in a loosely translated way "little war". I am convinced that these roots of hockey are tied up in the way it is still played. No one individual on a team can truly make much of difference as the teamsmanship aspect of a match is the main event, its not individual skill, it is combined skill and coordinated actions that produce the desired outcome.

It would not surprise you to learn that competitive hockey players are able to take their on ice experience and apply that to their other experiences in life and having had to live with defeat, for indeed hockey teaches you to lose, the hockey player is able to make the best of things and successfully apply the mistakes of the past on the present. Above all, hockey is a social experience, sometimes raw and crude but always shared. On or off the ice hockey is something that creates effective people.

So when someone begins to wax eloquently or just gets the far away look in their eye when hockey is mentioned, you are dealing with a Canadian thing, something born out of the climate we endure, something that has its roots in a place where conflict has to be settled in some reasonable way in order that we can survive and something that requires the honing of skills to the very edge of human potential.

Keep your head up and your stick on the ice.
Return to Ensign - Return to Saskatchewan News
This page is a story posted on Ensign and/or Saskatchewan News, both of which are daily web sites offering a variety of material from scenic images, political commentary, information and news. These publications are the work of Faster Than Light Communications . If you would like to comment on this story or you wish to contact the editor of these sites please send us e-mail.
Editor : Timothy W. Shire
Faster Than Light Communication
Box 1776, Tisdale, Saskatchewan, Canada, S0E 1T0
306 873 2004